Sam Van Galder joined a select group Sunday afternoon.
Thanks to a par on the third playoff hole, Van Galder won the Men's City Tournament golf title at Riverside Golf Course.
The title was the seventh in Van Galder's storied career and tied him with Chris Pastore and Gregg Clatworthy for the second-most all-time behind Jan Hoffman's nine.
Van Galder birdied holes 17 and 18 Sunday to force a playoff with second-round co-leader Brian Angileri at 1-under and won the tournament title with a par on the third playoff hole.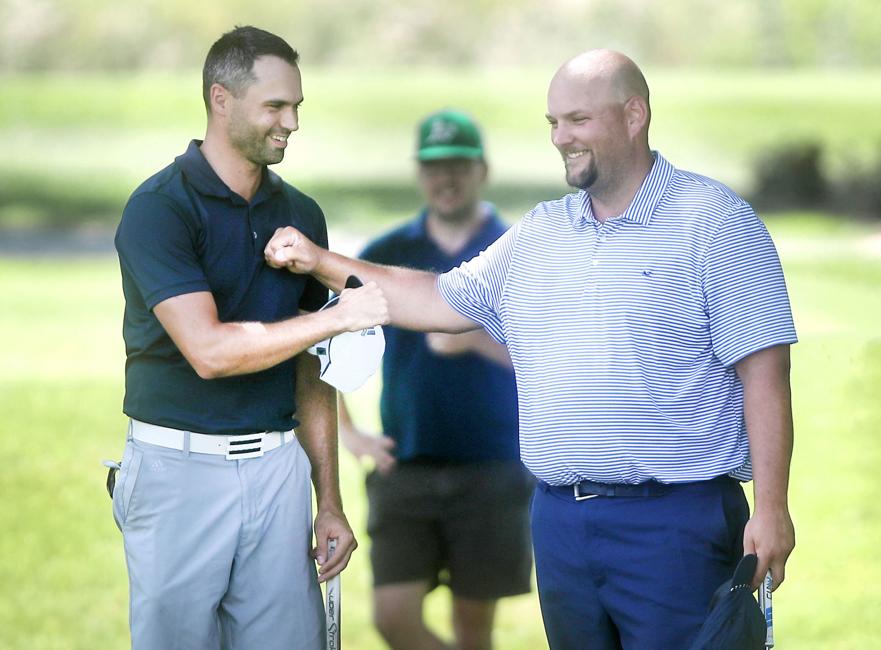 "They're not getting any easier to win, that's for sure," Van Galder said of his seventh title. "Brian played so well all day that I had to pull some magic out of the hat there at the end. He (Brian) made putts all day, and every time I thought he might be out of gas, he made another great putt.
"I obviously have a number I'd like to get to as far as (city tournament) wins, but it's going to be tough, and I'm not getting any younger."
Van Galder fired a 4-under 68 Sunday, while Angileri shot 70 to put both players at 214. Former city champion Ryan Coffey finished third at 219.
The playoff was conducted on Hole 18—a hole that both players birdied during the final round. Van Galder had just missed chipping in for eagle on 18 and tapped in for birdie. Angileri had a difficult downhill putt of about 25 feet that he calmly rolled in to force a playoff.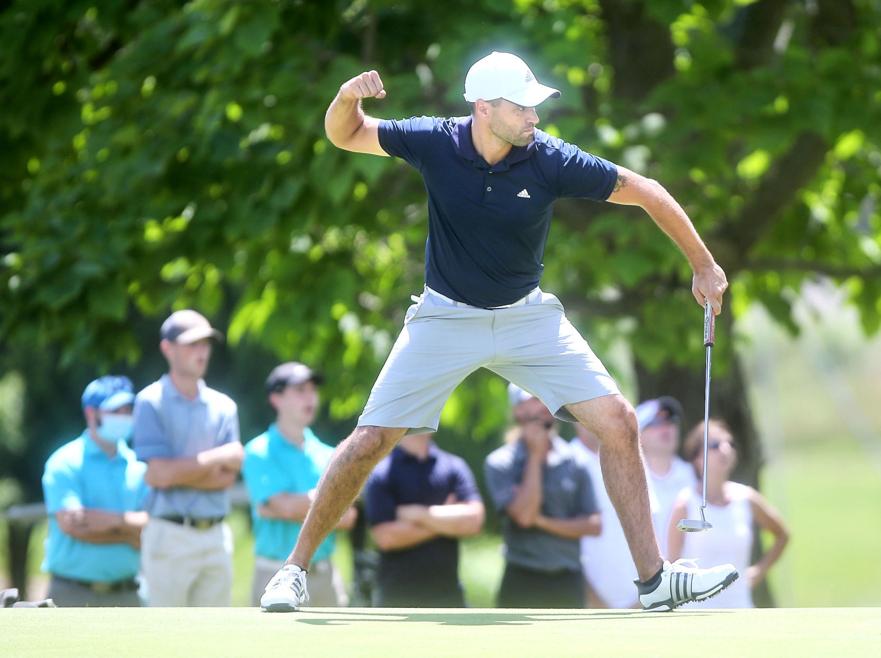 Van Galder and Angileri both bogeyed the first playoff hole and made par on the second playoff hole. Angileri put himself in trouble on the third playoff hole when his tee shot drifted to the right. He was forced to punch out and laid two next to Van Galder's drive. Both players knocked their next shots on the green, but Angileri missed his par putt which allowed Van Galder to two-putt for the win.
Angileri proved that he's going to be a factor in years to come after rounds of 73, 71 and 70 in the tournament.
The 2002 Beloit Memorial graduate said his driver let him down in the playoff.
"I just couldn't keep the driver straight on all three playoff holes," Angileri said. "None of the swings felt that bad, but I was just missing them to the right.
"And I lipped out to win on the first playoff hole. That was one of the few putts that didn't roll in for me today. I was seeing the lines really good today."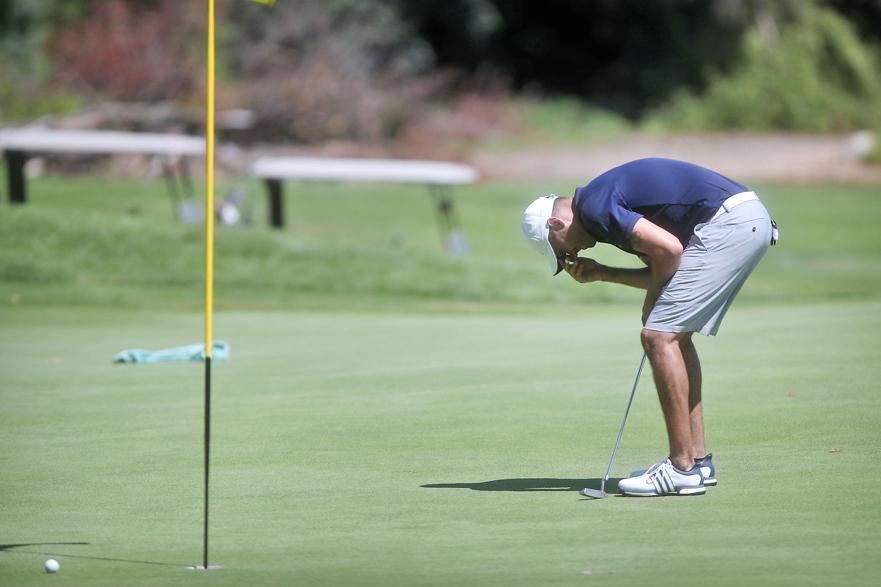 Angileri had a one-shot lead over Van Galder heading into the par-3 15th, but Van Galder rattled home his birdie putt to tie for the lead.
A birdie at No. 16 allowed Angileri to retake the lead, but Van Galder answered with a birdie at 17 to make it all square with one hole left.
"I really felt like I was in the driver's seat after the birdie at 15, but then I got too aggressive with my putt at 16 and ended up three-putting for a bogey," Van Galder said. "Fortunately, I hit a great chip shot on both 17 and 18 and was able to make birdie, but then Brian goes and rolls in that long putt on 18 after I'm thinking to myself that I've got this thing won.
"But like I said, it was a grind today because Brian played so well. It was a lot of fun going head-to-head down the stretch because I felt like we both made some really good shots when we had to."
Sal Gomez won the First Flight in a playoff over Austin Purdy, while David Adler won Second Flight in a playoff over Steve Thurner and Peter Hanke. Brian Garey won Third Flight.
Janesville Men's City Tournament
Country Club-Glen Erin-Riverside
Sam Van Galder 76-70-68—214, Brian Angileri 73-71-70—214, Ryan Coffey 73-71-75—219, Andrew Morrison 71-76-75—222, Aaron Coffey 77-72-74—223, Kevin Riley 71-74-79—224, Matt Zimmerman 79-71-76—226, Cullen Maricque 76-77-76—229, Rick Berry 80-73-78—231, Matt Frank 76-77-81—234, Nick Corban 81-74-79—234, Mark Thomsen 79-79-77—235, Michael Oellerich 82-79-75—236, Joseph Lange 81-80-76-237, Dustin Richards 85-78-75—238, Zach Tourdot 84-81-74—239, Shannon Dooley 82-76-81—239, Matt Kempfer 81-84-76—241, Patrick Kennedy 81-76-85—242, Andrew Seifert 85-80-80—245, Spencer Orley 78-84-83—245, Tanner Woodman 88-77—81—246, Kadin Kleman 85-80-82—247, Bob Kennedy 81-80-88—249, Jimmy Mead 89-76-85—250, Aaron Phalin 85-79-86—250, Zach Milner 85-77-88—250, Mike Reid 82-80-92—254, Joel Chappelle 80-85-90—255.
Sal Gomez 85-81-78—244, Austin Purdy 85-81-78—244, Kade Salemi 89-77-79—245, Jeff Adams 88-82-78—248, King Clark 88-81-79—248, Aaron Vogel 89-83-77—249, Chad Sullivan 86-81-82—249, Brent Kern 83-84-83—250, Jake Hassinger 85-82-83—250, Wesley Wilder 91-80-80—251, Tod Oles 88-84-79—251, Philip Konkol 93-78-82—253, Zach Balch 91-83-80—254, Brad Schumacher 87-80-89—256, Connor Kelly 91-83-83—257, Jared Cowley 92-81-84—257, Steve Thompson 86-85-86—257, Lance Baior 88-86-84—258, Jose Perez 89-85-85—259, Sam Kisting 89-85-85—259, Marcus Smith 92-81-86—259, Jacob Schoeder 84-85-90—259, Gary Neumueller 88-85-87—260, Jerry Suchanek 87-85-90—262, Dan Hermanson 89-83-91—263, Larry Kotwitz 85-87-91—263.
David Adler 93-86-77-256, Steve Thurner 88-88-80—256, Peter Hanke 87-88-81—256, Eric Lafave 93-83-82—258, Efran Blanca 93-88-80—261, Brian Schroeder 90-88-83—261, Kevin Delap 93-82-86—261, Josh Amundson 91-88-84—263, Ryan Zimmerman 96-82-85—263, Doug Haworth 95-87-83—265, Dan Nelson 98-82-85—265, Ben Myers 94-84-87—265, Grady Skoglund 90-87-89—266, Shawn Buck 95-87-86—268, Chad Flanders 91-87-91—269, Jeff DeGarmo 93-87-90—270, Paul Burkholder 92-83-95—270, Paul Schieldt 91-84-95—270, Dave Botts 94-90-87—271, Dan Bloom 92-90-89—271, Matthew Runde 92-86-93—271, Todd Cullen 93-90-89—272, Jake Lentz 95-89-88—272, Andrew Olson 93-90-90—273, Mike Schoeder 97-85-92—274, Chuck Gartland 85-96-94—275, Rick DeWitt 92-92-94—278, Brandon Luebke 93-87-98—278.
Brian Garey 95-90-84—269, Matthew Capaul 96-96-79—271, Dale Kittleson 106-90-76—272, Tom Flora 99-87-87—273, Jerod Albrect 98-89-88—275, Rob Ackerman 90-101-88—279, Jeff Brault 99-88-92—279, Gary Jarstad 96-93-90—279, Eric Engstrom 97-92-93—282, Greg Mullen 98-93-91—282, Jason Cox 95-94-94—283, Dylan Benway 99-94-92—285, Craig March 100-98-88—286, Chris Crosby 93-97-98—288, Jonathan Grorud 91-96-101—288, Ken Drake 95-95-99—289, Andrew Richmond 104-92-99—295, Matt DeWitt 103-92-102—297, Jason Nelson 99-103-96—298, Dave Powers 104-97-97—298, Timothy Sheehy 103-103-100—306, Bryan Thorson 107-106-94—307, Daryl Rosenbaum 118-101-113—332.