TOWN OF WINTER
I awoke with a jolt from the grab to my leg.
"Hey, you wanna go sit for a while?" my cousin Brian loudly whispered so as not to wake up the other two men in our quadrant of the sleeping quarters.
"Sure," I replied with a startle, rolling over in my upper bunk to see that it was just after 7 a.m.
The opening day of gun deer season brings an excitement, and my brother, Kevin, and I had set our alarms for two hours earlier the previous day. But the second day of the season—particularly when you saw zero deer on opening day and the forecast is calling for breezy conditions and temperatures in the single digits—sometimes doesn't foster the same enthusiasm.
Still, we had seen more deer than ever on the trail cameras this summer. Plus, my brother had just shot his first-ever buck the previous afternoon. And while it was cold, the forecasted wind never materialized.
So let's go have a sit, I thought, as I pulled on several layers of clothing and dropped a toe warmer in each of my rubber boots.
------
It was nine years ago this Christmas that the prospect of hunting entered my mind.
I'd heard plenty of stories growing up from my uncle, Paul, and his sons Brian and Matt.
I'd seen the mount of the Boone and Crockett buck of my uncle, Gary, and the beautiful full mount of a red fox taken by my uncle Bruce.
And my dad and Kevin had hunted with them at times when I was growing up.
But the hunting bug didn't bite me until I was in my 20s and living in Wyoming and a couple holiday brandies deep.
Matt, or Paul, or maybe both, threw out the idea of giving turkey hunting a try during my annual spring trek back to Wisconsin.
I was interested. And in the spring of 2010, I found myself riding north with Matt to Trempeleau County, ready to learn the ins and outs of camouflage and turkey calls, early mornings and long walks through rolling farmland.
It was the start of an annual tradition. And it was in Year 3 of the annual turkey hunt that it was suggested that I come home for deer hunting.
By November 2012, Matt had moved from Chicago to Denver. I drove two hours from Laramie, Wyoming, to meet him, his cousin Brad and lifelong friend Nick, and we started the 14-hour trek to Wisconsin.
I was so excited I drove the final seven hours to the hometown of everyone else in that vehicle. Then we drove two more hours north to the Flambeau River State Forest and beyond, to the Wissota Hunting Camp, est. 1936.
It was the first year of the "posh" new cabin, erected on 40 acres next to one other 40-acre parcel surrounded by miles of county forest.
Photos and stories tell the tales of older camps, highlighted by double-wides and outhouses and nooks and crannies marred by snakes and mice.
The new cabin, equipped to sleep 14 comfortably—at least when Nick's father, Dave, hasn't thrown three too many logs in the wood stove—might as well have been a bed and breakfast. A bed and breakfast with a vertical metal culvert for a bathroom, anyway.
That first year, the crew helped set me up with a tree stand on the edge of a recently logged plot of land less than a mile from the cabin.
In the first 30 minutes that opening day, Matt had dropped an eight-point buck just out of shouting range from my stand. His cousin, Reidar, matched those eight points within another 30 minutes later.
Holy smokes, this is going to be easy, I thought.
Alas, the camp, with nearly all 14 of those bunks full every opening morning, took exactly one buck from that moment until the end of last year—nearly six full seasons.
------
Recent winters as far north as Sawyer County had not been kind to the deer population.
The wolves had been even less friendly.
Trail cameras yielded sad results. The gravel roads traversed by groups of hunters revving their diesel trucks my first year or two were nearly silent these last few.
While we continued driving deep into the north woods, most sane hunters with no ties to the land likely realized they could drive a couple hours south and have no trouble filling tags.
Or, as 12-year-old Joe from the next camp over explained this year, you can just drive south down near Madison. He had just been bow hunting there and grunted in dozens of deer in four days, he said.
Armed with .308s, .30-06's, 40 acres and eight decades of tradition, the Wissota club—with my dad now a member and my brother and I grateful annual guests—pressed on.
------
"This is our year," I kept telling Kevin.
I think we probably said that every year. But Brian's summer emails with trail cam pics revealed vastly more deer and far more unique bucks than ever before.
And besides, dad had sold his truck that was perfect for transporting a buck back home.
Murphy's Law was in effect.
And sure enough, by the end of opening day, Kevin had taken a beautiful eight-pointer off the food plot we'd been scheming about hunting since he had discovered it 51 and a half weeks earlier.
That night, Brian all but announced that he was making it his personal mission to make sure I got my buck next.
------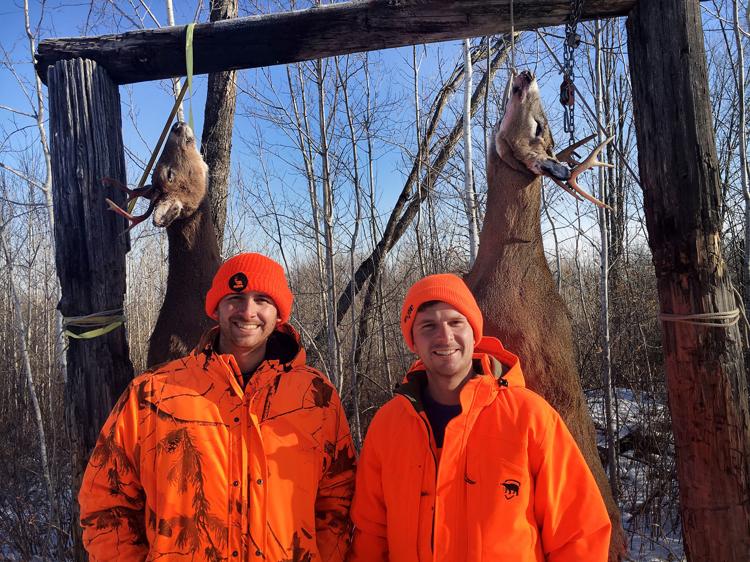 On Sunday morning, cousin Brian, uncle Paul and I drove the quarter-mile or so down the road.
We turned off Haystack Road onto the Thornapple Grade and past the gated driveway to the pen that held the transplanted elk from Kentucky a few years back.
The area where Brian's old stand had once been had been recently logged. He would situate his climber stand on the edge of the logged area. Equipped with my dad's swivel stool, I was to venture up the hill through the logged terrain to find a spot to sit. Paul would venture on one of his patented sashays, hoping to rouse the deer on a chilly morning.
I trekked to the middle of the forested area to a spot where two lone trees still stood and other felled ones blocked a breeze that was much more prominent now that I was surrounded by 500 yards of clear cut in virtually every direction.
As I settled into position on the stool, I was reminded of a scene from "The Lion King."
"Everything the light touches is our kingdom," Simba is told while surveying a landscape that extends as far as he can see.
Fifteen minutes into my sit, I saw a doe crossing from one edge of the cut to another. She was easily 400 yards away, but I was happy to realize the blanket of snow would make spotting deer much easier.
A bit later, my walkie talkie chirped. Paul had completed his initial walk through the still-standing woods behind me. He reported that he would walk down the road and circle back from the other direction.
A random thought in the meantime: The only problem with a 360-degree swivel seat is when you can see forever in all 360 degrees. How can you keep an eye on it all?
Just past 8:30 a.m., however, I was looking straight ahead to a grove of birch trees 150 yards out when I noticed some movement.
------
I lifted my binoculars as calmly as I could and saw the buck was ambling my way. His antlers were prominent but appeared to number just four. In many camps, he would not be a "shooter" but for a novice hunter looking for his first buck, he was a dandy.
I drew my .30-06 to my shoulder and attempted to find him in my scope. In years past, I had trouble at times finding deer in my scope from my stand. But from the stool today, the crosshairs found their target nearly immediately. Another good omen.
The buck continued toward me until he stopped, probably just inside 100 yards away. Seconds now felt like minutes as it appeared he was looking straight through my scope and into my eyes.
I had a good shot lined up and was nervous my scent or any movement would send him in the other direction. So I calmed myself as much as possible and pulled back my right index finger.
The buck rose and turned the other direction at the sound of the shot, heading back toward the birches. I steadied my rifle and attempted to relocate him in my scope. I felt good about the first shot but wouldn't pass up a second if I got the chance.
The deer turned to his right and began loping uphill, into the sun and into the wind. By the time my crosshairs found him again, I was facing a long shot. Furthermore, the deer was heading straight toward Brian, making any second shot from me unsafe. Besides, I thought, if my initial shot wasn't fatal, the deer was well within shooting range for Brian.
I watched in my scope as Brian's first attempt at a finishing shot resulted in a plume of snow. His second knocked the buck down for good.
------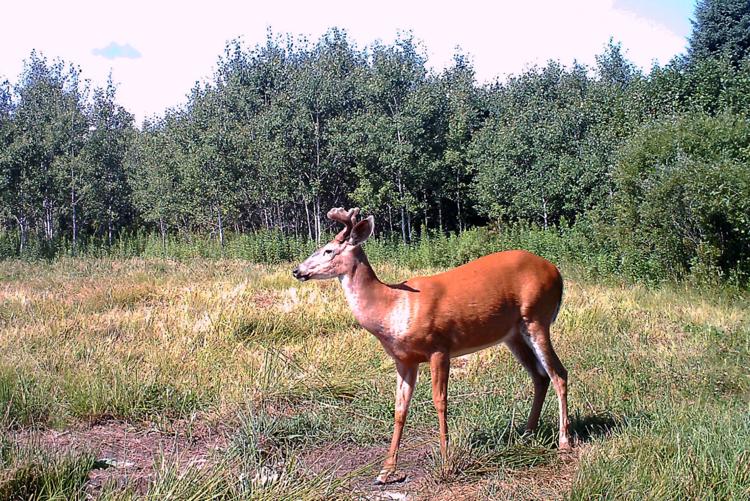 Paul emerged from the woods, having successfully sent the deer my way, and we all met at the buck's final resting place.
At this point, adrenaline was still rushing but I believed the buck to be Brian's, since he had delivered the final blow.
As we surveyed the trail of blood, however, it became apparent the deer was likely taking its final breaths by the time Brian fired his shot.
I have since discovered through Google that deer shot by more than one hunter have wound up as the subjects of courtroom drama. This was not one of those cases. Brian believed I had definitely dealt a lethal shot, and he had accomplished his mission of helping me get my first buck.
He helped me gut the deer, and Kevin—who had heard the chatter on the radios and hopped on an ATV—helped me load him into a trailer. Back at camp, our two deer hung side-by-side on the buck pole that previously held just two deer in the past five years combined.
"Do you guys even hunt up there?" had become a popular joke. But now we had some proof.
All that was left to do was determine how my buck would be remembered in camp records. Boone and Crockett wouldn't be necessary this time, and officially, he'd probably be a four-pointer. But, as with many family camps, the unofficial line is, "If you can hang a ring on it, it's a point."
And so my name will forever be seen below my brother's on the Wissota buck board as a six-pointer thanks to the small fork at the tip of his front tines.
Not a trophy, at least by standard definitions.
But with nearly a decade of family hunting memories, he's a first buck that won't be forgotten.