The walls of Brian Post's construction company building tell anyone who enters just how much he enjoys fishing.
The large garage area is home to his flashy red and black Falcon Bass Boat. And the surrounding walls are littered with hooks capable of holding enough line, lures and bait to make many a tackle shop jealous.
The small adjoining office is decorated with dozens of plaques from Post's time spent tournament fishing.
But it is a small, framed photo that the 37-year-old points to as a special precursor to the trophies that surround it.
"That picture right there, I want to say I'm 18 months old, and my grandfather used to have a cabin in northern Wisconsin on Upper St. Croix Lake," Post said while taking a break from the heat one recent afternoon while working for his general contracting company, Post Builders. "That's my dad and I on the dock.
"So I've always been big into fishing, and my dad always has, too."
The 37-year-old has taken his passion for fishing from a recreational pastime to finding success in local competitions and to now competing on one of the most prestigious fishing circuits in the world—Bassmaster tournaments.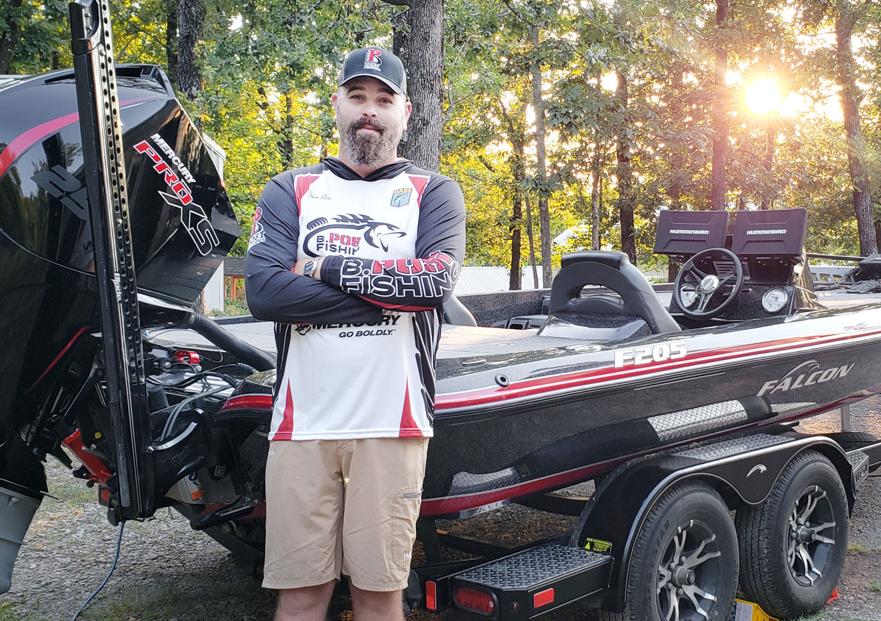 Getting a line wet
Post's love of fishing grew with every pre-dawn morning he woke up to go fishing around the state.
Bluegills, crappies, northern pike—he would fish for any and all species with his father as a youngster.
But when his dad had to work, Post turned to bass because his neighbor up the road was a bass fisherman.
"He was old enough to be my grandfather, and he bass-fished, and that's all that he did," Post said. "I was 12 years old, had my fishing poles on my handlebars and would pedal about three-quarters of a mile up the road at 3 o'clock in the morning to go with him all over the state.
"I'd open the shop door, back his truck up to hook the boat up and be sitting in the passenger seat ready to go whenever he came out."
Post spent plenty of time fishing the waters of Rock County. He grew up between Janesville and Clinton and graduated from Janesville Craig High in 2001.
Three years later, he was getting his construction business started and playing rec league softball in Clinton when he was approached with a new idea.
"A couple had a bait shop ... and they started a branch of the NBAA, the National Bass Anglers Association," Post said. "They said, 'Hey, we're going to do this on Wednesday nights, we're going to fish 12 lakes, 6-9 p.m. every Wednesday.' I just said, 'Yep, I'm in.'
"My dad and I did it the first year together, and I think we were the points champions that year. So I quit playing softball."
Post has spent the last 16 years tournament fishing several local, state and regional circuits. He still competes on local waters as part of the Bass Stunners Monday Night Fishing Club.
The next level
When Brian met his wife, Rachael, a few years back, he was up front about his love of fishing.
"It was the very first thing he told me about the night I met him," Rachael said with a laugh. "The first stories out of his mouth were fishing stories. I'm into NASCAR, so I didn't really think anything of it."
Along with his now decades of trial-and-error experience, Post also avidly studies his craft.
He spends spare moments watching fishing clips and tips from YouTube on his cellphone, he said. Post also gets together with fellow area fishermen and friends, and they rip through boxes of tackle to make their own baits and lures—always looking to make something new that will catch the eye of a trophy bass. And he can tell you right now what solar or lunar phase we are in and how the day's weather might affect fishing.
On top of that knowledge, Post attempts to stay ahead of the game in terms of technology. He loves that his Falcon boat is wider than most, and he has it rigged with anything and everything he might need for a tournament.
For instance, he said, he could find a submerged tree, stump or rock below the water surface and decide he wanted to fish at that object, casting in from a particular angle. With the push of a button, the trolling motor on his boat will keep him pointed at his spot and help keep him casting from the right position.
"It's gotten, as she (Rachael) might put it, out of control," Brian Post said of his passion for fishing—and for gaining more knowledge about it.
The couple married in March, and wife has yet to tire of husband's fishing obsession. In fact, she manages his social media accounts and is the copilot when they head to tournaments.
Rachael helped push Brian to try and take his game to the next level.
"He'd been talking about doing this for a long time," Rachael said. "I said, if you're going to do it, you need to do it. ... You can't wait forever."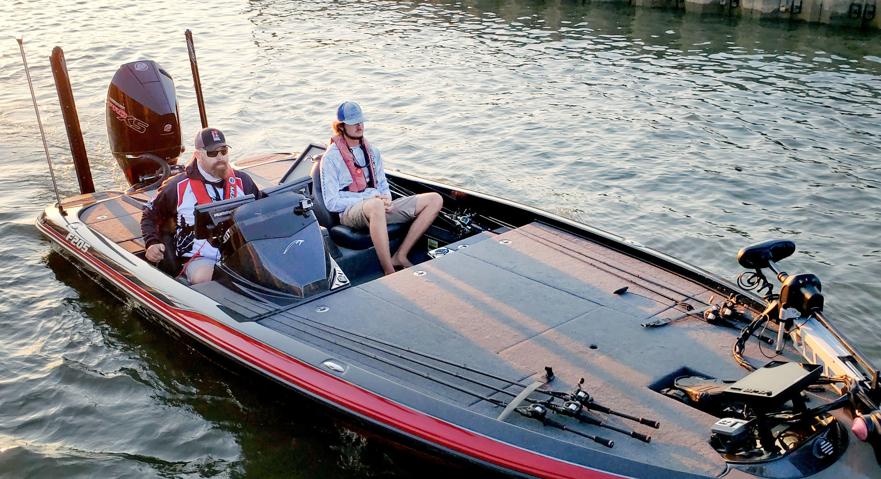 Mastering a craft
So, heading into 2020, Post entered his first Bassmaster events—a series of four Open competitions deemed part of the Central Division of the country.
The Bassmaster series includes Classic and Elite events, as well, and those are the competitions viewers might typically see on TV. Competitors in the Open series can earn their way up to the higher-level events.
Like nearly every other sport, the coronavirus pandemic has caused postponements in the tournament schedule. But Post officially made his Bassmaster debut the third weekend of June, fishing the Arkansas River out of Muskogee, Oklahoma.
Again to be as prepared as possible, Brian and Rachael headed to the waters a couple weeks ahead of time for some practice and to pick out potential fishing spots for the competition.
Upon returning, though, Post realized quickly if he was going to have success, he was going to have to adapt. The water level had dropped 11 feet since he had practiced.
"It went from a flooded forest to everything was dry," Post said.
He also had to get acquainted with the lock system on the Arkansas River. Post traveled 60 miles each way from the competition launch site to get to the spot he wanted to fish.
"It was 25 miles from the boat launch to the lock, and I was running that in about 21 minutes," Post said. "Then I spent 55 minutes in the lock the first day, with another 28-minute drive after that."
With the same trip on the way back, and staggered weigh-in times both days, Post needed to watch the clock.
In the tournament, anglers aimed to fill their five-fish limit each of the first two days. The top 12 anglers, based on weight, made the cut for the third and final day.
On the first day, Post caught two fish that weighed a total of 4 pounds. He sat 116th out of 192 boats.
Post made a little progress on the second day. He again landed two fish, this time totaling 5 pounds, 3 ounces. He moved up a couple spots to finish 110th.
"I was on the right fish," Post said. "Unfortunately, I just didn't execute."
The event's winner, Chris Jones, chose to fish a similar spot as Post in two of the three days. He finished with a three-day total weight of 42 pounds, 13 ounces. Jones' prize? $44,800. Each of the top 40 finishers cashed a check, with the top six all in five figures.
"I got a taste for it, and that's all I ever wanted," Post said. "There were a lot of guys that I follow on YouTube and stuff that have a lot more experience than I do, at the elite professional level, that finished behind me. That made me feel a little bit better."
At least until next time.
The ultra-competitive Post said he is determined to make the 12-angler cut and fish on the third and final day the next time he fishes in an Open. He is currently slated to fish the Sam Rayburn Reservoir in Jasper, Texas, in a Bassmaster Open competition over Labor Day weekend.
Other events to close out his four-tournament 2020 circuit are slated for Alabama in October and back in Texas in November.
"I'm not going to be on the outside looking in," Post said. "I'm going to do whatever I need to, work as hard as I need to, to make sure I make the final day."
The winner of each of the Open events earns a spot in the 2021 Bassmaster Classic tournament, and the top 30 get early entry priority into next year's Open series.
Post's passion for fishing has never been higher, and he has lofty goals for those events.
He also has some wall space in the office left to fill.