The 2020-21 NAHL season finally got underway for the Midwest Division on Thursday night.
Delaying the start by more than a month due to ongoing COVID-19 concerns, the division welcomed players back on the ice for the first time—other divisions started earlier—since shutting down the 2019-20 season early last March.
For the Janesville Jets, the wait was worth it.
Cade Destefani scored two goals and Justin Thompson had a goal and three assists to lead the Jets to a 6-4 win over the Fairbanks Ice Dogs at the Janesville Ice Arena.
Only 220 fans were allowed for the opener because of COVID guidelines, but they watched the Jets unveil a plethora of playmakers.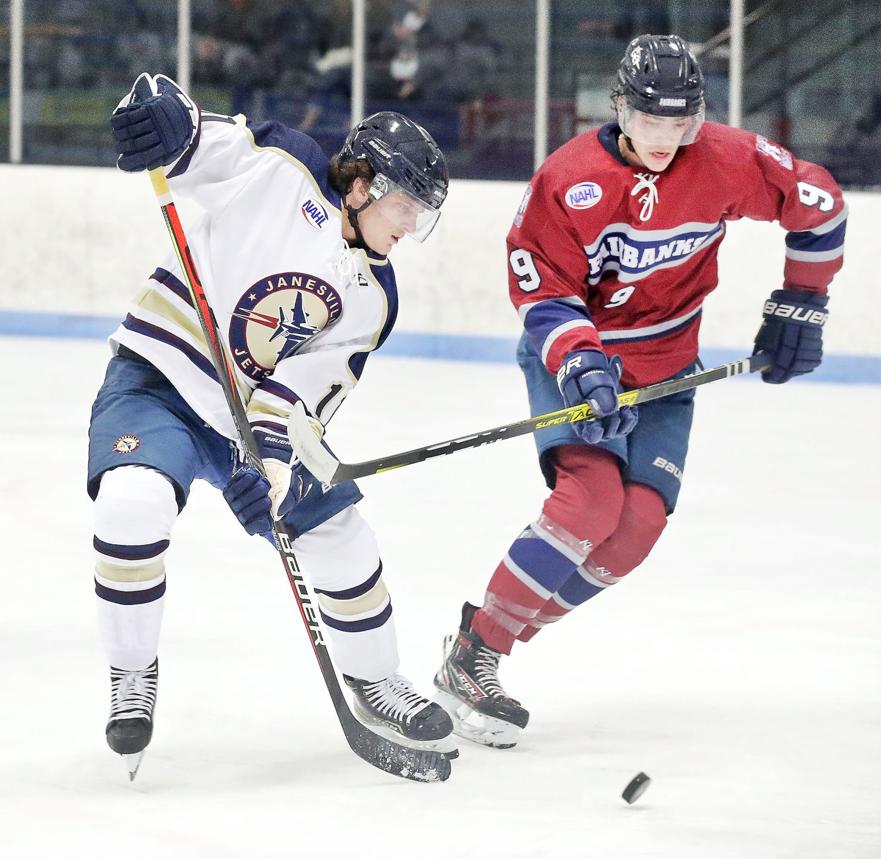 First-year coach Parker Burgess got a win in his debut and was glad to see his team in a game that counted.
"It was almost kind of surreal," Burgess said of finally playing a meaningful game. "We knew this day was going to come, but there was always a little bit of doubt with everything that is going on. There was a lot of excitement in our locker room before the game.
"Once the game gets going, you forget about the mask and all the protocols and just go out and play hockey."
Janesville started strong with a three-goal first period. Destefani gave the Jets the lead for good with his second goal of the period at 14:14. He took a perfect feed from Thompson behind the net and stuffed a shot past goalie Austin Ryman. Madison Edgewood High graduate Carter Hottmann made it 3-1 two minutes later.
Destefani said the strong start was key for the Jets.
"We kept a steady head the whole game, and even though we got off to an early lead, which was important, I really felt like we played a full 60 minutes," Destefani said.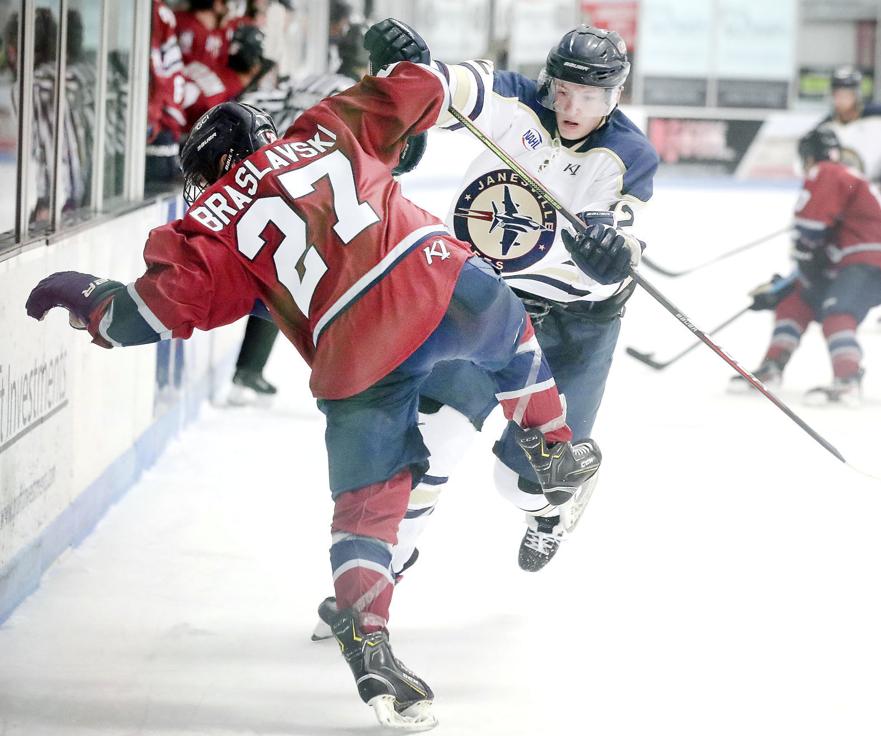 "Any win we can get here, we'll take. Now, it's on to the next one."
Max Itagaki made it 4-1 Jets with a power-play goal at 5:03 of the second, but the Ice Dogs scored the final two goals of the period to cut the deficit to one.
Thompson's unassisted goal early in the third pushed the lead back to two, but Fairbanks answered midway through the final period to make it 5-4.
Jaxson Ezman sealed the win with an empty-net goal at 18:43.
Riley Sims started in net for Janesville and picked up the win despite leaving the game in the third period with leg cramps. Owen Millward finished the game and stopped five of six shots.
The two teams play again tonight.
"We'll enjoy this one tonight for a little bit and then get ready for tomorrow night," Burgess said. "They're a really good team, but we've got a lot of guys here and some will get an opportunity tomorrow night."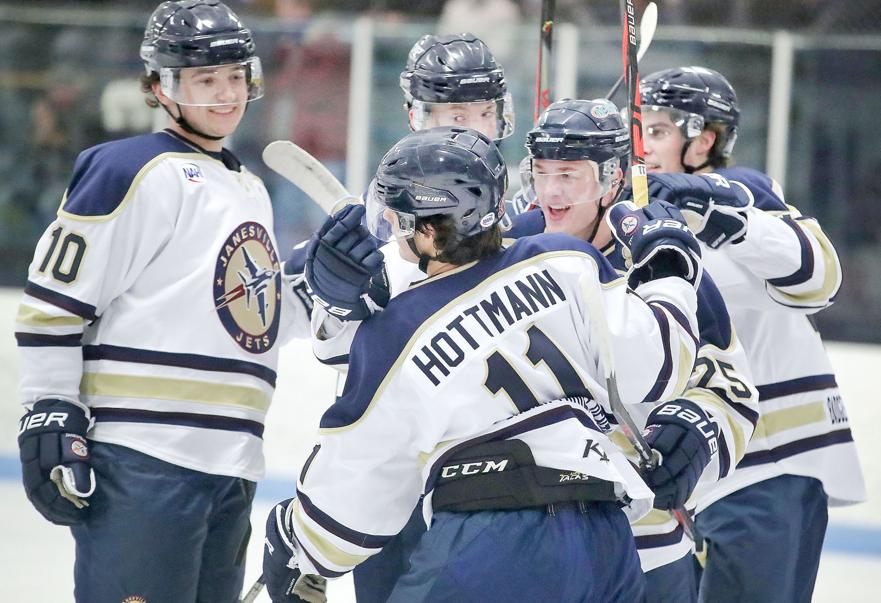 JANESVILLE 6, FAIRBANKS 4
J—Cade Destefani (Justin Thompson, Charlie Schoen) 4:43. F—Owen Neuharth (Nathan Butler, Brendan Miles) 5:38. J—Destefani (Thompson, Schoen) 14:14. J—Carter Hottmann (Jackson Sabo, Justin Engelkes) 16:06
J—Max Itagaki (Cal Mell, Thompson), pp, 5:03. F—Jake Hale (Andrew Garby, Brarak Braslavski) 10:30. F—Tyler Herzberg (Nick Ostbloom, Jack Ring) 18:20.
J—Thompson 5:42. F—Miles (Zachary Murray, Herzberg) 9:45. J—Jaxson Ezman (Matthew Romer, AJ Casperson), en, 18:43.
Saves—Austin Ryman (F) 40, Riley Sims (J) 28, Owen Millward (J) 6