Cole Flitcroft snared a rebound and immediately went straight back up and flushed the basketball through the rim.
When you're over 6 feet tall and the hoop is lowered to 8½ feet, those put-back slam dunks come a little easier.
Just this past spring, though, Flitcroft likely wouldn't have even caught the rebound.
"I played one game in March and I wanted to cry after because I played so bad," the 2020 Elkhorn Area High graduate said. "It was embarrassing."
Yet here he was five months later, the sun setting on an August night in the Stebnitz family driveway and on another Elkhorn Mini Hoop League season, dunking his way to a championship.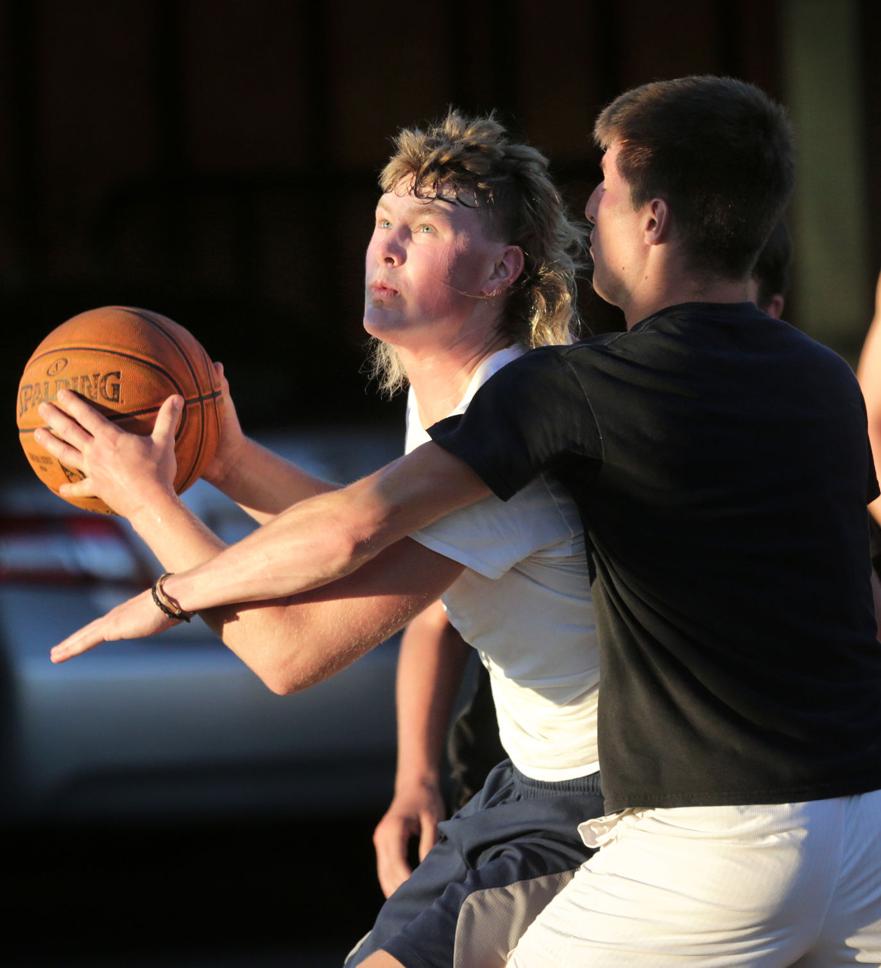 The COVID-19 pandemic ended Elkhorn's boys basketball season abruptly as the Elks were set to play in a sectional final. It stripped high schoolers across the state of a spring season. And it even led to new protocols for the driveway league this summer.
But the coronavirus could not completely halt the MHL, which celebrated its fourth season with a Finals series this past week—complete with temperature checks at the bottom of the driveway and socially distanced chairs in the lawn.
Tipping off
Connor Handel, Sam Stebnitz, Kyle Schoeneberg and Colton Loomis weren't looking to start much of anything when they began getting together at Stebnitz's house after school four years ago this past March.
Their two-on-two games in the driveway were just another competitive way to pass the time between winter and spring sports seasons.
"Then we said, 'Well, we should keep score,' and we played literally every day," Handel said. "It evolved, and we said, 'Let's start keeping stats.' Then we started playing three-on-three every Friday night ... and we turned it into a tournament that July."
The first MHL tournament featured 18 players—six teams. It was eight teams in 2018 and 10 last summer. This year, 51 players committed, meaning a 17-team bracket.
With each matchup being a best-of three series, this year's tournament lasted a month and a half.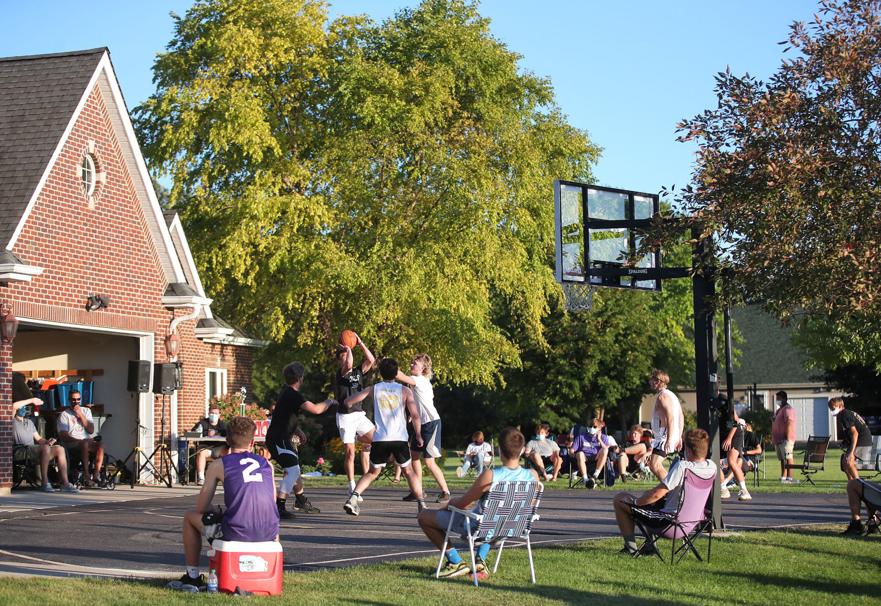 "We always talk about how crazy it is. We started out just screwing around in the driveway," Handel said. "And then last summer we had 150 people (fans) there for our championship."
Chris and Jill Stebnitz—parents of Sam, Mason and Grady—certainly didn't envision their driveway becoming such an arena, either.
They had seen the kids and their friends make just about anything and everything a competition while they were growing up. But the MHL took on a life of its own, becoming a pickup league from spring through June, a Memorial Day tournament and then the MHL playoffs throughout the July.
"We've definitely had to have some conversations, because it's gotten a lot bigger," said Sam Stebnitz, a 2020 Elkhorn grad, of meetings with his parents. "They didn't want to be responsible for people being here super late at night, and they didn't want to have to stay up all night or feel bad about it."
The basics
The Mini Hoop League essentially includes two parts: constant pickup games from early spring through the end of June and then the playoffs beginning—after a draft—in early July.
The playoffs garner more of the attention from local enthusiasts, but the both Chris and Sam Stebnitz said they relish the pickup "season" as much or even more.
"There's nights we play for four hours," Sam said.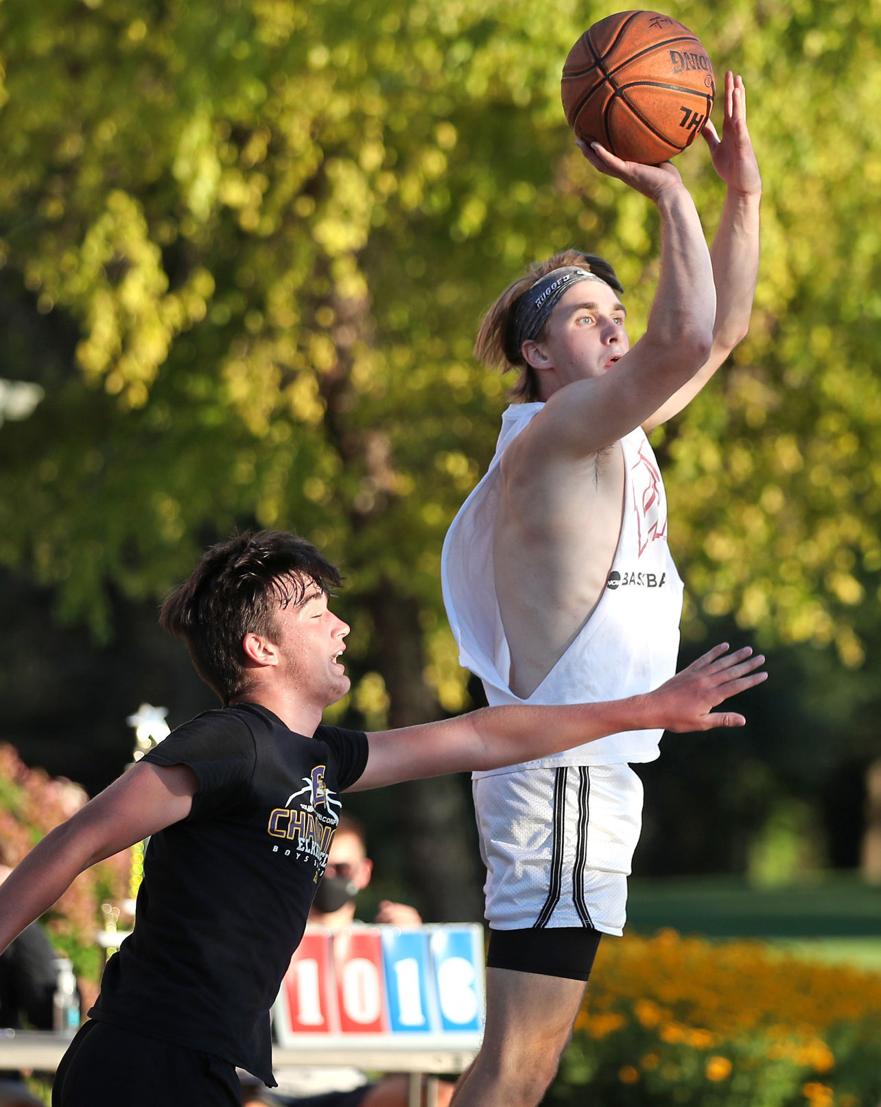 Games feature four seven-minute quarters of three-on-three on an 8 1/2-foot hoop. The half-court setting features two- and three-point baskets, and players call their own fouls with "bonus" foul shots only coming in the final minutes of a game.
"The little hoop kind of levels the playing field," Handel said. "People obviously love getting the opportunity to dunk and compete against their friends."
When games are taking place, there is always one person to keep time, another to keep score and another to keep stats. Handel collects the official stat sheets from each game and plugs them into a Google Sheet that includes season stats, career stats and all-time records.
The season stats from March-June are used to help determine captains for the playoffs. This year, 51 players signed up, so the bottom 17 players in terms of offensive efficiency ranking became the captains.
"People like being captain, even though you're in the bottom 17," Sam Stebnitz said. "You're the GM of your team. First pick this year was Eric Van Dyke, and he won MVP this year. We have MVP, defensive player of the year and rookie of the year awards."
This summer saw some changes due to the COVID-19 pandemic. Fans and others in attendance not playing have been asked to wear masks and socially distance. The group purchased a thermometer to do temperature checks upon arrival. And spectators were limited compared to past years.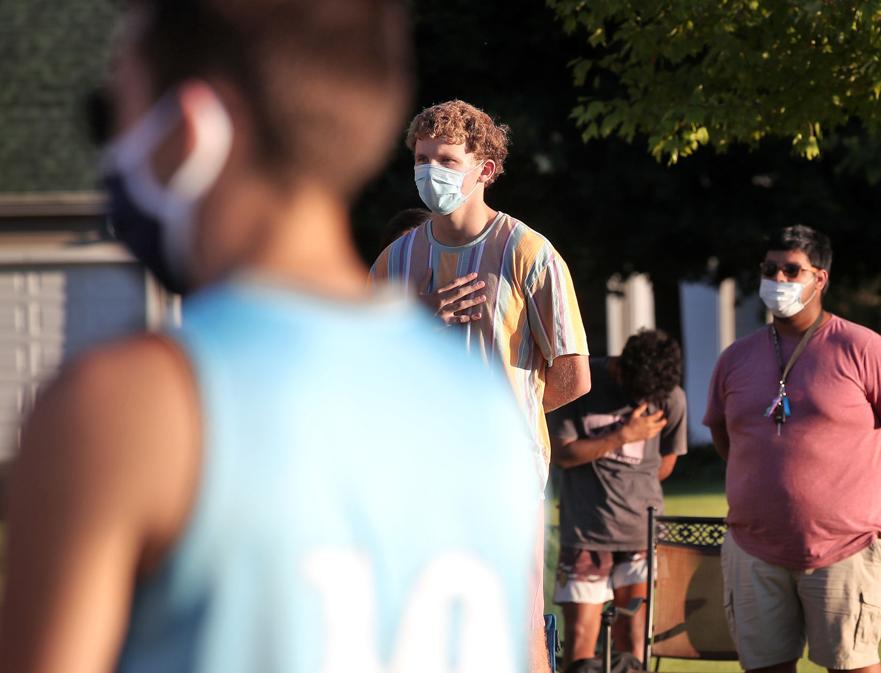 Van Dyke might have been the MVP, but it was Schoeneberg who got the last laugh.
Flitcroft had the fourth overall pick in the July 1 draft but traded up with the captain who had the second pick so that he could have Schoeneberg—whom he calls the Michael Jordan of the MHL. They added Alec Birbaum—known more on the soccer field than the basketball court—with the second-to-last pick and turned it into a championship.
Creating camaraderie
Nobody involved will go so far as to say the Mini Hoop League helped Elkhorn's boys basketball program end its state tournament drought. The Elks it made it there in 2019 for the first time in 32 years.
But the camaraderie on the Stebnitz court certainly has not hurt when it comes to the passion for basketball in Elkhorn.
"It's able to bring a whole community of kids together that love sports," Handel said. "We have nine guys from that team that made it to state. But we also have dudes who have never played any organized sports who come out and play against (former Elks stars) Luke and Vince Umnus."
There was a player in the league this year who graduated in 2016. And the youngest of the bunch will be sophomores at EAHS this fall.
Chris Stebnitz helped coach his sons in a variety of sports growing up. He sees the value of dozens of kids playing with and against each other. They are forced to adapt the style of their game depending on which players are on the court at a given time.
"You could have 60 or 70 kids out here," he said. "You've got to figure out how to play with guys that you've maybe never played with or even met before."
He's seen the league passed down from Sam to Mason, who graduated this year and now to Grady, who will be a junior in high school.
Chris also said that he has never seen a game devolve into a fight or ugly dispute. And Sam said none of the players or spectators have ever abused the property to taken advantage of the situation by turning it into a party.
"Everybody has a mutual respect for what we have here," Schoeneberg said. "They let us use this court, and if things got out of hand and we started abusing it, that wouldn't happen anymore. Nobody wants it to stop.
"Everyone loves it, even if it's to come watch from six feet away from each other."