The Speth family discovered travel softball 11 years ago.
Marty and Maria and daughters Jennah, Jaida and Jasmin have been on the move ever since.
They canvassed southern Wisconsin while helping taking the Delavan-Darien High School program to new heights. They expanded that circle through summer travel ball. And they have kept Illinois toll booths busy while driving to see Jennah and Jaida play in college.
The Speths traded in Maria's Suburban for a more gas-friendly car around Christmastime, but not before they put about 220,000 miles on it.
"It's been 11 years of practices and playing and going and traveling," Marty said. "And now it's nothing."
Jennah, a senior at Illinois-Chicago, and Jaida, a sophomore at IUPUI in Indianapolis, were in the middle of their college seasons when the coronavirus pandemic struck and halted all sports.
Jasmin should be in the middle of her senior season with Delavan-Darien.
Instead, they have found themselves all back under the same roof, doing their best to get along while finishing off this semester's classes, working at Lowe's to make some money and itching to get back outside to practice softball.
And in an interesting twist, perhaps this period of safer-at-home is preparing them for what is next, because when the dust settles, there is a chance they will all be on the same roster for the first time ever.
Softball is in their DNA
The only thing that might make the Speth family story more worthy of a Hollywood sports screenplay is if Marty and Maria had met on a softball diamond.
They actually starting dating when they were both young teachers starting out in Delavan. But the softball possibility is not far-fetched.
Marty, an agri-science teacher and multi-sport coach, played competitive fastpitch around the state and region for more than two decades. And Maria Ramos-Speth, who teaches English as a second language, said she played softball from when she was 8 years old well into her young adult life.
"I think I quit after a summer or fall league when I was three months pregnant with Jennah," she said. "I guess I figured then it was time to stop."
Jennah, and later her younger sisters, were quickly drawn to the sport.
"I have memories of going to my dad's games and being in the stands at a softball field," Jennah said. "That became a second home, and it was something that brought us all together."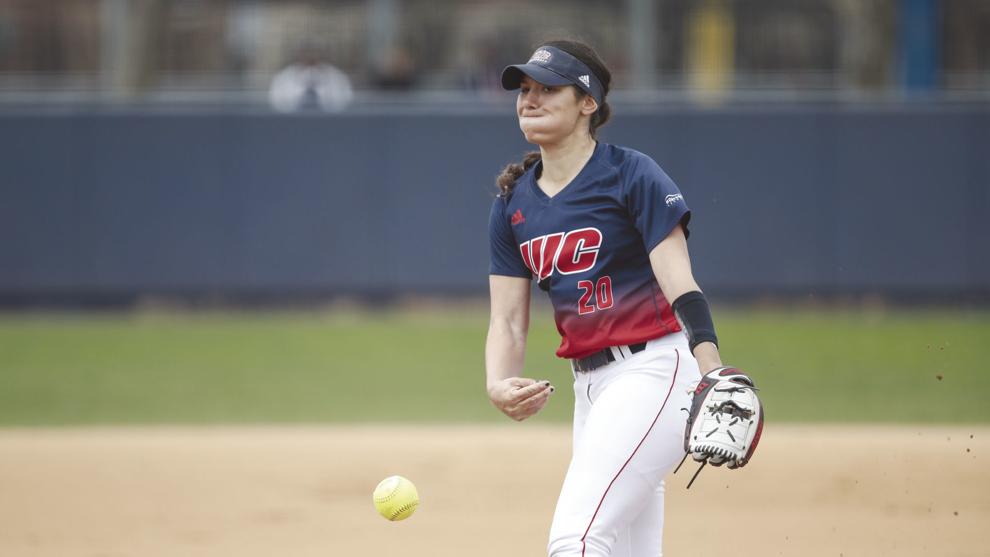 Jennah's journey
Jennah Speth should have been celebrating Senior Week at UIC last week.
Instead, she was home trying to finish off the final 16 credits of her degree—a bachelor's of science in kinesiology, with an emphasis on movement science and pre-med.
Along with picking up a new job at Lowe's, Jennah has been delivering groceries to those in need through Instacart.
"It still hasn't even set in, really. I feel like I'm on Christmas break right now," she said. "It's weird not seeing my teammates and going to practice every day. And having to stay home and do online schools, which is really not easy."
Jennah was The Gazette's area softball player of the year in 2016. As a senior that season, she helped lead the Comets to the WIAA state tournament for the first time in program history. And once there, she set WIAA all-division records by striking out 22 batters in one game (a nine-inning semifinal win) and 36 in the two-game tournament.
She quickly found success at Illinois-Chicago.
Jennah was named second-team all-Horizon League as a freshman, when the Flames reached NCAA Regional competition. She led the team with 32 RBI.
But a back injury as a sophomore limited her to just 16 games, and she played in 15 as a junior, including going 6-2 in 50 2/3 innings pitched. Speth was 2-0 over eight relief appearances through the Flames' first 20 games this spring.
"It was definitely a lot harder than I was hoping my four years there would be," she said. "There was a lot of personal and athletic struggles I wasn't really prepared for. I hadn't been injured before, so softball had never been taken away from me.
"But I feel like, coming out of my four years down there, I've learned and grown a lot as a person. I wouldn't change anything that's happened."
Even before the pandemic, Jennah said she had begun the process of petitioning the NCAA for a fifth year of eligibility. But the NCAA since ruled that spring sport athletes will be able to retain a year of eligibility moving forward, so Jennah will have her senior year reinstated. She is currently in the process of applying to graduate schools and is in the NCAA's transfer portal.
Back home again
Life with three daughters under one roof back at the small Walworth County farm has been relatively smooth, the family members all said.
At a time when there is little to do, they have all picked up jobs and are doing their best to get through online classes.
"I had originally taken two online classes this semester anyway ... but I'm kind of struggling because the other three that I took in person was because they are too hard to learn online," Jaida said. "Now that they are online, it's been tough, but there's only like two weeks left so I've just got to grind it out."
Jennah said she was given the option of taking this semester's classes as pass/fail instead of for a letter grade.
"I don't usually take online classes on purpose, because it's hard for me to stay focused," she said. "So I'm trying to focus and study for exams. If I don't pass, I don't graduate."
Jasmin is finishing up her senior courses with Delavan-Darien and has kept busy tending to a new puppy.
Marty purchased a new net and tee to set up in the garage, so all the girls have been taking some batting practice. But the entire group is looking forward to warmer weather and some outdoor practice.
"I'll be hitting balls at them soon," Marty said. "And Jennah will pitch and I'll probably be catching. That's always fun. I think I've only bled twice."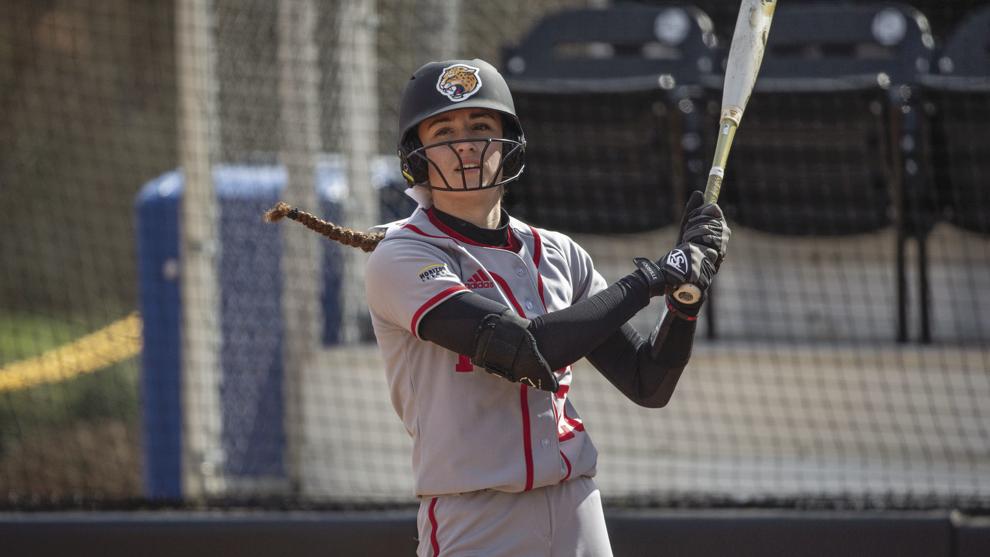 A successful start
Jaida Speth could hardly have asked for a better first season and a half at IUPUI.
She led the Jaguars with a .314 batting average last spring, started 51 of 56 games and was named to the Horizon League's all-freshman team. She struck out once every 22 at-bats on average, tops in the conference.
Jaida had started all 20 games this season, mostly in center field, and was leading the way again by hitting .373 with 10 RBI and nine runs scored.
"We got off to a really good start to the season, then went through kind of a rough patch," she said. "Then we were back on an upward swing when we were supposed to go to UT-Martin (Tennessee). That's when it all got canceled."
Jaida was the team's third-leading hitter and starting shortstop as a freshman on Delavan-Darien's state tournament team.
"They (the three sisters) have been a big part of the program," Delavan-Darien head coach Hank Johnson said. "They were awesome with the girls that would come up. They are so skilled in softball and have put a lot of practice in since they were little girls."
Jaida said she found out her season was canceled on a Thursday and headed back home the next morning. She's been there ever since.
"We'd be going to our conference tournament pretty soon," she said. "I guess I still just don't know how to feel. I'm taking classes, but not in Indianapolis. I'm working. It's all just super weird."
Thanks to the NCAA's ruling, Jaida will still be a sophomore, eligibility-wise, next spring.
On the go
The calendar on Maria's cellphone is still sending her alerts.
"I had already put all the girls' games in there, so that pops up all the time," she said. "I should not be at home. I'm going stir crazy."
She and Marty should be coordinating who is going to what game.
Weekdays would have typically been reserved for Jasmin and the Comets, for whom Marty is an assistant coach. Then Maria would drive off to see Jaida and Marty to see Jennah one weekend, and they would flip-flop the next weekend.
"I really miss the traveling," Maria said. "I know it's a lot of mileage and gas and money, but it's well worth it."
The hardest road trip last year was when Jaida and Jennah squared off in a Horizon League game.
"That was tough to watch," Maria said. "I posted that they were playing, and someone asked me later who won. I said, 'The Speths.'"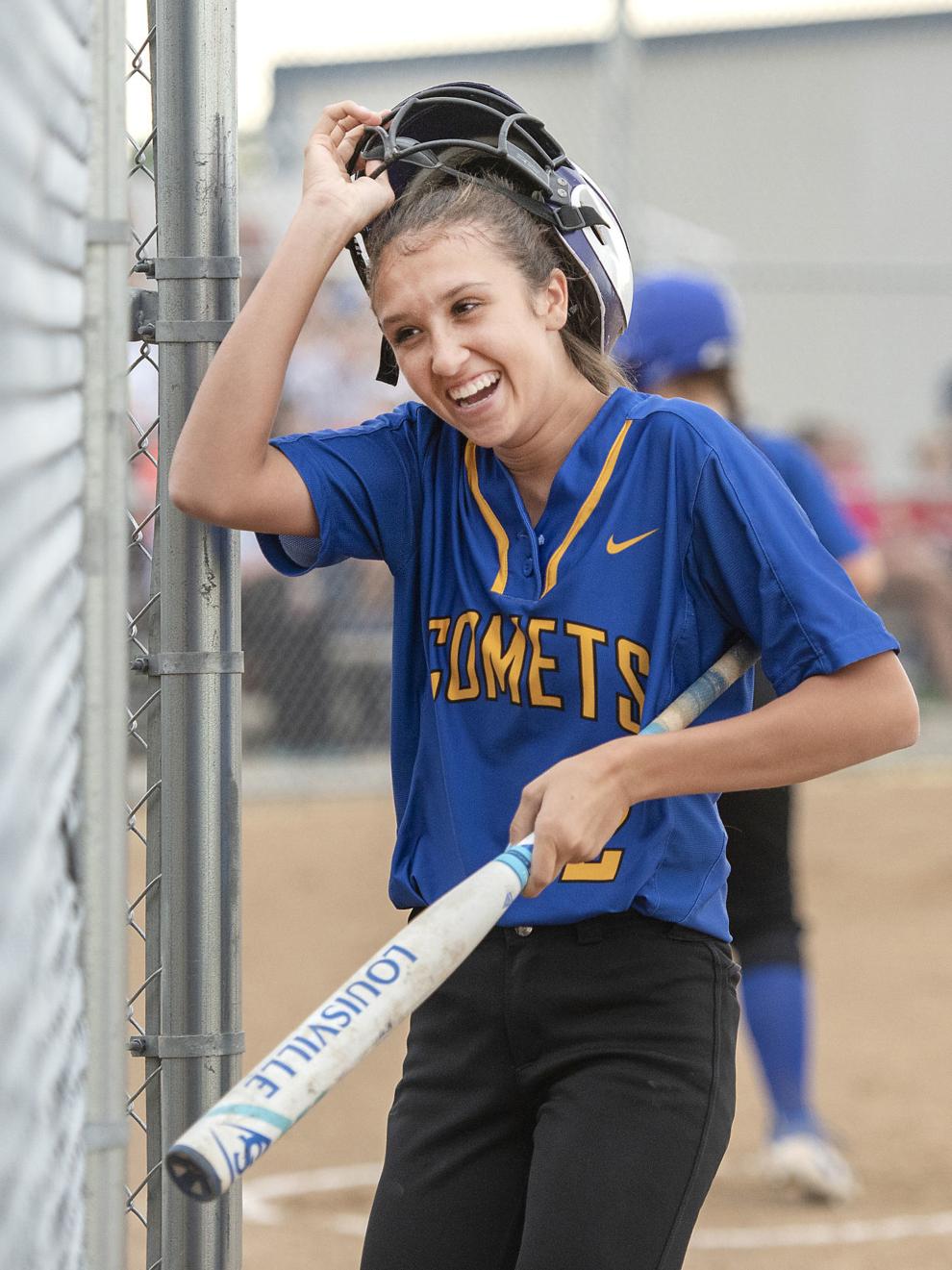 Jasmin's up next
Jasmin Speth was coming off a junior season where she had been named second-team all-conference in the Southern Lakes—perennially one of the top top softball leagues in the state.
She was set to be the Comets' starting pitcher as a senior.
"My sophomore year was the best," Jasmin said. "We didn't win a conference game, but then we dropped down (to Division 2 for the tournament) and went to a sectional final. Everyone was amazed, and I was, too."
That is not the only surge Jasmin helped lead.
She was part of a basketball program, coached by Marty the past couple seasons, that won two games in 2017-18 but went 10-14 with a regional tournament win this past winter.
Jasmin signed her letter of intent to join Jaida at IUPUI next fall.
All together now?
Jasmin and Jaida should have three seasons to play together at IUPUI.
Well, if the stars align, she just might join her sisters for a season or two. IUPUI is one of five places she has applied to for graduate school. The COVID-19 ruling means she will be a senior, eligibility-wise, next year. But she could still petition the NCAA to regain another year due to her prior injury.
"That would be interesting," Jaida said. "I've played with both of them (Jennah and Jasmin), but never at the same time. It was weird playing against Jennah, but it might feel even more weird to have us all on the same field or in the same practice.
"I'm excited to see how it plays out, and we'll go from there."
Jennah said all she can do is wait and see. Among the other programs she has applied to are Texas Tech and Memphis.
"They all have programs that are great for what I applied for," she said. "Now I'll just wait to hear back."
And the entire Speth family awaits a day when softball has them on the go again.
Of course, having just one destination would certainly make next year's travel schedule much easier for Marty and Maria.
"It kind of leaves me speechless," Maria said. "That would be a dream come true."