Brodhead/Juda and Lake Geneva Badger were the area's leading teams during the high school football season.
The Cardinals went 9-0 during the regular season, won the Southwest Wisconsin Conference title and advanced to the WIAA Division 5 state quarterfinals.
Badger finished runner-up in the Southern Lakes and—along with Brodhead/Juda—was the only area team to win a WIAA playoff game.
So it should come as no surprise that those two teams dominate The Gazette's all-area football team for 2021.
Of the 20 players selected for 24 positions, 11 come from Brodhead/Juda and Badger. Led by Gazette player of the year Cole Berghorn, Badger garnered five selections on the all-area team. Brodhead/Juda placed six players on the team.
Milton is the only team to have two players represented on both offense and defense. Senior Zack Bothun not only was named the top quarterback, he also was selected as one of the top three linebackers. The Red Hawks' Jack Campion was named the top utility player on offense and one of four defensive backs.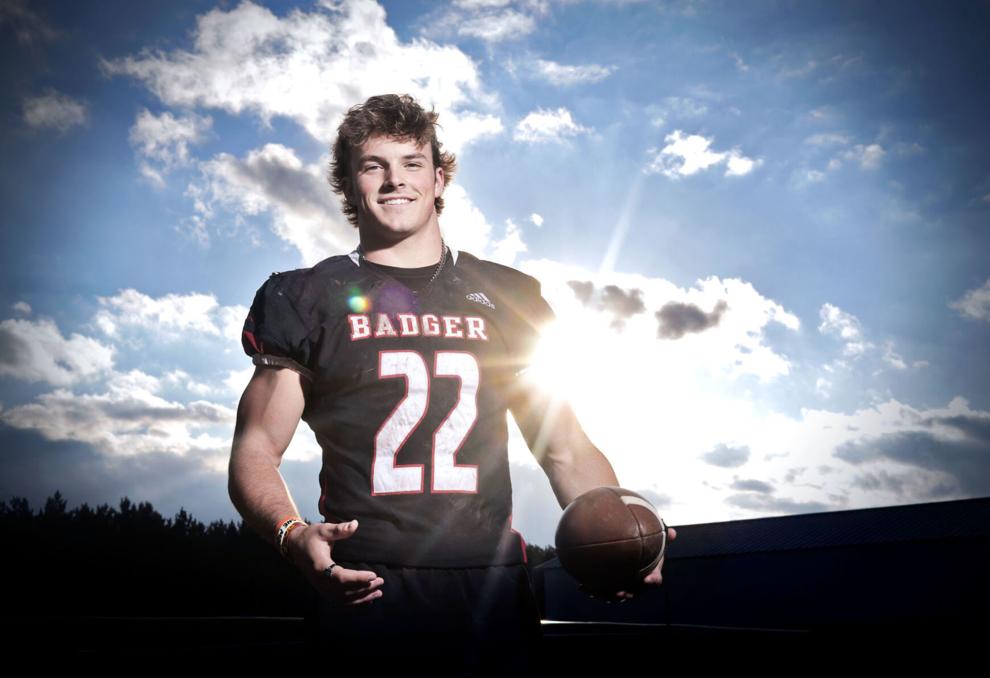 Eight area schools are represented on the team. And with eight juniors and one sophomore selected, all eyes will be on what should be a promising 2022 season.
Here's a look at the 2021 Gazette all-area team, as compiled by Gazette sports writer John Barry:
Quarterback
Zack Bothun was basically unstoppable the last month and a half of the season. The senior was moved to quarterback because of injuries, and thrived running the Wildcat offense for the Red Hawks. In his last five games, Bothun rushed for 1,096 yards and 17 touchdowns.
"I was a bit nervous putting him back there because I didn't know if his style of running would fit the Wildcat offense, but Zack just took off right from the start," Milton coach Rodney Wedig said. "He took a beating running the ball, went and played defense, and then came back to offense without ever missing a beat."
Running back
Talk about a no-brainer for The Gazette Player of the Year. Cole Berghorn was simply spectacular. He finished second in the state during the regular season in rushing and ended with 2,178 yards on the ground and 27 touchdowns and was named first-team all-state by state coaches.
Gage Boegli capped off a stellar senior season by earning Small Division first-team all-state honors. He rushed for 1,567 yards and 27 touchdowns in 12 games and was named the Southwest Wisconsin Conference player of the year.
"Nobody worked harder at his craft than Gage," Brodhead/Juda coach Jim Matthys said. "He's a kid that just loved football and was rewarded for work ethic."
Wide receiver
Out of all the players on the all-area team, no one has a bigger upside than J.J. Douglas. The Parker sophomore has the size, speed and athleticism to play at the next level and is already on the radar of several major Division I schools. Douglas averaged 18 yards a reception, finishing the season with 45 catches for 810 yards and five TDs.
"I don't even think J.J. has even scratched the surface yet on how good he can be," Parker coach Clayton Kreger said. "He's a weight room monster, is very motivated and plays with a sense of urgency."
Jake Schaffner was Mr. Everything for Craig. The junior led the Cougars in receptions (47), yards (715) and touchdowns (5). He also rushed for 254 yards and three touchdowns.
"Jake could do it all," Craig coach Adam Bunderson said. "I knew how athletic he was, but I didn't realize how good of a football player he was, too. He's a special talent."
Kane Howlett thrived in the Evansville offense this season. The senior caught 32 passes for 508 yards and five touchdowns.
In a win against East Troy, Howlett caught seven passes for 152 yards and two touchdowns.
Offensive line
Abiathar Curry was the heart and soul of Parker's team. The senior and Northern Illinois recruit anchored both the offensive and defensive lines.
"He dedicated himself and made himself into a very good football player," Kreger said.
"He had great feet, and we felt like we could pull him and get him outside because he's so athletic. His best football is ahead of him."
Colton Buttke and Aaron Makos helped lead Brodhead/Juda to 18 straight wins over the course of two seasons, and paved the way for Boegli to run wild.
"You'd be hard-pressed to find a better tandem in the state than those two," Matthys said of Buttke and Makos. "We moved Aaron from center to guard, and the transition was a smooth one. And Colton just had a motor that never stopped."
At 6-foot-4, 250 pounds, Max Bochat dominated at the point of attack for Elkhorn. The senior led the way for an Elks rushing attack that averaged 238.1 yards per game.
Badger's Connor Bates was the lone underclassmen chosen among the top offensive linemen. The junior anchored a line that helped Berghorn rush for over 2,100 yards.
"Connor's just a mauler," Badger coach Matt Hensler said. He's a bit undersized, but he flies off the ball and gets after it."
For not playing football before this season, Kenneth Zavala had no trouble picking up the game. The junior made four field goals for the season, including a school-record 46-yarder in a win over Watertown.
"He made the transition from playing soccer to kicking for us a smooth one," Kreger said. "We never had to worry about going for two or whether we might be in field-goal range or not because we had a lot of confidence in Kenneth."
Utility
Jack Campion was truly a gadget man for Milton. The senior scored every way possible for the Red Hawks and was a nightmare to try and defend whether it was as a receiver, running back, quarterback, punt returner or kick returner.
"Jack might be the most electric kid I've ever coached, and I've had some great ones," Wedig said.
The postseason awards continue to pile up for Brent Hoppe. The Beloit Turner junior was named Tuesday to the AP Small Division first team after already earning first-team all-District and all-Capitol Conference honors.
Hoppe's defensive statistics were staggering. He had 42 tackles for losses, 14 sacks and three fumble recoveries.
William Dzierzanowski was a big reason Badger's defense gave up only 18.9 points a game. The senior had 11 sacks and 14 tackles for losses.
"William probably gave up 65 to 70 pounds to the smallest guys he went up against, and maybe close to 100 pounds to some other guys, yet never was overpowered," Hensler said. "He's so aggressive and so quick off the ball that he just went right around guys."
Aaron Makos and Brady Malkow solidified a Brodhead/Juda defense that produced four shutouts and held eight opponents to 10 points or less.
"At 6-3, 280 pounds, Aaron fits the perfect profile for defensive lineman," Matthys said. "He improved a lot from the spring season.
"And Brady is just a great athlete that never came off the field for us.
"Those two made it possible for our linebackers to make a lot of plays because they were always getting double-teamed."
Zack Bothun and Colton Buttke were just as productive on defense as they were on offense.
Buttke had 64 tackles, including 20 for losses and added an interception.
Bothun had 67 tackles, eight tackles for losses and recovered a fumble.
Taylor O'Laughlin rounds out the talented trio of linebackers. The Badger junior had five sacks, eight tackles for loss and a fumble recovery.
"Taylor is kind of a throwback-type of player," Hensler said. "He just has a knack for making plays and being around the ball."
Defensive backs
Seth Johnson had a productive season in the secondary for Badger. The junior had a team-high three interceptions, 25 tackles and a fumble recovery.
"He's a ball hawk," Hensler said of Johnson. "He really stepped up his overall game, especially in the run game where he didn't miss a lot of tackles."
Jack Campion's defensive stats are nothing special and that's because he was so special. Teams were smart enough to avoid throwing the ball in his direction. He did finish with four interception and made 49 tackles.
"When I first saw Jack, I thought he was just a basketball player out for football," Wedig said. "As it turned out, that couldn't have been farther from the truth. He hit people, wasn't afraid of contact and did so much for our football team. Like I said, he's one of the best all-around players I've ever coached."
Aidyn Vondra got the inevitable task of guarding the opposing team's best receiver. The Brodhead/Juda junior flourished in the role.
"Aidyn did an excellent job of containing the other team's top threat," Matthys said.
Camden Combs was a catalyst on defense for Turner. The senior finished the season with three interceptions and two fumble recoveries, one of which he returned for a touchdown.