No, not that Cleveland. And this has nothing to do with the Rock and Roll Hall of Fame.
This is about Cleveland, Mississippi. And about how the city of roughly 12,000 has come to shape the future of swimming 700 miles away in Janesville.
The Delta State women's swimming program is responsible for giving two Janesville swimmers a chance to continue their careers at the collegiate level. And because they crossed paths with an assistant coach while there, swimmers from the city now have a new leader who may guide many more of them to the next level.
The Rhodes in and out of Mississippi
How does a native of England who swam at Southern Illinois and coached in Mississippi wind up in Janesville?
Sierra Rhodes graduated from Janesville Craig in 2015 and went on to swim at Olivet Nazarene before transferring to Delta State.
It was there she met Charlotte Davies, who was working on a Masters degree and was a graduate assistant coach with the Division II college program.
Davies earned her Masters and began looking into swimming coach positions, and Rhodes and her father, Eric, let her know that Janesville Craig was looking for a girls head coach.
Eric Rhodes is the head boys swim coach at Parker and the president of the South Central Swim Team, the club program in Janesville.
"Sierra had always told me she was just really committed," said Eric Rhodes, whose daughter Sommer now swims with Delta State. "She grew up in swimming, went through it, swam on the (English) junior national team and knows what it takes. And so she has expectations, and she holds all the swimmers to those expectations and standards."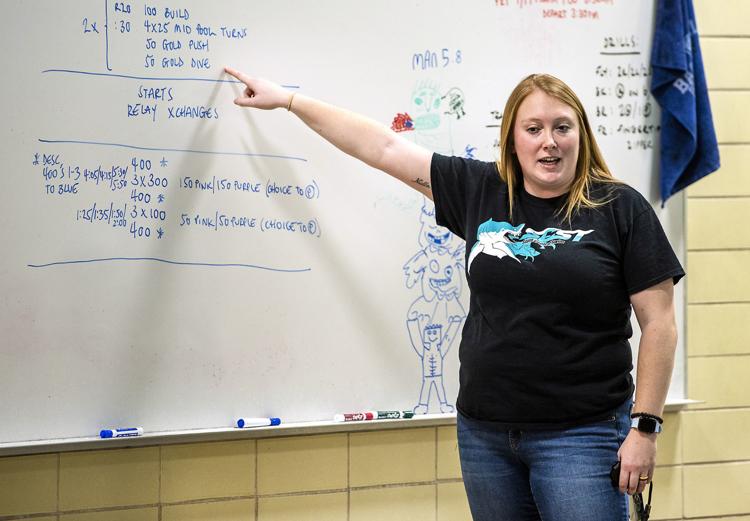 It certainly helped to know someone from Janesville, and Davies said she and her husband were looking to get back to the Midwest anyway.
"He's from Illinois, I went to school at Southern Illinois, so we were looking to move back," Davies said.
And so Davies was hired as Craig's girls head coach going into the fall 2018 season. She also got a job as an assistant at UW-Whitewater.
On April 1, Davies took over as the head coach at SCST. And after coaching her second season with the Craig girls this past fall, she is in her first season coaching the Cougars boys program this winter.
The winding tale added another chapter Dec. 6 when Davies and Eric Rhodes faced off as coaches. Davies' Craig team edged Rhodes' Parker team, 87-82, in a Big Eight Conference dual meet.
Friendly rivalry
Craig junior Kiel Wolff summed up the unique rivalry of Craig and Parker the night of that dual meet.
"It's almost kind of a bittersweet feeling," Wolff said. "Because I'm friends with a bunch of the senior swimmers on the other team."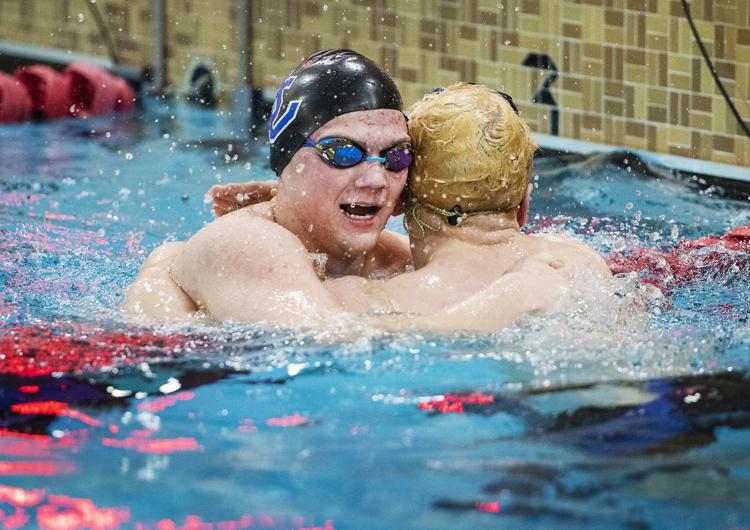 While the Cougars and Vikings certainly wanted to win the crosstown dual, they spend most of the year working together to get better, and many swim together as part of SCST.
Similarly, Davies' resume currently reads that she is Craig's head coach, and she is undoubtedly working to lead the Cougars to improved times and victories in the pool. But she wants nothing more than all of Janesville's young swimmers to succeed.
"There is a lot of love when we go to high school meets," Rhodes said. "If both teams are at a meet, and my boys are having success, she's showing them a lot of love."
Davies spells it out simply.
"If Craig and Parker are competing closely with each other, all in all we're making Janesville swimming better," she said. "Having one better than the other isn't necessarily a good thing, it's overall about Janesville swimming improving."
Looking ahead
Davies has swam at Olympic Trials. She's competed at the Division I college level and coached at lower college levels.
But she believes she has found something in coaching at the high school and club levels.
"It's definitely inspiring," she said. "I like being able to watch the kids grow and improve, not just in the pool but personally, as well. Just giving them a little to look up to and to be a role model for kids. I definitely think I have a lot to give at the high school and club level."
"Somebody with her qualities, I was confident we would find a home for her on the club team," Rhodes said. "And right away, I was thoroughly impressed with the improvement and times kids were putting up."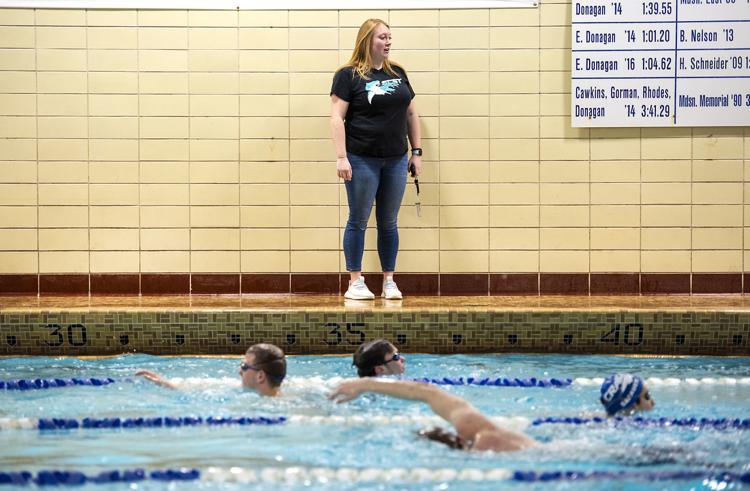 Rhodes hopes Davies can give the club some stability.
He said the running joke is that the club cannot keep a head coach for more than two years, because many are able to leave for other clubs that can offer more money. The last club coach left for a team in Iowa that gave him a substantial raise, Rhodes said.
With Davies firmly entrenched in the area swim scene as not only the club coach but as head coach of Craig's boys and girls teams, the hope is that Davies is here to stay.
And she certainly speaks with long-term goals in mind.
"We're moving in the right direction," Davies said. "Our grassroots swimming, especially the club team, we're getting more and more participation and people interested. The high school teams are growing and competing, and we're looking to keep them growing.
"There's always room for improvement in any sport, but we're moving in a direction where the next few years, we can be a competitive place to swim."
For now, swimming already has a little different feel in Janesville. And at least some of the thanks for that can be traced to Cleveland.