The Milton Red Hawks will play for a state championship Thursday.
Thanks to a pair of wins Tuesday at the WIAA Division 1 state tournament, Milton is one win away from the program's first state title in its first-ever trip to state.
Sixth-seeded Milton beat seventh-seeded Greendale 8-2 in a state semifinal game early Wednesday morning after defeating third-seeded Hartland Arrowhead 8-5 in its quarterfinal opener Tuesday afternoon.
Milton (20-8) plays eighth-seeded Bay Port (17-9) at 6 p.m. Thursday for the state title.
In the quarterfinal against Arrowhead, Jack Campion turned in a sparkling performance on the biggest stage of his life up until that point.
The Milton right-hander threw six-plus solid innings and hit a pivotal two-run homer to lead the Red Hawks to an 8-5 win over Hartland Arrowhead in a WIAA Division 1 state quarterfinal game.
Sixth-seeded Milton played seventh-seeded Greendale in a state semifinal game later Tuesday.
Milton jumped on Kansas State University recruit Mason Buss for three runs in the second and three more in the third to open up a 6-0 lead.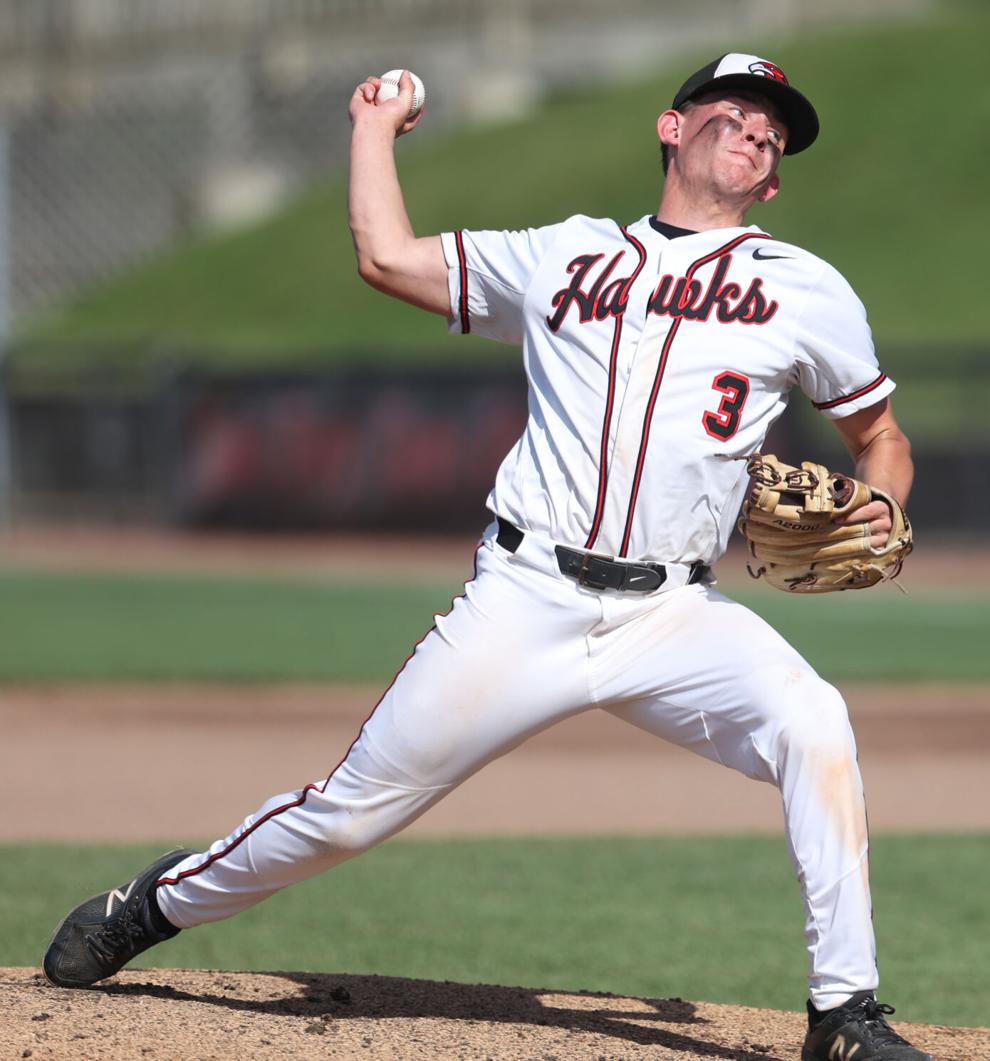 Campion threw strikes and breezed threw the first three innings. The Southern Indiana University basketball recruit gave up three runs in the fourth, including a two-run homer, but responded with the first home run of his career—a two-run blast in the top of the fifth that pushed the lead back to five at 8-3.
"The home run was a big energy boost, but I'm more proud of my pitching performance," Campion said. "I was glad I could get into the seventh and not waste any of our other pitching.
"And our small ball worked really well all game. Everybody picked everybody else up. We got contributions up and down the lineup."
Arrowhead 000 302 0 — 5 10 0
Leading hitters—M: Holcomb 2x3 (3B), Campion (HR); A: Curry 2x4 (2 2B), Duncan 2x3 (2B), Zordani 2x3, McKellar (HR).
Pitching (ip-h-r-er-so-bb)—M: Campion (W, 6.2-10-5-4-3-1), Schnell (.1-0-0-0-1-0); A: Buss (L, 3.1-4-6-6-4-6), Egerbrecht (3.2-1-2-2-5-4).
Greendale 001 100 0 — 2 5 4
Leading hitters—G: Norton 2x4, 2B; Latus 2x3, 2B. M: None
Pitching (ip-h-r-er-so-bb)—G: Kuster (1-0-2-0-0-1), Ellis (2.1-1-1-1-3-0), Bauer (0.2-1-0-0-1-1), Campeau (1.2-2-5-4-2-2), Lentz (0.1-1-0-0-0-0). M: Birkhimer (2.1-2-1-1-1-2), Jones (3.2-3-1-1-3-1), Schnell (1-0-0-0-1-1).