Edgerton's teachers knew this year's senior class was destined to be different when they were back in grade school.
Standard playground rules were not enough for this bunch.
"Kids were just tackling each other and getting upset," Crimson Tide senior Cole Bavery said with a laugh while looking back. "They literally made up a game for us when we were in elementary school, where we had to be down where we caught the ball to prevent us from tackling each other. We were just raw competitors. It was crazy.
"But it really did foreshadow all the success we're having now as seniors in high school."
There are 64 boys in Edgerton's Class of 2020. Eight of them (12.5%) are moving on to play sports at the college level. That is more than twice the national average, according to data put out by the NCAA in 2019.
Wileman walks on with Gophers
Ben Wileman went from a baby-faced junior linebacker to a Division I football recruit in about a year's time.
Wileman earned first-team all-Rock Valley Conference honors as a junior, and teams began to take notice during offseason camps. After touring the country during the summer and putting together an honorable mention all-state senior season, he decided to attend the University of Minnesota as a preferred walk-on.
"I just really grew a great relationship with the coaches," Wileman said. "They have a wall in their facilities called 'Elite walk-ons,' where they put every walk-on that earns a scholarship. I think they had four last year, so that's my goal."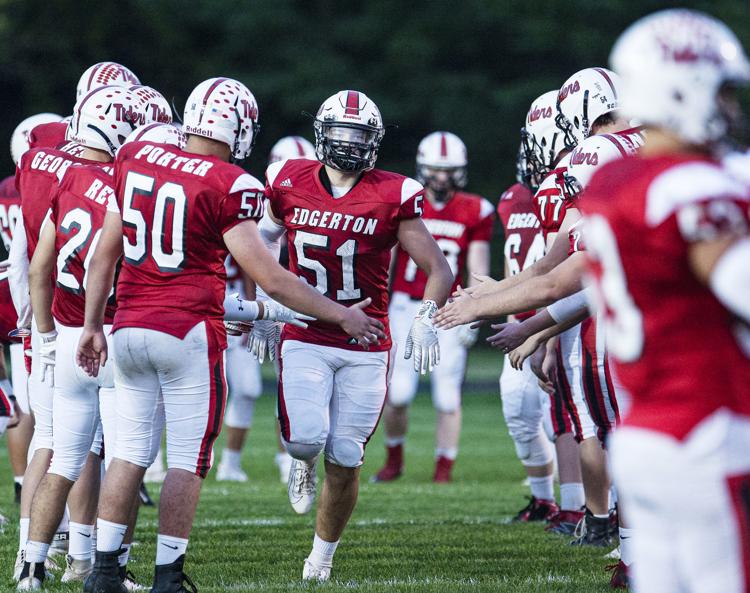 Like most of his classmates moving on to the next level, Wileman did not specialize in one sport. He also plays baseball in the spring and was a first-team all-Rock Valley Conference infielder last year.
"Almost all of us have been playing together since elementary school—football, basketball, baseball," he said. "We've never really been on separate teams; we've always played with each other. It's pretty cool."
Built on the basepaths
Most of the seniors pointed to the baseball diamond when asked where this journey truly began.
Daryl Fox, who played on Edgerton's state runner-up baseball team in 1979, coached the group from second through eighth grade.
"I'm really proud of them, because we did not have a ton of success early on," Fox said. "We always played up (a level), so our record wasn't always very good. But we said, you've got to learn what it takes to compete first and then have some success later.
"The kids always had a good work ethic, so that always made it good and always made it fun."
Mike Gregory, who spent the past 21 seasons as Edgerton High's football coach before recently resigning and remains as the school's baseball coach, said those early experiences led to a senior class driven by its competitiveness.
"Youth football, travel basketball, baseball, it's been a group that has stuck together all the way through," Gregory said. "It's a confident group and a group that always wants to do well. And when you look across the board, they've performed at a high level in multiple sports."
Bavery will be a Badger
That competitive fire has also translated to the wrestling mat.
Edgerton could send a handful of seniors to the WIAA state tournament if they get through next Saturday's sectional competition at Evansville.
Two of them, Bavery and Trevor Wilkinson, already have Kohl Center experience. Wilkinson qualifed last year and Bavery has been there three times, taking fifth place as a freshman and sophomore and fourth a year ago.
"Wrestling is just completely different; the bond between teammates, there's no other sport like it," said senior Reed Farrington, who hopes to qualify for state at 285 pounds.
In the most recent state rankings, Bavery was ranked No. 3 in Division 2 at 145 pounds. Wilkinson was seventh at 170, Farrington was ninth at 285 and fellow senior Ryen Hazzard (113) and Dominic Hogan (182) were honorable mentions.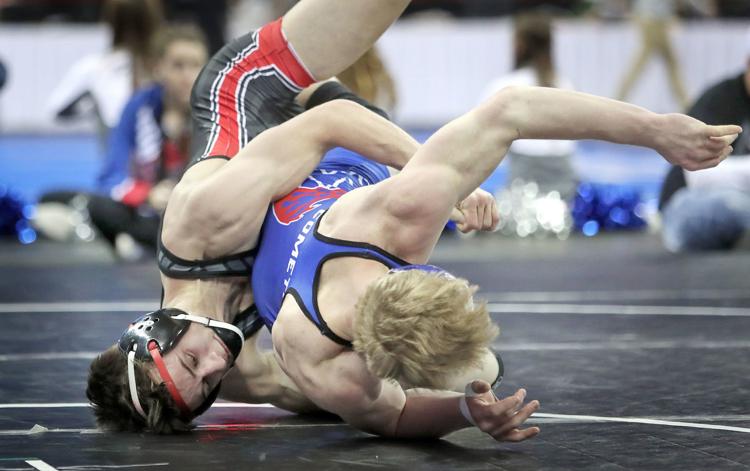 Bavery committed this week to the University of Wisconsin as a walk-on.
"I'm excited to go compete for a coaching staff that has been making waves since they came to Madison. The program is making huge leaps," Bavery said. "To get to represent my home state is something really special to me."
Leaders building leaders
Bavery and Farrington said they would not be where they are today without dedicated leaders, including Fox, Gregory and wrestling coach Nick Hanson.
"Coach Hanson, he was here for my first practice up in this wrestling room when I was a third-grader," Bavery said. "So he's truly been with our class all the way through. When we got to high school, it wasn't starting something new, it was just keep on going.
"He did a good job keeping our group together."
The group said Fox struck a good balance. He got a group of middle schoolers to focus when they were on the field.
"I will thank him for the rest of my life for everything he's done," Farrington said. "He was tough. He knew how to control us when we were screwing around and being kids. We'd have our fun, but when it came to baseball time, we were serious and didn't want to make mistakes."
"He got more out of us than we thought we were capable of," Bavery said.
And now, it appears the group of seniors has carried some of those leadership skills forward.
"They're definitely one of the more athletic groups that has come through," said Edgerton junior Clayton Jenny. "I hang out with those guys a lot, and they're really good guys, so I'm really happy for them."
A bevy of Division III talent
Farrington leads a group of six Edgerton senior boys and one senior girl headed to compete at the Division III college level.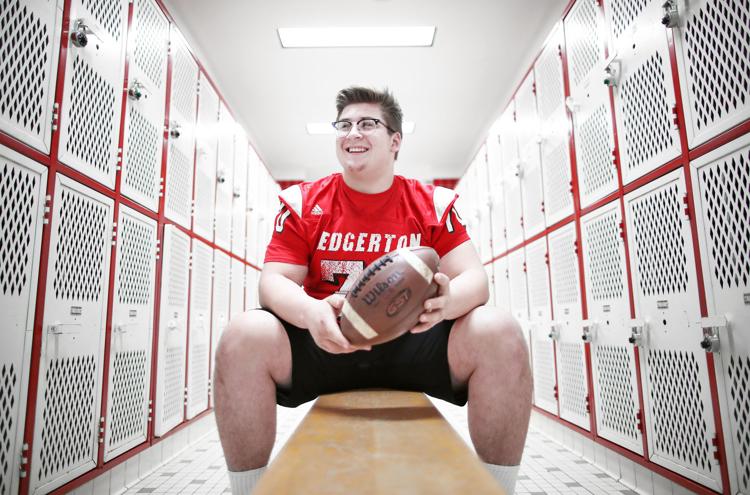 He was a two-way all-state lineman and The Gazette's area football player of the year this past fall. He will play at UW-Whitewater.
"I visited maybe seven colleges and didn't have a feeling anywhere else like Whitewater," Farrington said. "They've got, I think, the best coaching staff in DIII football, best facilities, best academics. I love it there."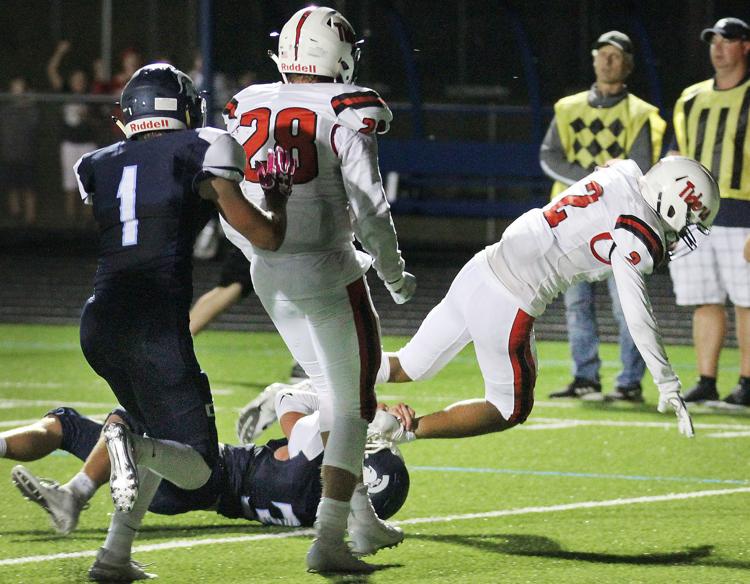 Skyler Gullickson, who was first-team all-Rock Valley as both a receiver and a defensive back this past fall, will play at UW-Oshkosh. Gullickson is also a second-team all-league pitcher in baseball and starts for the basketball team.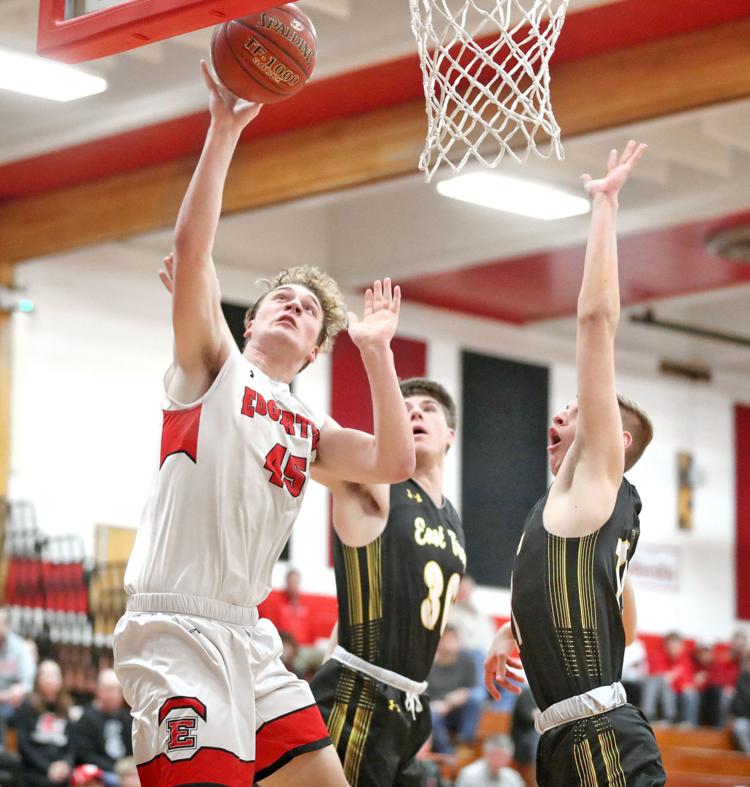 Nick Spang will join Gullickson in Oshkosh but will play basketball. He was honorable mention all-RVC on the hardwood last year and is averaging nearly 13 points per game this year. Spang also played football.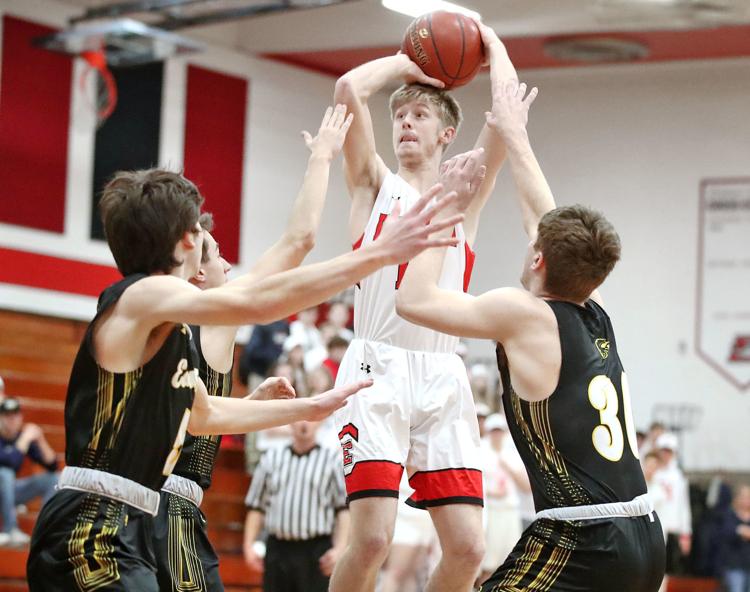 Brian Rusch, another three-sport athlete, will play basketball at Beloit College. Rusch was honorable mention all-conference in football and also plays baseball.
Reyes, a first-team all-conference linebacker, is headed to UW-Stevens Point.
And Dominick Hogan, also an RVC honorable mention, announced recently he will play football at Lakeland College.
Those eight senior boys, along with senior Gaby de Moya-Cotter, who will attend UW-Eau Claire and compete for the women's swim team, are set to take part in a ceremonial signing day at Edgerton High on Feb. 26.
Lasting legacy
To have eight senior boys outs of a class of 64 in a town of roughly 5,500 moving on to play college sports is certainly an anomaly.
Gregory said the closest class to this one he could remember in Edgerton was in 1996, when five or so boys went on.
"We knew they were going to be a special class," he said. "That's part of the reason I stuck around for another year before retiring. I knew this fall could be special."
The Edgerton football team won a share of the Rock Valley title and advanced to the second round of the WIAA playoffs. In 2018, many of the now-seniors were key players for a Tide team that reached the Division 4 quarterfinals.
The Crimson Tide reached the Division 3 sectional semifinals in boys basketball last year, losing to Turner by four points. Edgerton currently sits third in the RVC standings this year.
On the baseball diamond, the group reached a sectional semifinal when they were sophomores.
"This is something I know I'm going to be proud of and all the guys will be proud of when we come back," Spang said. "In 10, 15, 20 years with our kids, we can look up to the banners and say, 'See that regional championship? That was us. That conference championship? That was me.'
"For everyone to have a piece of that is special."
As someone who can already point to the banners and share his memories, Fox knows just how rare this group is.
"This isn't something that just happens because you're a senior," Fox said. "This is a lot of hours and years of hard work.
"Those banners are there forever. They're making their mark."