Brenda Volk has a way with numbers. Up until this school year, Volk taught two math courses a semester at UW-Whitewater.
She also is in her 23rd season—24 if you count last year's cancelled one—as the school's softball coach. After the Warhawks' 9-0 victory over UW-River Falls on Tuesday afternoon in a Wisconsin Intercollegiate Athletic Conference Tournament quarterfinal game, Volk's overall record is 679-272-5.
You don't need an "A" in math to know how impressive that is.
The Warhawks just won a share of the WIAC regular-season title. UW-Whitewater has won outright or shared five of the last eight regular-season championships. A WIAC Tournament title would be the Warhawks seventh in the past eight seasons.
When Volk and her long-time assistants Beth Bonuso (20 seasons) and Steve Evans (24 seasons) looked at their preseason roster, they weren't sure all the numbers would add up to another tournament-worthy season.
"We only had three really experienced kids coming back," Volk said. "We only had two innings of experience on the mound. This was like the first year ever that we didn't have any pitching coming back.
"So we didn't know what to expect."
The season has produced more pluses than minuses, although the coaching staff might have considered recalculating their answer when the Warhawks started 1-3.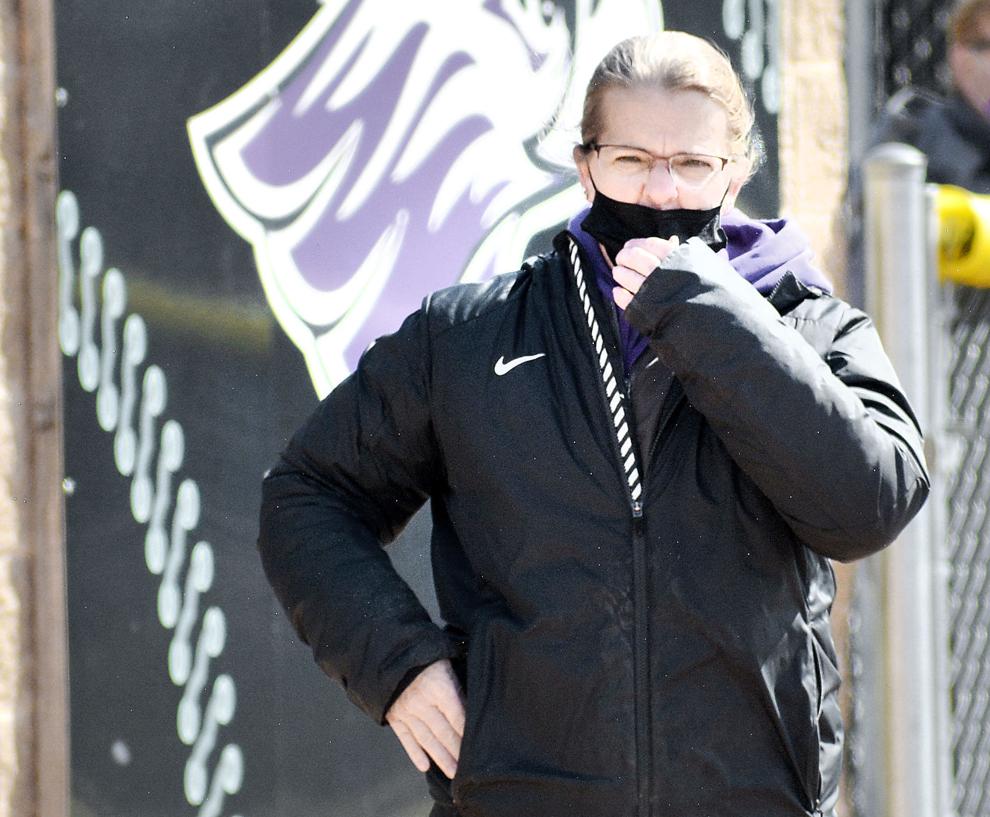 That's when the "super seniors" took over.
Catcher Nikki Mikosz and third baseman Meg Cohrs are players who would have used up their eligibility in 2020 had there been a season. Both took up the NCAA offer to return to school and play another season.
Mikosz is batting .330 with a team-high 11 homers and 39 RBI and has helped the pitching staff that features two freshmen starters. The younger players don't overlook Mikosz's experience.
"She was a freshman back in '16," Volk said, "so everybody calls her "Grandma."
Volk calls her a lifesaver.
"She has just been phenomenal for us," Volk said. "Just clutch. And whatever she has done offensively, she is one of the best catchers ever to come through Whitewater."
Cohrs is the team's second "super senior." Cohrs is hitting .422, sharing the team-lead in hits with Kaleigh O'Brien with 46.
O'Brien, a senior first baseman, leads the team in batting average (.455), slugging percentage (.812), on-base percentage (.533), doubles (16) and total bases (82).
Another senior, Vera Pflugradt patrols center field. Pflugradt leads the team in runs scored (31), triples (3) and walks (18) and has been invaluable in the field.
A pair of freshmen Meghan Dunning (.327) and Delaney Becker (.270) have played like upperclassmen—starting every game at shortstop and second base, respectively.
Junior Kennedy Cox has played in 32 games, mainly as the designated hitter. Cox, a Janesville Craig graduate, would be the starting catcher if Mikosz would not be doing such a stellar job. Cox has a .257 average with 19 hits, including seven doubles, and 10 RBI.
And those freshmen pitchers that Volk had concerns about? Kate Cleveland is 9-3 with a 2.75 ERA and lefty Rhiann Dick is 7-4 with a 2.57 ERA. Third starter sophomore Mallory Hollatz is 3-0 with a 2.14 ERA.
Junior Annie Morelli (3-0, 1.29) and senior Marissa Adams (4-1, 2.90) have made a combined 29 relief appearances.
"This is by far the most (pitchers) we've used," Volk said. "We've always had that 'ace' pitcher. We had two senior pitchers last year and neither of them came back."
Just as John Vodenlich and his baseball staff discovered this season, the biggest effect COVID-19 protocols have had on the Warhawks softball squad is team camaraderie.
"We had a lot of struggles during fall ball because they didn't know how to not hang out," Volk said. "They weren't having fun. It was very stressful for these kids.
"But we got through it, and honestly this spring has been pretty smooth."
The Warhawks host Stevens Point in a WIAC Tournament semifinal game at 2 p.m. today. A victory would put Whitewater in the best-2-of-3 championship series this weekend.
Winning the WIAC Tournament title is critical this season since the NCAA Division III national tournament field has been reduced by 25% to 48 teams.
The usual WIAC's at-large bid might not be there for the conference tournament runnerup.
Even a record of 27-8, an 11-game winning streak and a 16-1 record in their past 17 games might not earn the Warhawks one of the five at-large NCAA bids if they fail to win the WIAC Tournament.
Volk has put that possibility out to her team.
'I just wanted them to know that if this would have been a normal year, we'd be in," Volk said. "I think that is pretty cool for a team that has come as far we have coming into the season with zero innings pitching and only three starters back."
The Warhawks beat those odds.
Odds are something Volk has always been able to master.