After years of stagnant growth, Milton and Janesville have seen a flurry of activity in the past two years—particularly in housing development.
The housing market has changed from a decade ago, in part because of changing demographics, a Janesville city official believes. But housing projects have officials in both communities optimistic about continued growth.
In Milton, both single-family and multifamily housing projects are in the works.
Red Hawk Farms, a subdivision started by Forster Construction of Janesville in 2017, continues to expand on Milton's south side. The subdivision has 44 lots, and 35 have completed homes. The remaining nine homes are under construction, said City Administrator Al Hulick.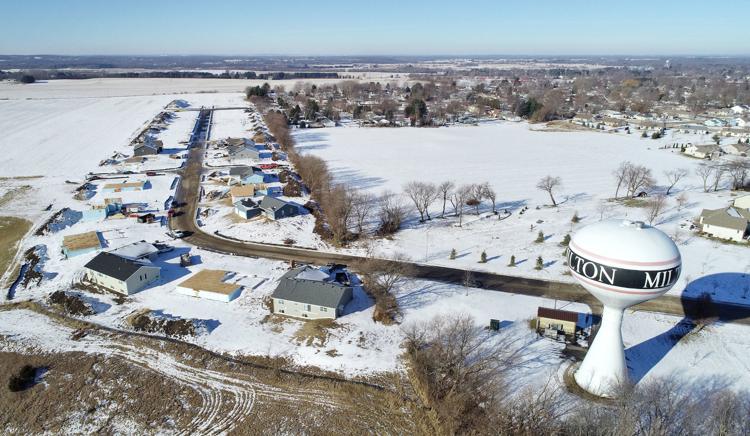 A $1 million project that installed sanitary sewer in the area last year helped make the property viable, Hulick said.
Hulick said Red Hawk Farms was the first new subdivision in the city in more than a decade. Another single-family neighborhood has been approved for the north side, just off North Janesville Street, and could see development in the next year, he said.
Red Hawk Apartments, developed by Yost Management Co. of Illinois, is bringing 108 apartments to the city. Hulick said city officials hope construction will begin this spring and wrap up next year.
When Hulick first started working in Milton, he remembers that it wasn't easy to bring new developments to town. Recent housing growth shows that has changed, he said.
"I'm most proud of the fact that we have been able to effectively communicate to the outside region why Milton is really a desirable place to develop and move your family or business," Hulick said. "I don't see any reason that things are going to slow down in the short term."
Similar growth is evident in Janesville.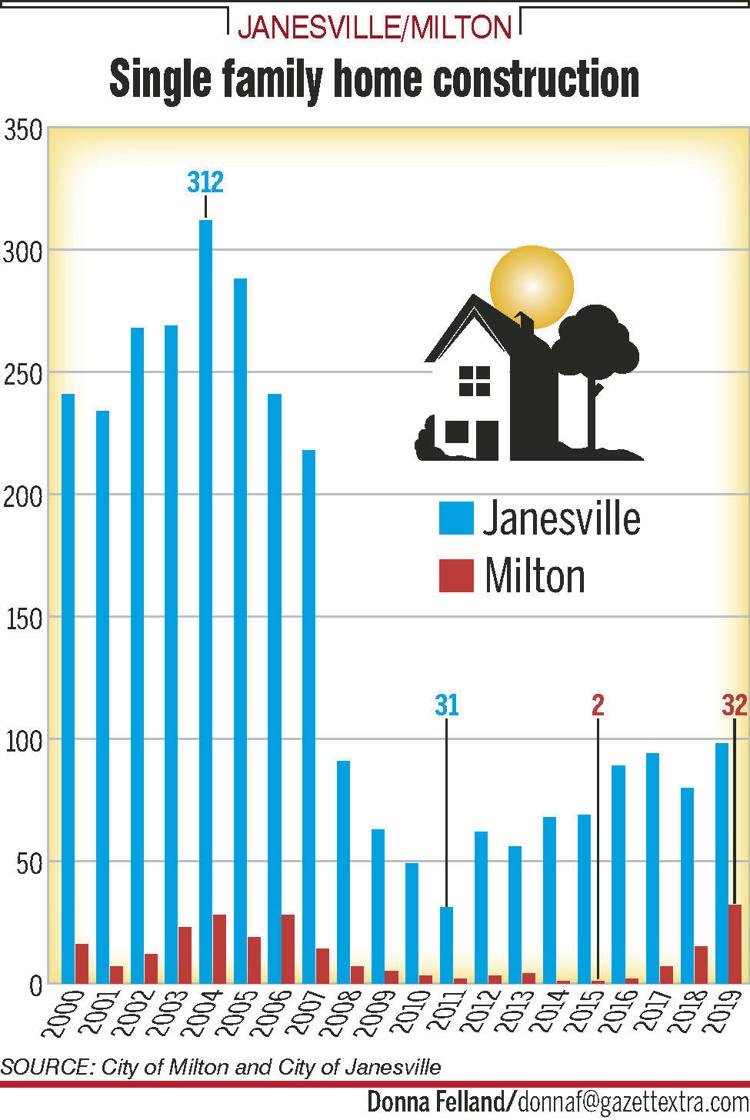 The city modified its economic development policy in 2018 to make residential developments, such as apartments, eligible for tax increment financing. Rents had stayed relatively stable after GM closed, but for years the cost of residential construction was too high to make new apartments profitable, said Gale Price, Janesville's economic development director.
Tax increment financing is a tool for governments to attract private investment. It allows municipalities to acquire property, eliminate dilapidated buildings, make improvements such as sewer, water and streets and charge the cost to a TIF district.
The municipality then offers sites in the district to businesses—and now certain residential developments—for free or at great discounts to draw development. As the district's property value rises because of the new investment, the increases in property taxes are used to repay only the municipality's costs. When the costs are paid or the district's limited life expires, the new property taxes are distributed among all taxing jurisdictions, such as school districts and the county.
Three apartment projects are now in the works with the help of TIF funding, Price said.
The Glade apartments off Racine Street near Interstate 90/39 are now under construction and should be finished by July.
Work on Diamond Ridge apartments—115 mid-priced units off Kennedy Road— continues, with two buildings in the early stages. The first Diamond Ridge apartment building is supposed to be open by August, Price said.
The River Flats apartment project near the downtown intersection of Franklin Street and Laurel Avenue calls for a 93-unit housing complex for residents of low to moderate income. The city council approved it Feb. 24, and construction is moving forward.
Price said the housing market has changed from a decade ago, when most people bought homes as soon as they could rather than live in apartments or multifamily units.
These days most people wait to buy homes until they get married or have children, but Price said he sees growth ahead for both apartment developments and single- family homes.
In the early 2000s, the city used to see more than 200 single-family homes constructed each year. Last year, 98 single-family homes were built, the highest number since 2007.
"I think as we move forward, we're going to continue to see the single-family houses ramp up more," Price said.
"It's just that I think we're going to see more demand for the apartments because you've got the baby boomers retiring, who want to downsize and reduce what they have to deal with, and you've got these young professionals, pre-children, who want similar products," he said. "But eventually when those couples start having kids, that's when they'll make the move to a house."
The labor market has helped, too. The city has added 4,000 people to the labor force in the past 10 years, and local unemployment has dropped from 11.7% to 3.4%.
Price said that makes a difference.
"When you think about those labor numbers … if the community is livable, people want to live in the community where they work or close by," he said. "I thoroughly believe we're going to see these housing numbers continue up."
Hulick also expects continued growth in Rock County over the next decade.
"I think Rock County is ripe for expansion, ripe for development and ripe for growth," Hulick said. "It's not just one thing. … It's a bunch of different businesses, and it's a diversified housing stock. I think the future is bright for this region."