Searchers fear a man who went missing Wednesday fell through the ice of a small lake and drowned, Sheriff Troy Knudson said Thursday evening.
Searchers focused on the waters of Bowers Lake on Thursday afternoon as they looked for Kevin J. Doyle, who has been missing since Wednesday morning after he went to nearby Storrs Lake to walk his two dogs.
Searchers found the bodies of the Labrador retrievers on the northwest side of Bowers Lake, where they apparently had fallen in and drowned, Knudson said.
Shortly before 4 p.m., a deputy found what is believed to be Doyle's cane in the water along the shore in the same area. Doyle reportedly used a prosthetic leg.
Searchers were using a remote-controlled boat equipped with sonar that the Fontana Fire Department brought to the scene around 5 p.m., Knudson said.
Bowers Lake is northwest of Storrs Lake. Knudson said searchers spotted the dogs in open water past an area of Bowers Lake that still had ice.
Searchers wrapped up for the day at about 7:15 p.m. Thursday but will resume searching this morning, Knudson said.
Dozens of volunteers helped authorities Thursday morning as the search resumed.
Doyle, 66, left his home at about 9:30 a.m. Wednesday to hike trails near Storrs Lake. He was not heard from afterward.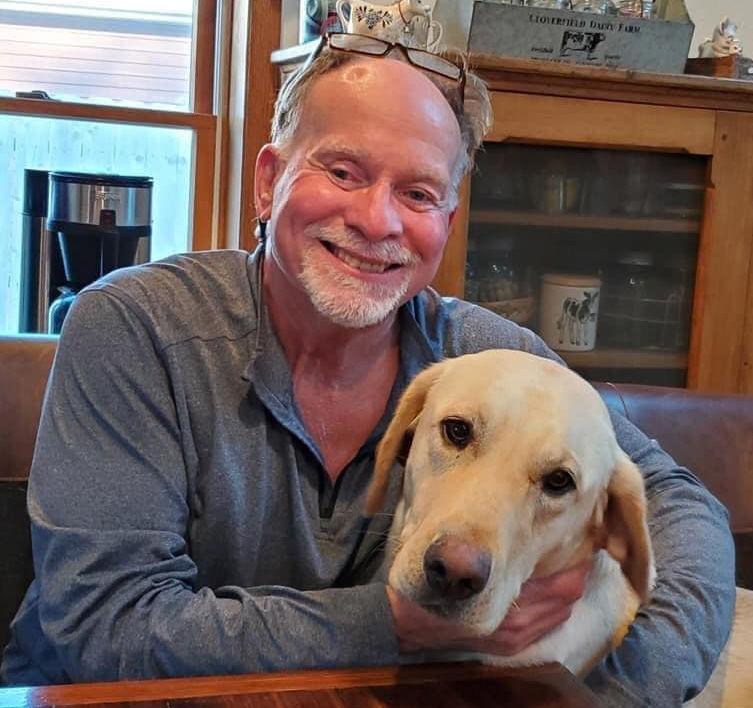 Private rescue dogs, horses and ATVs arrived with some of the volunteers while fire and law enforcement agencies from the area deployed drones.
At around 12:30 p.m. Thursday, a bus dropped off a group of volunteers in a parking lot about a half-mile from Bowers and Storrs lakes. They had returned from an hours-long morning search of the dense wetlands around the two lakes.
Brett Wueisensel and Dean Kopp said they had been out Thursday morning with dozens of other volunteers who walked in straight lines through the soupy marshes.
The men said they worked alongside other volunteers who brought in private rescue dogs, horses and ATVs. Local fire and law enforcement agencies worked the area with aerial drones and search boats.
Wueisensel and Kopp, both employees of Alliant Energy, said they had worked with Doyle, who was now retired.
They said a team of 40 Alliant Energy workers had taken off work to help search for the man they had known for decades who they said was a dog lover.
"Just the nicest guy," Kopp said of Doyle. "Always a smile on his face, always a happy dude."
As of late morning, the search party numbered about 85 people, including volunteers, first responders, and trained search and rescue groups, Knudson said.
Police described the conditions around the lakes as treacherous, cold and wet with muddy ground even along trail areas above the marshlands.
"I just have to say, we express our appreciation to all these different teams and individuals who've come to help this search. It certainly is a difficult time for the family here," Knudson said earlier in the day.
A National Guard helicopter arrived around 10:15 a.m. and coordinated with searchers on the ground and on the water.
The search had begun Wednesday, broke off Wednesday around midnight and resumed Thursday morning, when volunteers were welcomed.
Asked why volunteers were kept away Wednesday, Knudson said authorities wanted to give search dogs the opportunity to do their jobs.
Anyone with information about Doyle's disappearance was encouraged to call the Rock County 911 Communications Center at 608-757-2244.
Reporter Rebecca Kanable contributed to this story.