Several thousand people turned out Saturday to hear President Donald Trump give a speech in which he boosted law enforcement, called Democrats "sick" and the media "corrupt," and touted his own good health and a set of new medical treatments he said helped him recover from his recent bout with COVID-19 within days.
Trump's message leaned heavily on pro-law enforcement themes while giving only brief glimpses into his own health after being sick with the novel coronavirus earlier this month.
Trump also downplayed recent spikes in COVID-19 in such states as Florida and Texas, places that he said made turnarounds later on, and suggested that fully reopening local and state economies would outweigh any adverse effects of the virus.
The president delivered his remarks in front of an overflow crowd of several thousand at an hourlong, fly-in speech outside a private hangar at the Southern Wisconsin Regional Airport in Janesville—the largest community in a region of southcentral Wisconsin health officials said has become a cauldron of new COVID-19 infections.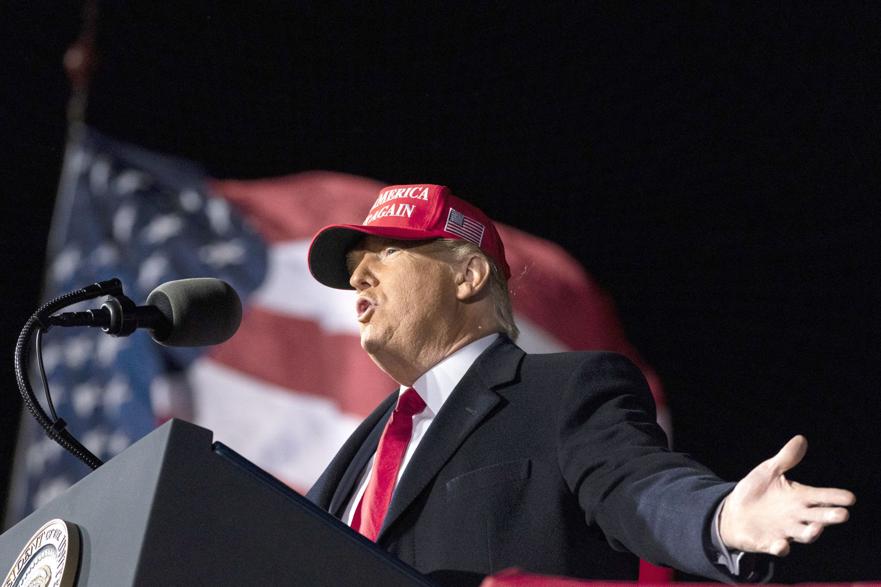 The rally came about a week after Trump emerged from a short hospitalization and a White House quarantine after his infection apparently ran its course. The president had planned to visit Janesville earlier but canceled his visit after he tested positive for the virus.
It also came after health officials reported a record jump in new novel coronavirus cases in Wisconsin on Thursday and Friday, according to the Wisconsin Department of Health Services.
According to data released Friday, the state reported 3,861 new infections. That was a record for new cases, topping the 3,747 new cases reported Thursday.
The sobering trend has had health and public school officials worried statewide. Democratic leaders in statements released Friday and Saturday slammed the president for his choice to make fundraiser and campaign stops in Wisconsin.
It was the first time Trump has stopped in Janesville since 2016, when he was campaigning for president.
Trump seemed jovial and focused under bright lights and a cadre of enormous flags hung next to stadium-style seating on a section of tarmac Saturday night. He leapfrogged from topics including the economy and jobs, international trade, immigration, and social unrest and violence over police-involved shootings, all while casting his opponent, former Vice President Joe Biden, as a non-contender: "Let's face it, (he's) shot," Trump said.
He called Biden "the worst candidate" and said the challenger's effort only "makes us (the Trump campaign) stronger."
In some polls, Biden leads Trump by 6 or 7 percentage points, although Biden and Trump will likely battle in Wisconsin to win key metropolitan voting blocs such as Milwaukee.
A private airport hangar owned by Beloit businesswoman Diane Hendricks' company ABC Supply served as Saturday's venue.
Trump's campaign had announced earlier the appearance would be a fundraiser, but the plan changed midweek when the campaign announced a rally open to the public.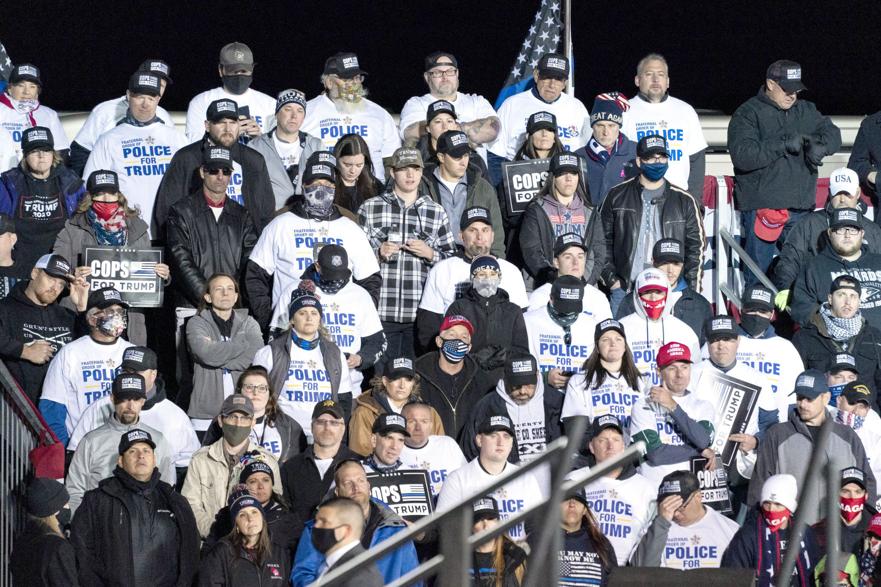 While some who attended said they came from Illinois and even Michigan to see Trump speak, the president made no bones about why he took a quick flight from another event in Michigan earlier Saturday.
Trump said it's crucial he and other Republicans shore up the vote in Wisconsin, a key battleground state, in the general election in less than three weeks.
"If we win Wisconsin ..." Trump told a crowd that campaign officials Saturday estimated at about 8,000 people, "we win the whole ballgame."
"What the hell do you think I'm doing here on a freezing night? I'm not doing it for my health. I'm doing it for this," Trump said, gesturing toward supporters who surrounded his podium in front on the ground and behind and to the sides in tall bleachers hung with American flags that snapped in a 25 mph wind.
Trump wore a signature red campaign hat he donned because he joked the breeze Saturday at the airport would wreck his hair.
"I'd been having a good hair day," Trump said.
Trump joked Saturday but also tried to hammer home a message of fear to the Midwest crowd. He made an unusual analogy during the tail end of his 75-minute address, pointing out how rally organizers blocked part of the rally grounds with large truck trailers.
Likening that arrangement to a wall, he renewed his 2016 campaign pledge to build a wall between the U.S. and Mexico. Trump hailed federal agents and police for arrests made near the border, evoking an image of a lawless frontier where agents have worked to make arrests in "thousands" of murders he said undocumented immigrants are responsible for.
Trump also railed against the "far left" and Democratic-run cities he said are full of liberal "slaves." He blamed Democrats for the sometimes violent protests that came after various police-involved killings and shootings this summer, including the Jacob Blake shooting in Kenosha at the end of August. Trump also claimed he has done more work in law enforcement and social reform aimed at helping Black people than any president "except Abraham Lincoln."
When Trump did touch on the ongoing coronavirus pandemic, he steered mostly clear of digging into recent headlines about recent spikes in coronavirus infections in Wisconsin communities, including Janesville and Rock County.
Trump said that "reopening" states would help the country bounce back from the pandemic, and he again promised he would see to it that every American hospitalized with COVID-19 got for free the same drug therapy he had earlier this month, calling the therapy, known as Regeneron, "unbelievable."
Trump also called drug companies' work toward a vaccine for COVID-19 "unbelievable."
By contrast, Trump warned Biden would slow the development of a vaccine, leave states shuttered with coronavirus restrictions indefinitely and put the economy in doldrums.
A portion of the rally crowd was wearing masks, but some people, about half the crowd, were not. One man in line said he saw everyone get a digital temperature check before they were allowed in line.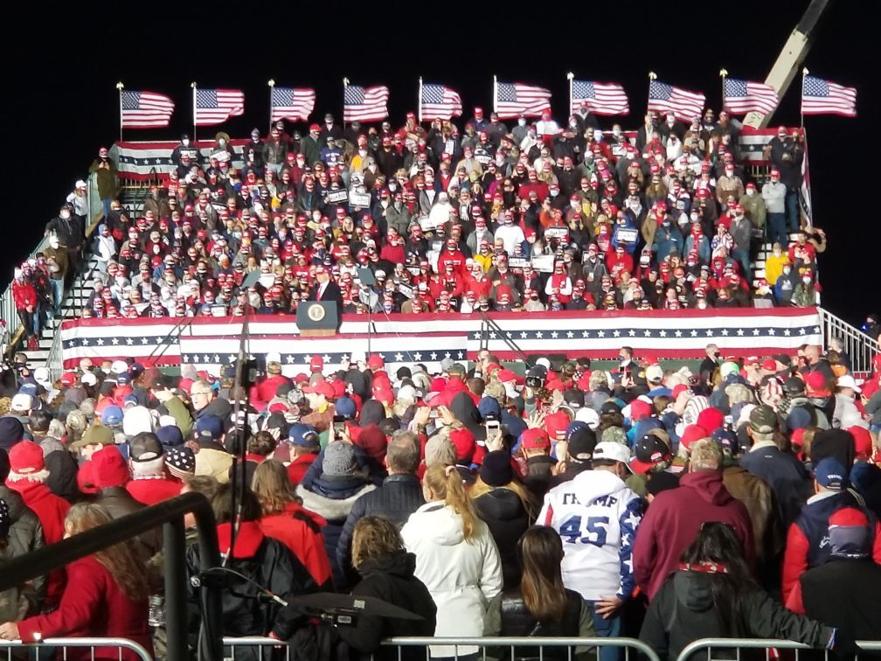 Not everyone got in. At least 400 people, including a young man fully clad in a Revolutionary War patriot's regalia, stood close together outside the rally gates watching the crowd inside. A campaign volunteer tossed 20 "Make America Great Again" hats to those in the front of the overflow crowd.
Meanwhile, in Rock County, the county's public health department reported 1,030 new COVID-19 cases Thursday, a 66% jump from two weeks ago. Particularly concerning, county health officials said, is that earlier this week, the county logged a 40% increase in infected school-aged children.
Nick Zupan, who is the county's epidemiologist, told Janesville business leaders in a conference call this week that the reason for the increase in cases is likely adults spending more time at bars, restaurants and other places where crowds gather indoors.
All the while, a partisan court fight over Wisconsin Gov. Tony Evers' crowd restrictions and masking order continues. The state Supreme Court earlier this year threw out Evers' safer-at-home declaration. Evers urged Trump and his campaign to require face masks at his Saturday rally.
Before Trump took the stage, Wisconsin's Republican U.S. Sen. Ron Johnson told reporters that despite a reported spike in coronavirus infections and hospitalizations, he thinks medical care for people sick with COVID-19 has improved since earlier this year. Johnson didn't cite any numbers or data, but he said he doesn't think hospitals are overwhelmed by COVID-19 patients.
A week ago, the state's health department reported that statewide just 16% of hospital beds were available. That prompted the state to open up a field hospital on the Wisconsin State Fairgrounds in West Allis for people who are sick with COVID-19 but nearing recovery.
Kari Zimmerman, a Beloit volunteer for the Trump campaign, was wearing a cloth mask Saturday as she directed reporters to the press seating area at the rally.
Zimmerman said she doesn't normally wear a mask, and she continues to believe it's a "personal decision" whether to wear a face covering. About half those attending the rally wore face coverings.
Like Johnson, Zimmerman believes the health care system is treating COVID-19 cases more adeptly than this spring. She is not overly concerned about the recent spike in cases reported or the possible risks public health officials see in large-scale gatherings like Saturday.
"I do believe the cases might be going up, but it seems like the death rate is staying the same. I don't want to sound mean or not sensitive, but people are going to catch viruses. No death is OK, but death happens," Zimmerman said.
Zimmerman said she was casting an absentee vote for the general election, one of more than 780,000 in the state expected to do so.
Unemployed and without an income since earlier this year when the state shut down most businesses and public places because of the pandemic, Zimmerman said she is more worried about when the federal government might release more stimulus funds for people scuffling in a continued sluggish economy.
Zimmerman thinks Trump might want to pull the trigger on more stimulus, but she believes Democratic leaders in Congress won't get serious about negotiations.
"They're holding off to try to kick the president out of the White House," she said.
Trump's campaign said in a disclaimer that anyone attending the event understands the risks of possible COVID-19 infection at a public gathering. Such disclaimers have become pro forma for attendees of Trump campaign events.
Janesville Democratic state Rep. Deb Kolste and Susan Johnson, a Janesville City Council member, held a video conference Saturday morning hosted by the Wisconsin Democrats.
Kolste and Johnson slammed Trump for what the two called a "failed national pandemic response" they say has led to a coronavirus case spike locally and statewide and a series of local and national "economic crashes" tied to the pandemic.