Republican Beth Drew and Democratic incumbent Rep. Don Vruwink, both of Milton, are battling to represent the 43rd Assembly District on Nov. 3.
The district includes Milton, Edgerton and Whitewater and extends into portions of Dane and Jefferson counties.
The candidates responded to these questions: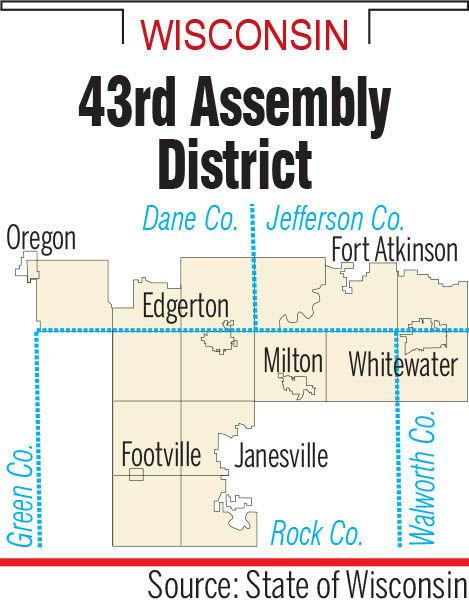 Q: Rising health care costs are a concern of many. As a legislator, how can you help Wisconsin address this concern?
Drew: "I will work with other legislators to continue to develop transparency in billing and coding with hospitals and doctors, look at reducing administrative costs, and increasing health promotion. Preventable disease is terribly costly to everyone involved, including the medical system. Increasing our health will ultimately cost less."
Vruwink: "One way we can help control rising health care costs is to support bills SB 126/AB126, which gives a tax credit of $1,000 for family caregivers. Caregivers often sacrifice some of their own financial and physical well-being to take care of family members, and by providing caregivers with a tax credit, we can hopefully incentivize more people to act as caregivers and thus keep seniors in their homes longer.
"Another way to control costs is for the state to support full Medicaid expansions. Legislative Fiscal Bureau reports have shown that, in addition to increasing the number of insured Wisconsinites, the state would financially benefit from Medicaid expansion. With the COVID pandemic, we have learned the fragility of tying health insurance to employment and the high cost of COBRA coverage. Expanding Medicaid is cost-effective and fiscally responsible as increasing federal match rates will save Wisconsin taxpayers money. We can use the additional money to spend on strengthening public health systems and health care systems across Wisconsin.
"A third option is to control rising prescription drug prices. We need to make prescription drugs more accessible and affordable. Some solutions would be to allow for wholesale, safe importation of prescription drugs from Canada and other countries. We need to protect state pharmacy assistance programs, such as Senior Care, that help residents pay for prescription drugs. We need to allow the state to bargain for lower drug prices. ... We could cap out-of-pocket costs for life-saving drugs.
"The state could prohibit 'pay-for-delay' agreements that prevent marketing of lower-priced generic drugs. We could also increase transparency on the reasons behind rising drug prices."
Q: What can you, as a state legislator, do to help small businesses stay in business?
Drew: "As an overall goal for all small businesses, deregulation and the repeal of the personal property tax will benefit all small businesses. For customer-based businesses, tourism promotion will help additionally."
Vruwink: "One thing we should do right away is phase out the personal property tax for small businesses. It's an antiquated tax that some businesses pay and others are exempt from.
"I am supportive of a 'safe harbor' liability exemption for businesses as long as they follow public health orders and take reasonable precautions to protect workers and the public.
"The federal government provided some relief for small businesses under the CARES Act. In the 43rd Assembly District over 250 businesses received $750,000 due to financial loss from the pandemic. I believe we should create some kind of similar ongoing fund at the state level that would create a zero interest rate fund to help small businesses with inventory equipment or structural redesigns to keep the doors open."
Q: Why should 43rd Assembly District voters choose you?
Drew: "Broadly, my experience and background within small business, education, health care and town government will benefit the constituents of the 43rd. Breaking this down further, my strong sense of community, willingness to listen, ask questions and follow-through will help continue to move the 43rd and all of Wisconsin forward."
Vruwink: "I am running to continue to work on the issues I have focused on for the last four years," he said, citing decreasing student loan debt and expanding rural broadband as among those issues.
"During this pandemic, I have worked hard to help the constituents of the 43rd Assembly District. My office has secured $750,000 from the CARES Act to assist over 250 small businesses. I have lobbied for farmers to obtain money from the CARES Act, which resulted in $50 million in assistance for statewide farmers, and I have helped over 150 people secure their unemployment benefits.
"As your representative I will work hard to take a civil approach to governing and pride in bipartisan accomplishments. I support good, evidence-based policy regardless of where it comes from."