Democratic congressman Mark Pocan is seeking a fifth term representing the 2nd Congressional District in the House of Representatives.
Peter Theron, a Republican from Madison, is challenging Pocan, as he has done twice in the past.
The 2nd District includes Dane and Green counties and more than half of Rock County, including Beloit but excluding most of Janesville.
The winner in the Nov. 3 election will serve two years in the House.
Pocan, known for his liberal views, is co-chairman of the Congressional Progressive Caucus. Theron said he is running "to solve problems and restore civility."
The candidates responded to these questions. Responses were edited for brevity and clarity.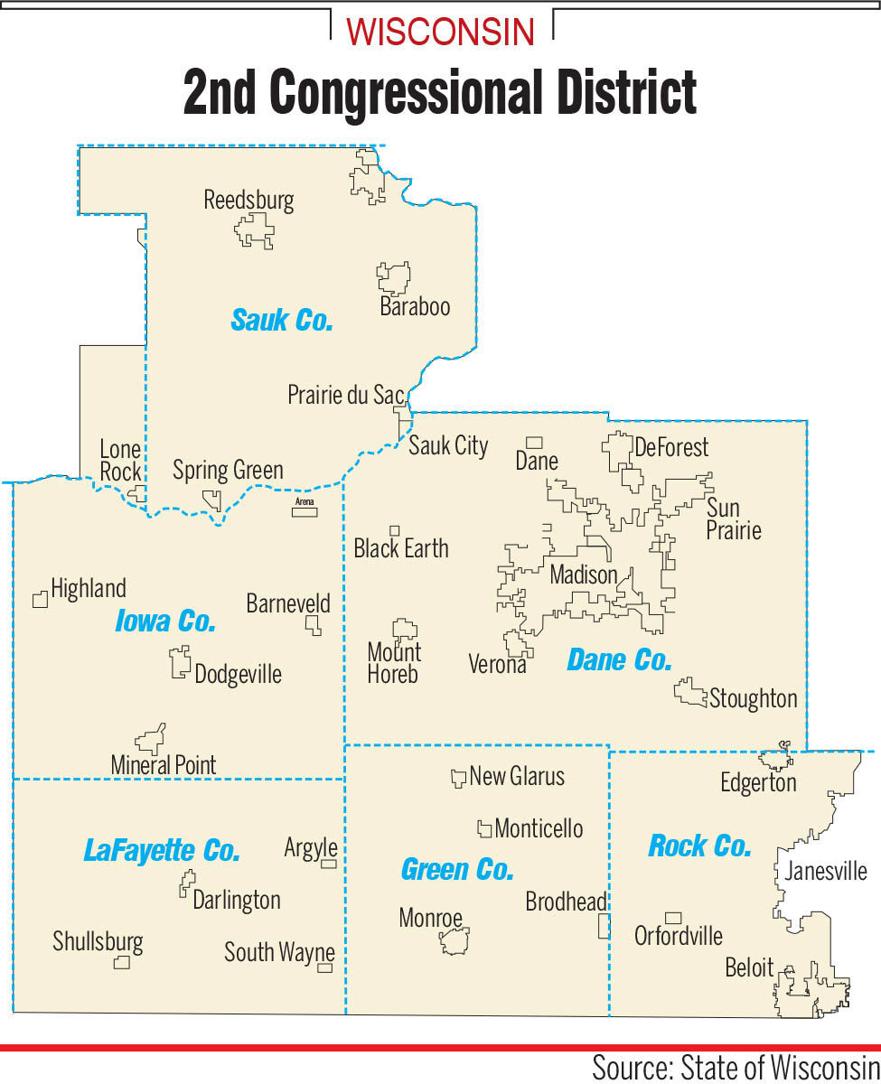 Q: What are the top two issues for 2nd District residents, and how would you address them?
Pocan: "COVID-19 and its impact on their health and our economy. I have long called for the president to utilize the full might of the federal government through the Defense Production Act and produce stockpiles of personal protective equipment and testing materials for every state.
"We need to expand our testing, continue to wear masks in public and social distance, and we need to build out our contact-tracing program across the state. I think taking a strong health care-focused approached to COVID-19 is the only way for our economy to fully reopen safely sooner. The Senate must also pass the HEROES Act we passed in the House to provide continued assistance to families, extend unemployment aid and eviction moratoriums, provide state and local government with integral funding and support for small businesses."
Theron: "The top issue is law and order. The second issue is the economy.
"I will address law and order by following the example of 1st Congressional District Rep. Bryan Steil. After the Kenosha riots, he denounced the violence, called the White House and connected local leaders with the president. When the National Guard arrived, the riots, looting and arson stopped.
"President Donald Trump has promised to further improve the economy. This term he has kept his promises. I look forward to working with him in his second term."
Q: If a coronavirus vaccine is successfully deployed in the months ahead, what next steps should the federal government take?
Pocan: "The federal government should heed the guidance of medical and scientific experts and ensure any vaccine is put through rigorous testing before being deployed. Once we can ensure its safety, it should be mass produced and made widely available to every person in this country at no cost. We need to follow medical advice on how to prioritize the distribution."
Theron: "By the time the next Congress is sworn in, COVID-19 will be only a memory. The few cases that occur will be controlled by drugs, such as the HCQ (hydroxychloroquine) cocktail.
"I will convene a conference of medical, government, and private sector people to gather lessons learned from our unpreparedness for this pandemic. Areas for discussion will include hospital preparedness, medical staff training, government medical-supply reserves, procedures for health-emergency declarations, limits on executive authority without reviews by elected officials, public-sector reserve funds for emergencies, status reporting to the public, … and development of an economy better prepared to absorb economic shocks such as lockdowns and supply disruptions."
Q: What should healing in the wake of the Kenosha unrest over a black man shot by a white police officer look like? Discuss your thoughts on the charge of "systemic racism" in the United States.
Pocan: "Our healing should be rooted in a call for justice for those murdered and unity for communities reeling from that loss. Healing looks like communities and families seeing the federal government take decisive action to re-imagine public safety and create nationwide standards to hold police accountable for this epidemic of police violence.
"Systemic racism is entrenched in this country's institutions from the legacy of slavery to Jim Crow and red-lining. This nation has long codified racism into law. It will take intentional institutional change to reverse those law's generational effects."
Theron: "I noticed that racial tensions began to build under the eight years of the prior presidential administration. …
"There are at least five causes: The last administration emphasized confrontation and division. The other party emphasizes class divisions among citizens as a political strategy. … The other party tolerates and sometimes encourages disorder and even rioting to 'right wrongs.' Democrats are bad for cities. Their machine politics, heavy bureaucracies, high taxes and state and federal programs have not worked. … (And) much of the racism that exists is in the cities run by this same political party.
Q: President Trump has been accused of making disparaging remarks about American service members who died in war. What is your response?
Pocan: "Donald Trump has long tried and failed to convince the American people that he adequately cares about our nation's troops and veterans. This latest news that he called fallen soldiers 'losers' and 'suckers' is not only disrespectful, but it shows an out-of-touch elected official."
Theron: "As with other anonymous accusations against President Trump, these fell apart almost immediately. They are most notable for the coordination they exposed between the Democrats and the establishment media, with a Democrat attack ad dropping within hours of the publication of the anonymously sourced article."