Voters in the state's 44th Assembly District likely will recognize the names on the Nov. 3 ballot if they pay attention to local politics. 
Janesville City Council member Sue Conley, a Democrat, and former city council member DuWayne Severson, a Republican, filed paperwork by Monday's deadline to run for the Assembly seat now held by Rep. Deb Kolste.
Reese Wood, a Libertarian, also is seeking the seat.
Wood unsuccessfully challenged Rep. Mark Spreitzer, D-Beloit, in 2018 for Spreitzer's 45th Assembly District seat. Election documents show that since 2018, Wood has moved from Beloit to Janesville.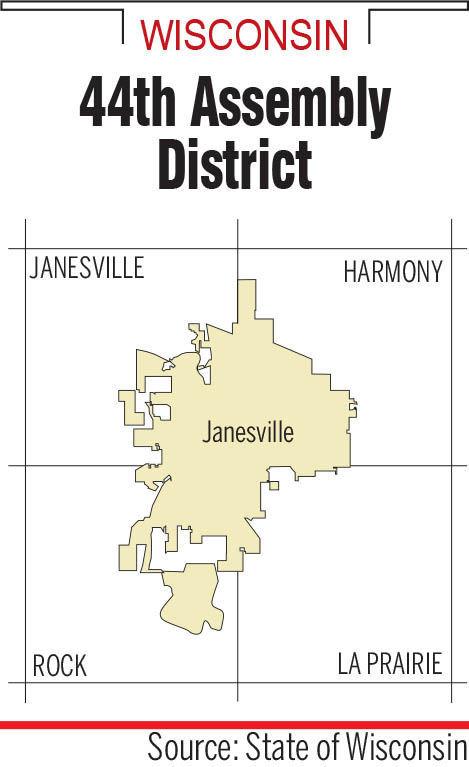 The state Election Commission's website showed Wood's candidacy paperwork was pending Monday night, but Wood told The Gazette he has turned in his paperwork and signatures on his petition should be verified Tuesday morning.
Spencer Zimmerman, a Democrat who has sought several elected positions, intended to run for the 44th Assembly seat but did not file paperwork by Monday's deadline.
The 44th Assembly District encompasses most of Janesville, with the exception of the far northeastern portion of the city.
Kolste, D-Janesville, who has held the seat for eight years, announced earlier this year she will not seek reelection.
Conley said a top issue for her is the redrawing of the state's electoral maps. 
"We are a highly gerrymandered state," Conley said.
Conley said she wants to see the state use the Iowa Model, which has a nonpartisan body draw the districts without the help of political data. 
Conley said other priorities are child care for families after the pandemic, homelessness and revising the state's shared revenue formula.
In a May 11 letter to the editor, Severson said redistricting would be "wasting valuable taxpayer money."
He clarified his stance Monday, saying he is not against redistricting but believes it has to be done at the right time. 
Wisconsin families have to be taken care of before redistricting, Severson said. 
Other priorities for Severson include helping families in COVID-19 recovery and bringing jobs back to Janesville.
Severson also said people have to work together to prevent police violence, referring to the death of George Floyd at the hands of Minneapolis police last week.
Wood said his top priority is election reform. He hopes to introduce legislation to lower the requirements for getting on the ballot, thus promoting diversity in state elections.
Transparency is important to Wood. He said he plans to explain all his votes in the Assembly and disclose how much money he and his staff make. 
Wood also supports criminal justice reform and said he hopes to address state incarceration rates.