Republican Rep. Bryan Steil of Janesville is seeking a second term in Congress, and Democrat Roger Polack of Caledonia hopes to unseat him in the Nov. 3 elections.
Both men are lawyers. Steil works for a manufacturer in Milton and Polack for a large law firm in Washington, D.C.
Polack, a Racine native and UW-Madison graduate, reportedly owns two houses in the D.C. area, where his wife maintains a dental practice. He moved back to the district last November.
The winner will serve two years in the House of Representatives.
The candidates answered these questions. Answers were edited for clarity and brevity.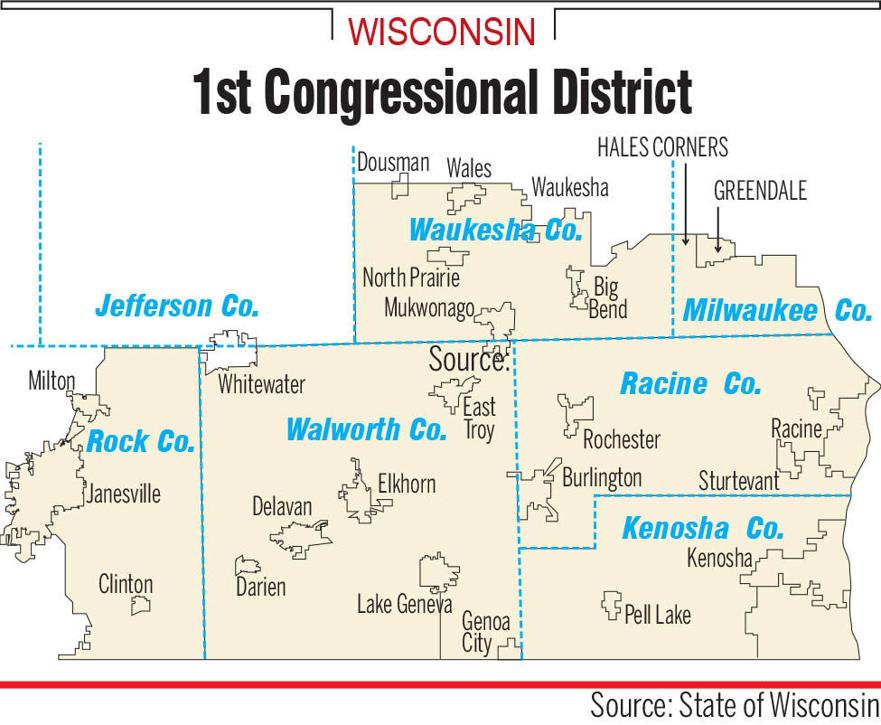 Q: Once a coronavirus vaccine is successfully deployed, what next steps should the federal government take?
Polack: "Assuming a coronavirus vaccine is trial-tested, approved and manufactured, the federal government should coordinate with state and local governments to get it to as many people as possible, free of charge. The process should mirror many of the successful testing sites we've seen across the district.
"Until we have a successful vaccine program, we must do more to provide relief and support to small businesses and workers hit hard during this pandemic."
Steil: "Congress should make targeted investments to eradicate both the health and economic impacts of coronavirus. We must continue providing unprecedented support of our doctors, researchers, and scientists working to develop a safe and effective vaccine.
"I've supported legislation to increase funding for COVID-19 vaccine research and development, expand testing capabilities, and help families cope with the financial burdens of this crisis. We must continue working on addressing the health and economic impacts of coronavirus and not allow partisan politics to get in the way of achieving results."
Q: Candidates in both parties have called for healing in the wake of unrest in Kenosha and elsewhere over Black people killed by police officers. What should that healing look like?
Polack: "The first step is to listen to one another, particularly the African-American community, so we can begin to correct the problems that have led to racial inequality. This involves bringing together municipal government, faith-based organizations, and citizens to come up with solutions—precisely what we're seeing underway in Kenosha right now.
"We must also pressure the Senate to pass the George Floyd Justice in Policing Act, which includes provisions that hold officers more accountable for misconduct, ensure the use of body cameras, ban the use of chokeholds, and amend use of force standards. I do not support defunding police. We also have to ensure that small businesses affected by destruction have the resources they need to rebuild and reopen."
Steil: "We need a unity of purpose to rebuild our community and ensure everyone's safety. We need to all show families and workers that Kenosha remains a great place to live, work, and raise a family. We must give law enforcement the tools, resources, and support to do their jobs and protect everyone in our community. Defunding the police is not an option.
"I am a cosponsor of the JUSTICE Act, which allocates funding for body cameras and de-escalation training without hindering law enforcement's ability to do their job.
"I've been on the ground in Kenosha meeting with faith, community, and business leaders, as well as people affected by the violence and destruction. We've created a coalition to focus on how we can increase communication and work to address disparities in health, income and education."
Q: What are your thoughts on the Black Lives Matter movement and the charge of systemic racism in the United States?
Polack: "I believe that Black lives matter, and I think we need to acknowledge that systemic racism exists, evidenced by serious disparities in housing security, the wealth gap, and education. ...
"A consistent point I've heard from Black community leaders I've spoken with in southeastern Wisconsin is the need to reduce the wealth gap Black America experiences. One way to do this is to enact policies that result in greater home ownership and small business ownership for low-income America."
Steil: "I am focused on strengthening community-law enforcement relations because everyone deserves to feel safe. …
"There are disparities in health, income, and education in our minority communities that must be addressed. Ensuring everyone has access to affordable and accessible health care is critical. It's why I support federal dollars for Community Health Centers, which provide our most challenged communities with affordable and accessible health-care options.
"We must also ensure that workers and students have the opportunity to obtain the best education and a good paying job. I want every parent to be able to choose the best school for their child, regardless of ZIP code. ...
"I will always support our First Amendment rights. I will also always support good-faith efforts to protect everyone in our community. However, criminal acts are different, and violence cannot be tolerated."
Q: What are the top two issues for 1st District residents, and how would you address them?
Polack: "My top priorities are getting corporate/big money out of politics and fixing our health care system. Once we end the special interest domination of politics, we can tackle real problems like lowering prescription drug prices, seriously addressing climate change while growing family-supporting jobs and bringing down health care costs.
"Second, I firmly believe access to quality, affordable health care is a human right. We must ensure we have universal health care coverage. I believe we do this by offering a strong public option available on the marketplace while keeping choice available for those that feel secure in their employer-backed plan."
Steil: "Getting workers back to work and keeping our community safe.
"Coronavirus has attacked our health and economy. Wisconsin workers are out of work through no fault of their own. Getting workers back to work and our economy on the road to recovery is my job No. 1.
"Before COVID-19, we saw record low unemployment and rising wages for workers. We can do it again. We must continue to keep taxes low, create more jobs, and ensure individuals can go to bed at night feeling financially stable.
"I support our men and women in law enforcement. Assuring public safety means supporting those who keep us safe. We can achieve this goal by fixing what's wrong and improving what's right.
"Ensuring police departments have funding for body cameras and training is an important step. We should also help police departments retain and hire only the best officers. I am working in Congress to ensure we pass a nonpartisan bill to invest in sound law enforcement."