The 32nd Assembly District race will feature a rematch in November between one of the Assembly's top Republicans and a town of Delavan Democratic challenger who ran unsuccessfully in 2018.
Tyler August, the Lake Geneva Republican who has represented the district since 2010, is again running against Katherine Gaulke, a Democrat who is a Delavan Town Board supervisor.
In 2018, August secured 59% of the approximately 25,000 votes cast for the seat that represents pieces of Walworth, Kenosha and Racine counties.
Since 2013, August has been the Assembly's speaker pro tempore, which is the body's second-highest position. He has long emphasized lowering the state's tax burden and balancing budgets.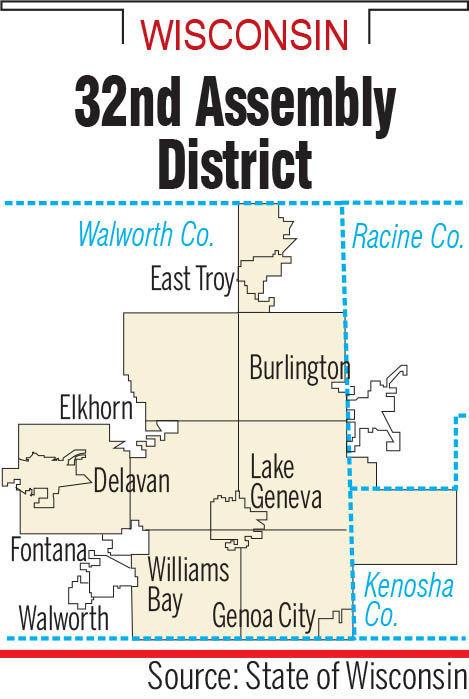 "I am proud of my extensive record of putting the interests of those in our community ahead of those in Madison," August said in a statement Monday. "My opponent's extreme liberal views and baseless negative attacks were soundly rejected by the voters in 2018, and I am confident they will be again in November."
In the past, Gaulke has emphasized health care issues, pointing to her experience as founder of the Wisconsin Association of Free & Charitable Clinics. She teaches at Upper Iowa University in Milwaukee.
She said in a statement Monday that she is chairwoman of the lake, park and tourism, finance, and emergency government committees for the town of Delavan.
Gaulke said partisan rhetoric "appears to be getting worse" in the Legislature, and that the district deserves a representative who will "fight for fair nonpartisan district maps."
"We need a leader who will work to improve public health and safety," she said in the statement. "We don't need expensive lawsuits on the taxpayers' dime. We need action and plans. I have a proven track record of proposing and achieving change."
She also said she hopes to debate August, something she brought up during her last campaign. She said he has not responded to a request to schedule one before the fall election.