Nine-year incumbent state Rep. Amy Loudenbeck will take on a high school English teacher this fall.
As of Monday's nomination deadline, Democrat Elizabeth Lochner-Abel, a longtime English and reading teacher at Big Foot Union High School, is the only candidate challenging Republican Amy Loudenbeck in the 31st Assembly District election this fall.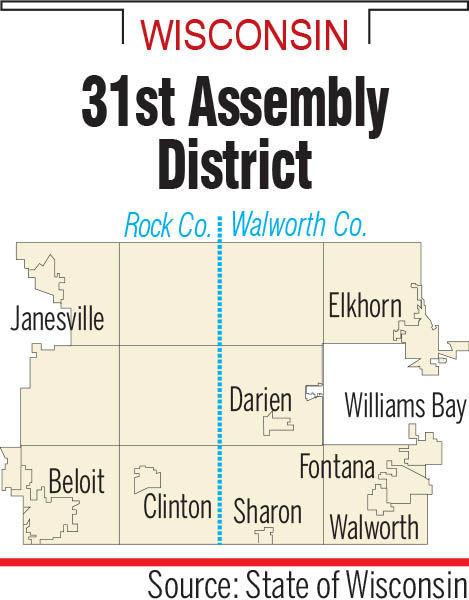 Lochner-Abel of Walworth announced her candidacy last fall. On Monday, a state registry of candidates for the 2020 fall election showed both Loudenbeck and Lochner-Abel were registered and their candidacy approved for the fall election.
A third candidate, Walworth resident Christopher Hansen, an independent representing the American Solidarity Party, shows up in Wisconsin Election Commission records as having filed a campaign registration on May 27, but the records show the election commission as of Monday afternoon either hadn't received or hadn't yet processed a declaration of candidacy for Hansen.
Hansen's status as a candidate as of Monday afternoon was listed as "pending."
Loudenbeck, of Clinton, was first elected to the Assembly in 2011. She won re-election in 2018 against Democrat Brittany Keyes.
In her most recent terms in office, Loudenbeck has taken policy stands for homeless and unaccompanied youths and those at risk of human trafficking. She has also worked heavily in state roads infrastructure as the vice-chair of the state's legislative Joint Finance Committee.
Most recently, Loudenbeck in statements said she was supportive of the state Supreme Court overturning Gov. Tony Evers' COVID-19 safer-at-home directive, saying she believed individuals have enough information to make reasonable, informed decisions about risk in whether to reopen or patronize businesses during the pandemic.
Lochner-Abel said she would take a stand for increased access to affordable health care. In campaign statements, she has criticized the state's earlier decision to deny an expansion to Medicare.
Lochner-Abel also said she supports "fully funded" public education as a model that would deliver all students ample classroom supplies and maintain "optimized" class sizes.
That, she said, would help better deliver education to all students and help school districts recruit and retain teachers.