Nine-year incumbent Rep. Amy Loudenbeck is defending her 31st Assembly District seat Nov. 3 against Elizabeth Lochner-Abel, a schoolteacher from Walworth.
Lochner-Abel, a Democrat and former high school English teacher at Big Foot High School, and Loudenbeck, a former corporate environmental compliance projects leader and economic development official, spoke to The Gazette about their stances on the governor's overturned safer-at-home order, masking mandate and major issues in the 31st District.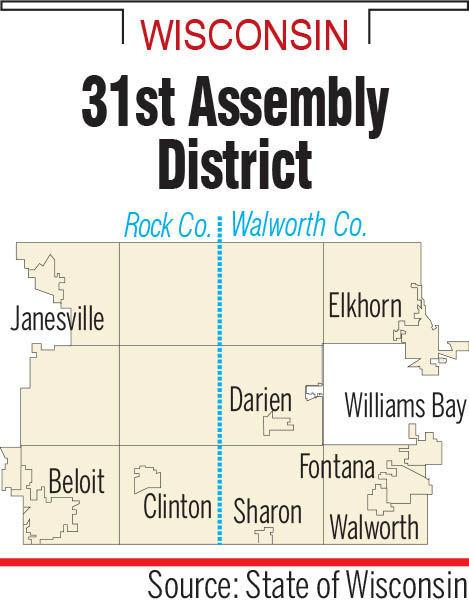 Q: Where do you stand on Republican lawmakers' push to overturn Gov. Tony Evers' safer-at-home order and the state Supreme Court's decision to overturn it earlier this year?
Loudenbeck: "The Supreme Court correctly determined the safe-at-home order was beyond the powers of the executive branch. That's it."
Lochner-Abel: "I stand with the governor on his safer-at-home orders. I understand the Supreme Court has authority to overturn things. However, the fact is we had no plan in place after the orders were overturned. And our Legislature has never come up with a plan to keep Wisconsinites safer and to hold the spread of COVID-19 in check. There was no plan from the Legislature on how to safely open our schools and our businesses, other than to say, just practice, you know, safe distancing. That has made the spread of the pandemic even worse."
Q: Where do you stand on the governor's continued requirements and extensions to his mandate that people must wear masks inside most public places?
Loudenbeck: "I think the second (mask) order of the governor is not lawful because he already had a mask order for 60 days, which is all that is allowed under the law. I support masks as a mitigation strategy for contagious disease prevention, but I feel that it's an individual decision or a local decision after that initial 60-day period."
Lochner-Abel: "I feel we can and should follow masking in public. I think it does help deter the spread to a degree when we practice social distancing, when we practice masking, when we're indoors and in places of business or public spaces. I think it's a good step to protecting each other. Should it continue to be a requirement? I believe it should, yes."
Q: What do you think is the most important issue residents of the 31ST Assembly District face, and what's your approach to that issue?
Loudenbeck: "If I could choose a word instead of an issue, it would be uncertainty. The uncertainty relates back to public health, public safety, and the sense of economic uncertainty people have. What the state, I think, can do is to lead without fear and try to instill confidence in the public that the government is going to listen to people and support a stable economy and a stable future in Wisconsin. I think there are a lot of mixed messages, and we need to come together as a state and come up with some answers."
Lochner-Abel: "I think what's important right now is our education of our students and the opening of our schools, and how we protect our students, teachers and administrators, and that's tied in with the pandemic. Once we had to close Wisconsin schools last spring, we had no plan in place for reopening. We kind of left each district up to their own. Having students come back into the buildings has left our schools scrambling, and it'll affect our education of the students for months to come."