President Donald Trump trails Democrat Joe Biden by 4 percentage points in Wisconsin, according to one poll, but Trump's son Eric and a crowd of hundreds who heard him at a campaign stop Monday didn't seem to care.
Polls have underestimated Donald Trump's level of support before.
"We just left a site that had 400 to 500 people," said Eric Trump, referring to a campaign event in Menomonee Falls. "We are stronger than we have ever been before."
Eric Trump spoke at Diamond Assets, an asset management firm specializing in Apple technology buyback programs. Chairs were socially distanced on the plant floor, and all of them were filled. Some people stood at the back of the room.
Masks were encouraged, and many people wore them, but not all. Masks were available for those who did not have them.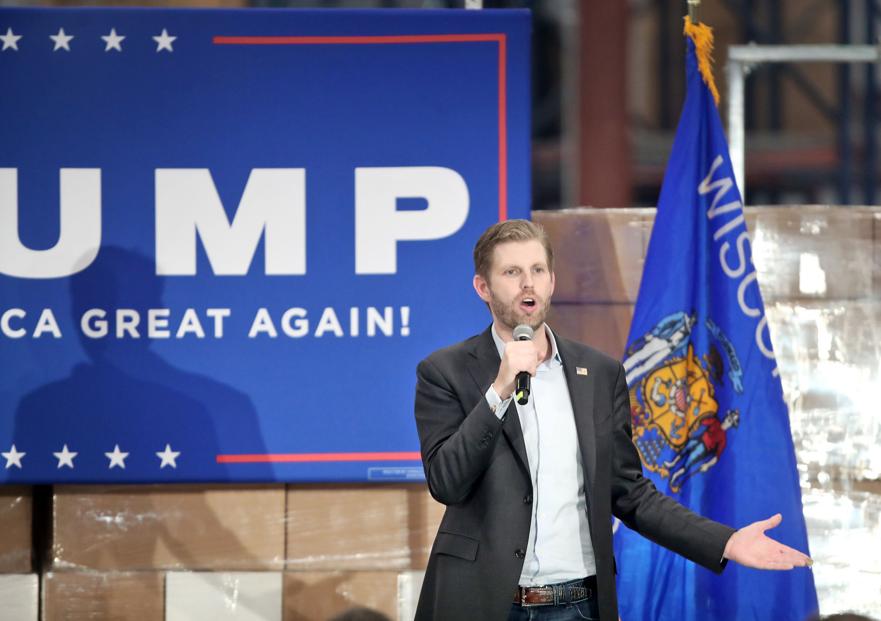 Trump said the Nov. 3 presidential election is no longer about Democrats versus Republicans. "Honestly, it's not. It's right versus wrong," he said.
He accused Democrats of "court packing," saying they wanted to not only confirm their own justices to the Supreme Court but also wanted to expand the size of the court.
"These people are crazy," Trump said. "When you look at the Democratic Party, this is not the party of JFK or Bill Clinton."
He also touched on other familiar campaign themes—that Democrats want to raise taxes, ban plastic straws, censure people on social media and take away people's guns.
He emphasized the importance of funding law enforcement. Pointing to a few police officers in the back of the room, Trump said, "We love you; we appreciate you. Thank you."
"They want to go after your Second Amendment," he said. "They certainly want to take away your guns. I don't think that's all that popular around here based on the looks in this room."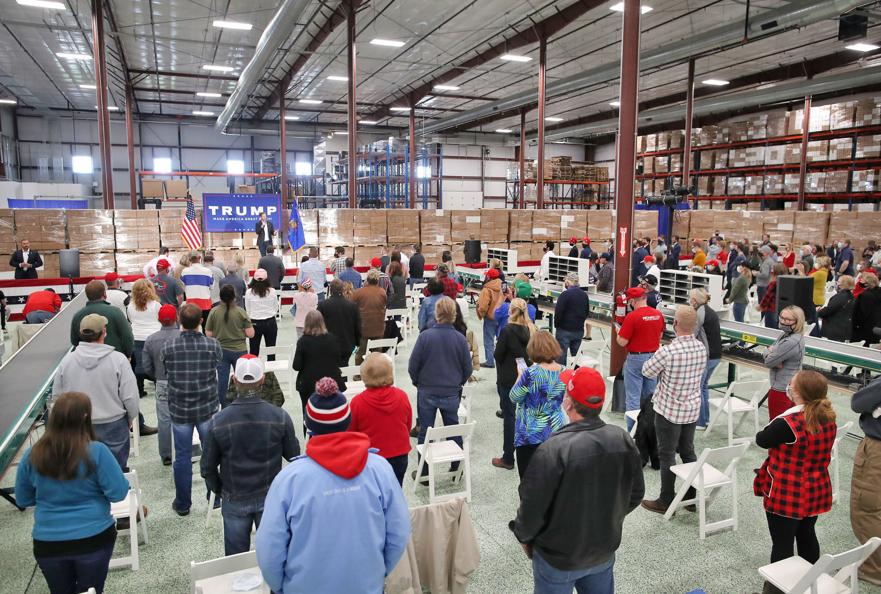 He said his father would reduce health care costs, cut taxes, continue to build the military, and help farmers and industry. He thanked Mike and Diamond McKenna, owners of Diamond Assets, for hosting the event, saying, "What an all-American Dream story that is."
When you reduce taxes, he said, "You make companies competitive again. You reduce regulations, you allow them to be able to build phenomenal facilities like this."
And, he said, "You become a cheerleader for this country. I think that's the one thing the media doesn't talk about. I think the thing my father will be known for is, I think he's become the greatest cheerleader this country has ever seen."
Milly Babcock of Milton said she was in Texas for a wedding when she received a text that the Trump campaign planned to stop in Milton. She flew back Sunday.
"I was thrilled and very proud of Mike and Diamond McKenna for hosting at their huge, beautiful company," she said.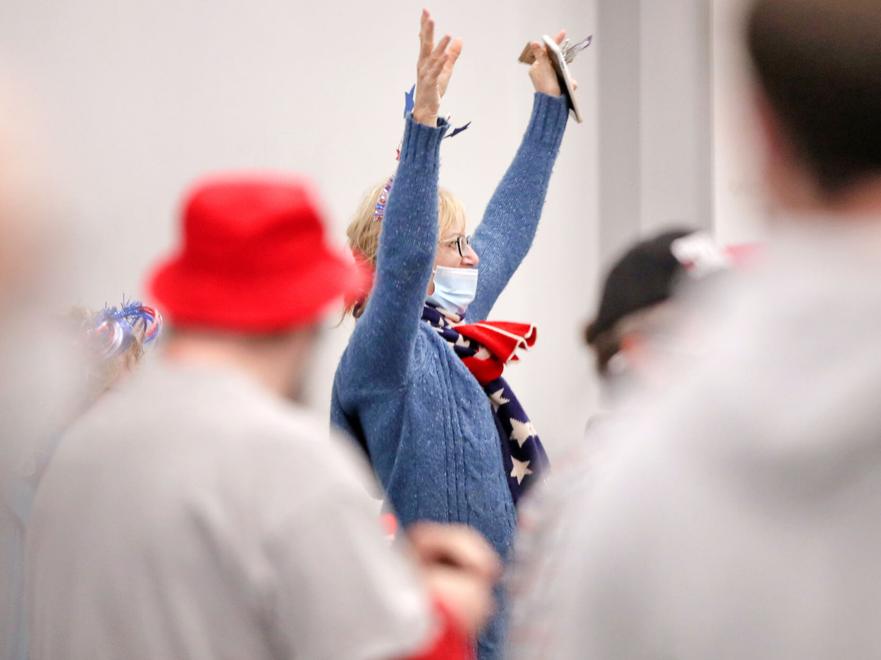 Timothy Rookey of Middleton said he once considered himself a Democrat but not anymore.
"Trump has accomplished so many things: getting our economy strong, getting our borders secure, very much defending religious values," he said.
Outside on the sidewalk, Susanna Bucklin held a sign reading, "No hate in our state." Her sister Laine, who recently converted to Catholicism, held a sign that said, "Proverbs 22:16: Whoever oppresses the poor or gives to the rich shall only come to poverty."
"He's dividing the country to a point that we haven't seen since the Civil War," Susanna Bucklin said. "We've seen a dramatic increase in domestic terror and hate crime."
She also objected to a campaign stop in Milton during a dangerous time in the pandemic.