After a COVID-19 hiatus in 2020, the vintage aircraft displayed during Warbird Weekend was once again parked at the Southern Wisconsin Regional Airport between Janesville and Beloit from Friday to Sunday, July 23 to 25. Visitors saw some iconic warplanes from the World War II era and watched as they took flight.
The event, referred to as a "fully immersive affair," transported guests to the 1940s a time when the country was at war and American pilots controlled birds of steel with names such as Stearman and Dauntless.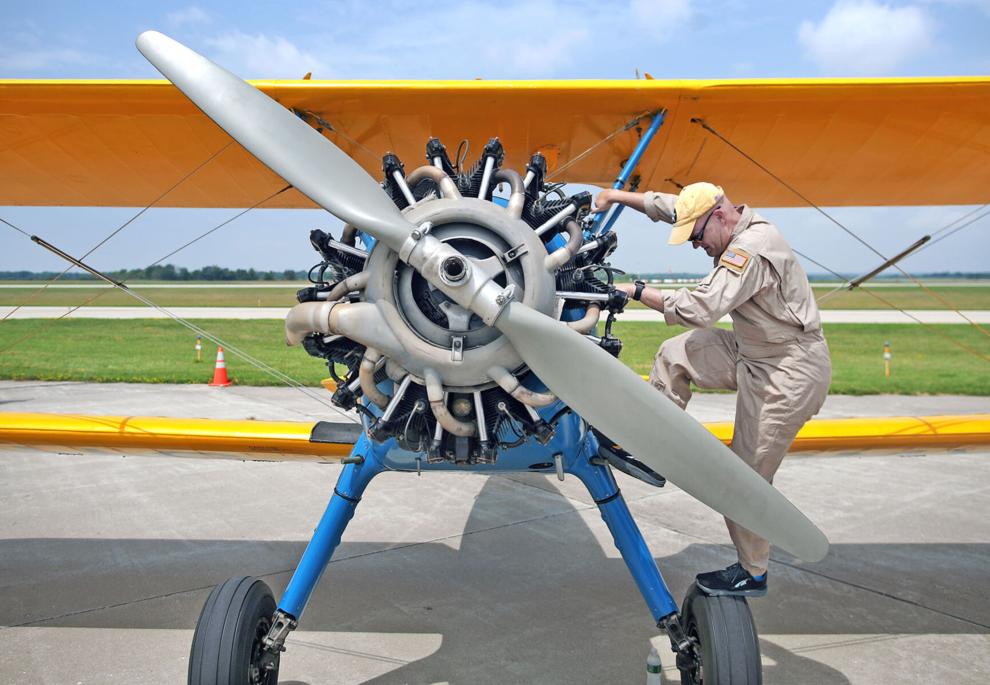 Old planes, new faces
Families came out in droves Saturday to marvel at the massive aircraft. For the Delgado family, the chance to stand face to face with them was a once-in-a-lifetime opportunity. As first-timers, John and his wife Jenny gained a new perspective on how remarkable the planes truly are.
"You see them in the sky, but there's nothing like walking around and looking at them to see what they really are like," John Delgado said.
The Delgados' grandson, Ayden, was dwarfed by a B-24 Liberator, affectionately known as "Diamond Lil." As he and his grandparents circled the renowned aircraft, Ayden gleefully explored the gunner. When asked what his favorite was, he gazed up at the towering plane, pointed up and smiled. The reason?
"I like the guns," he said.
'Absolutely unbelievable'
Visitors didn't just get the opportunity to stand beside the airplanes Saturday—some got a close-up view of the historic machines in motion. Tammy Hatch, whose father, Capt. Everett D. Bowman, was a radio operator during World War II, got the chance to fly in the B-29 Superfortress four-engine bomber, also known as "Fifi.".
Hatch's daughter, Katelyn Bowman, bought her a ticket for what Hatch called an "absolutely unbelievable" experience.
Hatch recalled waking up the morning of and feeling like she dreamed up the upcoming flight.
"How many times are you going to get a chance to do this?" she said.
Bowman bought the ticket for Hatch's birthday, which was a fitting way to honor her grandfather and give her mother a gift she would never forget.
After stepping off the plane with a beaming smile, Hatch walked right up to Bowman and embraced her. In an emotional tribute to her father, Hatch said she missed him dearly and that he was with her during the entire flight.
"The dream came true," she said.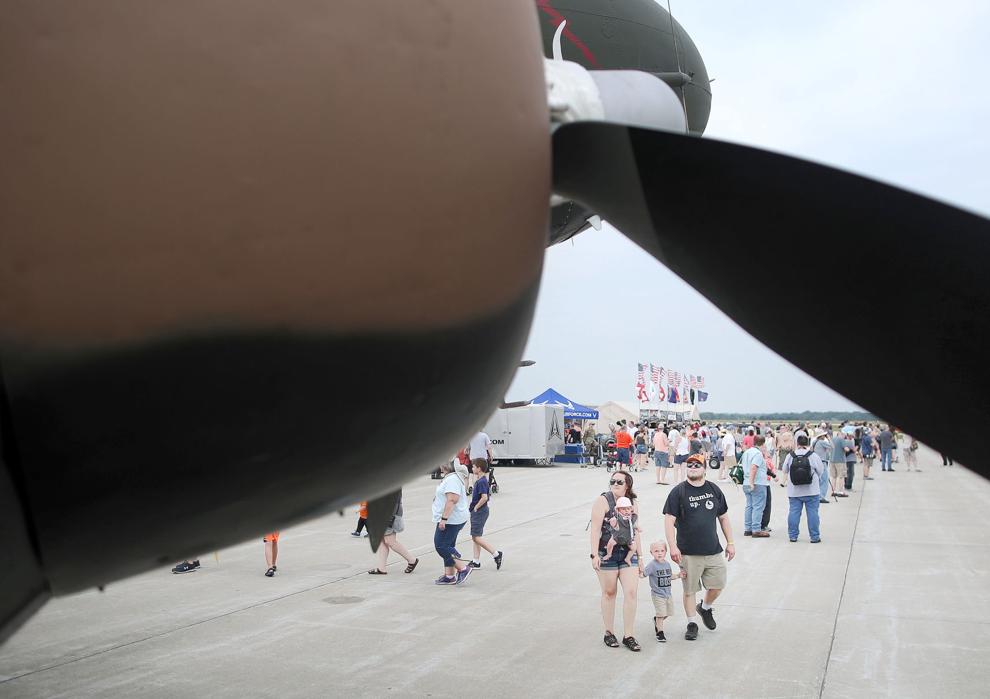 Back to work
Phillip Pedron, who flew Hatch in the Superfortress and is an engineer for the Commemorative Air Force, called the event a "flying museum." CAF is a nonprofit organization that provides the warplanes and organizes events across the country to showcase them.
Last year, Pedron said it was difficult to miss out on creating memories for visitors such as the one Hatch experienced.
"To not get to do that means we're not getting to do what our mission is." he said.
While last year saw next to no CAF events, engineers such as Pedron still put in long hours keeping the planes in flying shape. The team spends four months during winters performing what he called "hard" maintenance.
"Regardless of whether we fly or not, we've got the same maintenance programs that happen each year," he said.
For every hour each plane flies, Pedron estimates it takes around 300 hours of maintenance on an aircraft to keep it airworthy.
"It's a labor of love," he said. With the planes taking flight again, Pedron and the rest of the crew were able to get back to making memories. "It's been a tough year. We are so proud to be back out here."