A duplex in Janesville exploded Monday night after somebody lit a cigarette near a natural gas leak, Janesville Fire Battalion Chief Ron Bomkamp said.
Two residents of the duplex in the 800 block of Hawthorne Avenue were transported to Mercyhealth Hospital and Trauma Center in Janesville. One resident suffered serious injuries, Bomkamp said. The other had minor injuries.
A dog was also rescued from the duplex and taken to an emergency veterinary hospital.
The injured residents lived in separate units. One unit was a total loss and the other was damaged by smoke, Bomkamp said.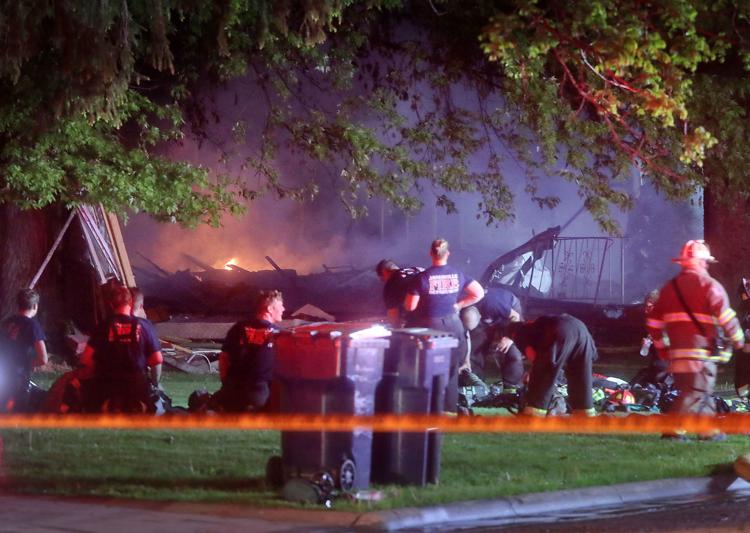 He said a resident had smelled gas near a water heater—where the explosion originated—for several days. Bomkamp said he did not know if the smell had been reported to the fire department prior to the explosion.
Several neighbors on the scene said they felt their houses shake and heard booming sounds.
Jermar Ayers said he felt his house rattle and assumed a TV or other object in his home fell. When he looked outside, he saw a far worse situation unfolding.
Ayers ran down the street to the explosion before fire crews arrived, he said.
As he approached the duplex, Ayers saw a woman who presumably had been ejected from the building laying in the yard underneath a mattress, he said.
Flames and smoke engulfed the property, and Ayers said he could hear popping and crackling sounds.
Ayers and two more neighbors, Rob Stenson and Mike Hodges, grabbed the woman and pulled her to the side of the yard to wait for first responders.
Hodges was in his front yard when he saw a "fireball" in the sky and ran toward the house.
Stenson was laying in bed before he ran outside. He said he could hear a man screaming for help, so he and Hodges started looking for him.
Around this time, they said first responders showed up and told them to stay back, but they refused to give up the search.
"Hell no. We just ran in," Hodges said.
Hodges and Stenson said they weren't able to find the man crying for help but were told he made it out alive, they said.
Everything happened in a matter of minutes, the men said, and they said they believe others would do the same for them if they were in danger.
"I've seen worse," Stenson, a veteran, said. "With something like this, we have to band together."
The Rock County 911 Communications Center received a call for the explosion at 9:15 p.m., and the Janesville police and fire departments and Alliant Energy responded.
Sgt. Jimmy Holford of the Janesville Police Department said shortly after 10 p.m. the fire was contained to one structure and that nearby residents were being relocated for the night because of smoke.
Crews remained on the scene after 11 p.m. Monday.