JANESVILLE
Royce's pupils narrowed to vertical slits.
It was like watching two glass doors close over the dome of a spaceship, rather than a creature adjusting to the light. In his clear bowl, his skin and feet looked tough and scaly, like a crocodile's, but when Royce crawled across your hand, his feet were delicately thin, and his skin and body were smooth, soft and almost weightless.
Royce the gecko was one of thousands of animals on display at Sunday's Show Me Reptile & Exotics Show at the Holiday Inn Express. And yes, "thousands" of animals is an accurate description, especially if you count the dubias.
But more about those later.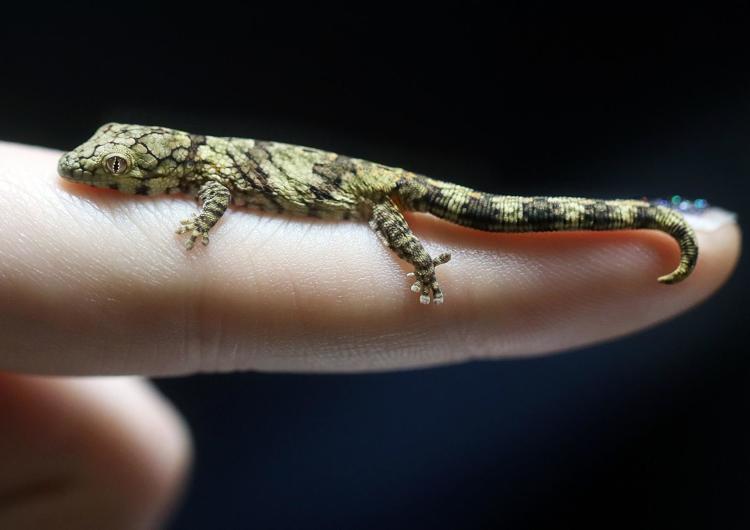 Blue-tongued skinks, Herman's tortoises, children's pythons, bearded dragons, mata matas, tree frogs, spiny-tailed lizards, arboreal trap door tarantulas, sugar gliders and a lemur—just one—were gathered in one large room. Most were displayed in clear Plexiglas boxes or bowls with lids, but a few crawled or slithered across their owners' or visitors' bodies.
Whenever you have the opportunity to allow a large charcoal-colored snake glide up your arm and encircle your ball cap you should take it, right?
Visitors seemed to think this made sense.
Emile Ellwanger from Belvidere, Illinois, allowed a small snake to weave around her hand and forearm. It looked like an elegant bracelet, something Cleopatra would have worn to a state dinner. But then the bracelet flicked out its tongue and spoiled the effect.
Ellwanger said she loves reptiles, but her dad wouldn't let her get one.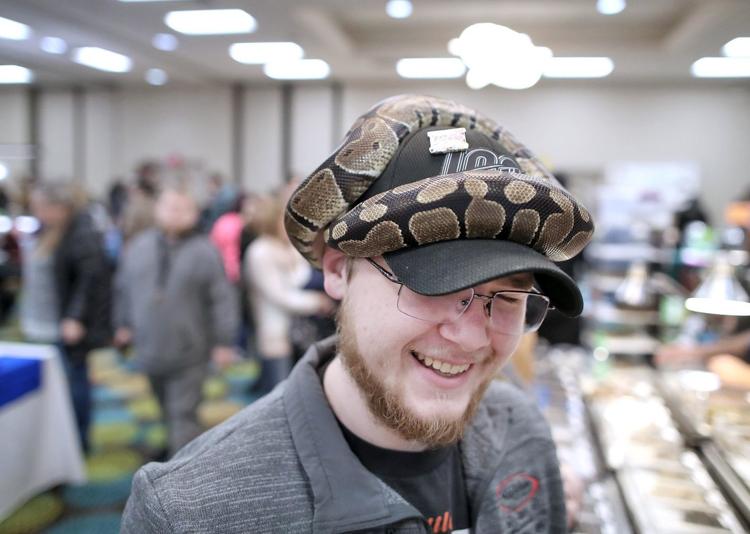 Kevin Moody of Streamwood, Illinois, is an exotics breeder and the proud owner of Royce the crested gecko. He said geckos are a good starter pet for children interested in reptiles because they are fine at room temperature, don't require a heat lamp and can be fed powdered food as opposed to, say, dubias, meal worms or live mice. And they don't bite.
By "room temperature," Moody means 70 to 78 degrees. Apparently, he has never lived with a spouse who thinks 63 degrees is warm enough and won't turn on the heat until Nov. 1 on principle.
But we digress.
About seven varieties of gecko—there are approximately 1,850 varieties, according to Wikipedia—make good pets, Moody said.
Their skin coloration and patterns range from yellow with leopard-like spots to brownish-green with a thin white stripe down their backs. Others are banded. Some have eyelash-like spikes around protruding eyes. One variety, the giant day gecko, is vivid green with red highlights.
That seemed to be part of the attraction of the reptile show. The variety and coloration of the snakes, geckos, chameleons, frogs, turtles, lizards and all other things reptilian was astonishing. It was as though the universal paint box was open and tossed into the air.
Samuel Gomez raises and breeds bearded dragons, and these lizards eat dubia roaches.
"It started to get expensive to buy them, so I decided to breed them," Gomez said.
Now, he does a brisk business in live dubia roaches, selling them in small, medium and large sizes, just like soda.
On Sunday, he fed some small roaches to his bearded dragons, and they ate them like a dog with a McDonald's hamburger—a flash of tongue, a cursorily chew and then gone.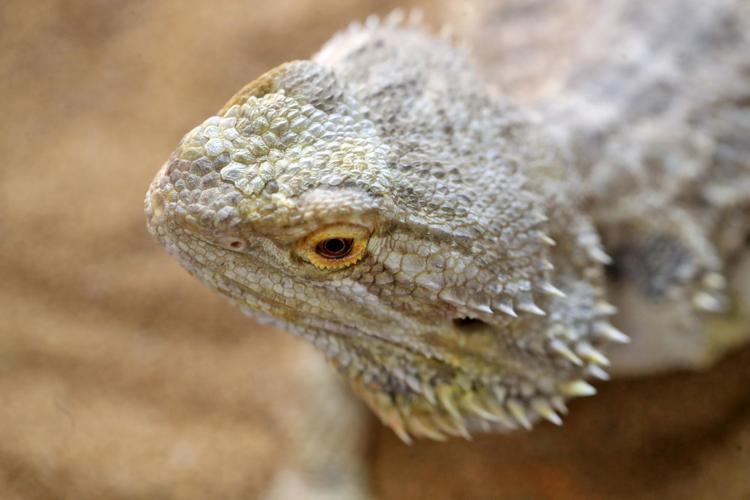 But his bug breeding efforts but a dent into his human love life.
"I used to have a girlfriend, but then she said, 'It's either me or the bugs,' and I picked the bugs," Gomez said. "She was costing me money, and the bugs were making me money."
So, not a good match for her.
Micky Meyer, the show organizer, said Janesville is one of four locations for the show, and this year they are hosting a new show in Paducah, Kentucky.
If you missed Sunday's show, it will be back May 3 at the same location.