Sullivan Signs lost its company president and experienced paint-by-hand artist, Steve "Sully" Sullivan, in mid-February.
A heart attack took Sullivan's life as he sat in his pickup truck in the parking lot outside the family-owned sign shop off North Main Street.
It was a shock to a small company that has quietly—but steadily—designed, painted and carved some of the best-known display signs that stand or hang in and around Janesville.
Sully Sullivan's death at age 56 came a little more a year after Sullivan Signs' founder, Gerald Sullivan—Sully's father—died of cancer. Gerald, who quit General Motors in 1969 to launch Sullivan Signs out of his basement, was 80.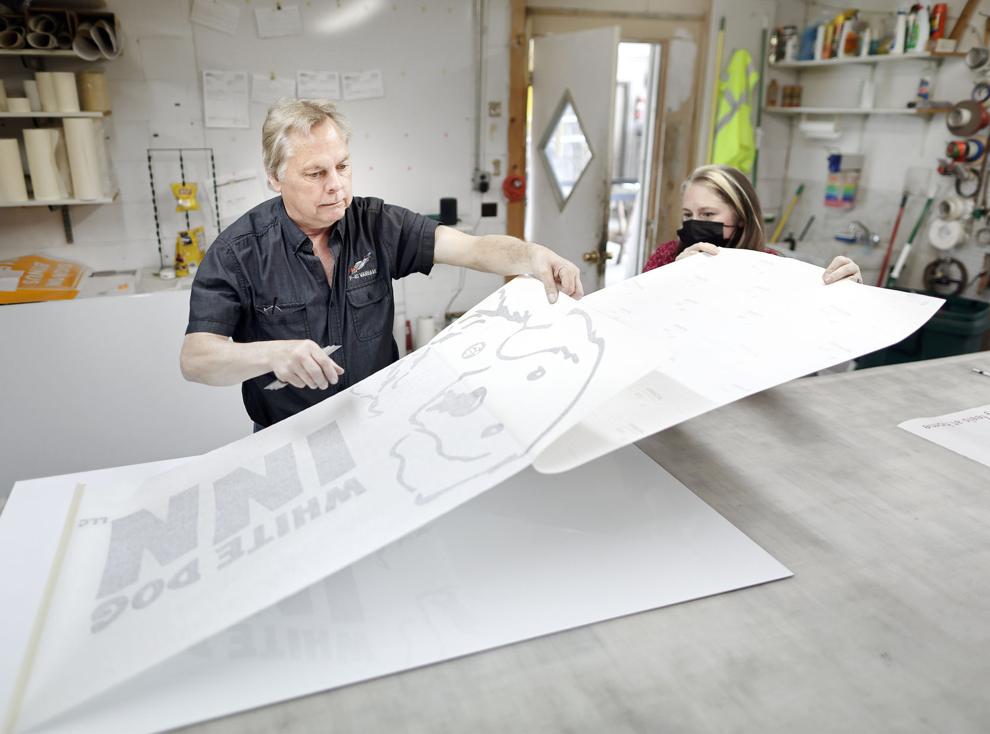 Trish Cusick, now a decade into her job as office manager of Sullivan Signs, said there was no question about whether she and longtime sign artist Ken Buggs planned to continue operating the company despite the death of the two Sullivans.
"It wasn't even a decision that had to be made. It's just what was going to happen," Cusick said. "I'm not a Sullivan, but they're my family. It's more than being an employee; it's been like being part of the family."
So the sign company will keep rolling. And the company moniker, Sullivan Signs, will remain unchanged, Cusick said.
On the walls and in boxes of old photos stored behind the counter are design prototypes and snapshots that chronicle the company's 51 years of craftwork. Sullivan Signs has created thousands of signs—including practically every "Welcome to Janesville" sign that stands at a city entryway—along with countless billboards and storefront display signs for local businesses that have come and gone.
Over the last year, the company has designed a flurry of signs local businesses needed to impart COVID-19 rules.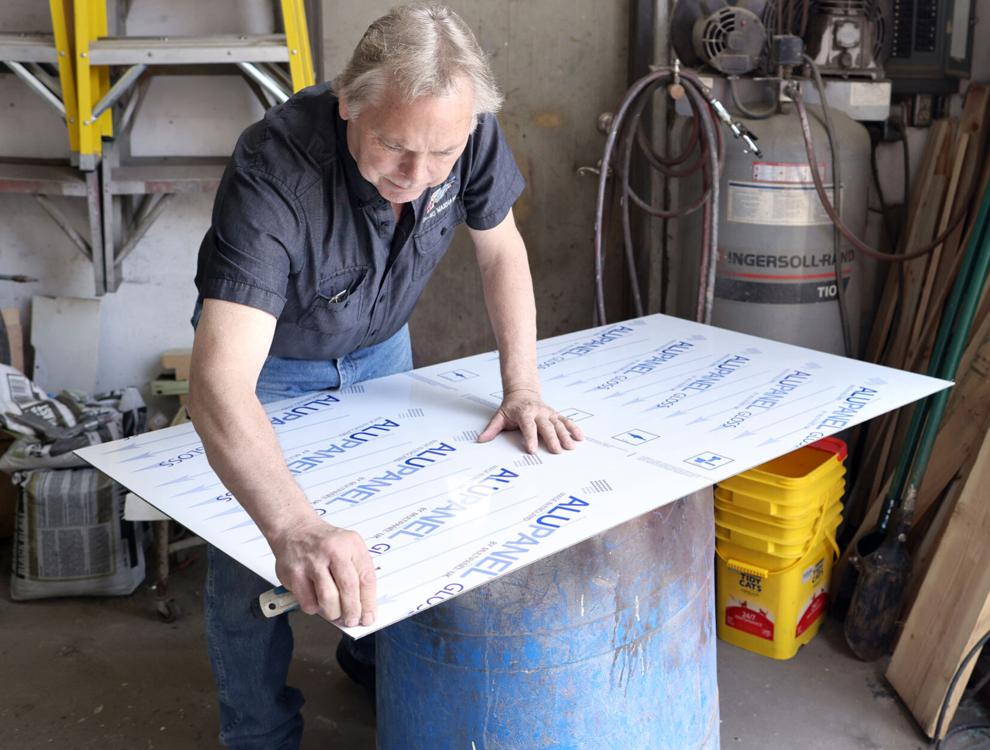 Lately, it's been a big order of huge directional signs to help downtown businesses push through the tear-up of West Milwaukee Street.
You would have to catch a lot of moving targets to see Sullivan's bread-and-butter handiwork: hundreds of local semitrailer and pickup trucks the sign company has emblazoned with custom stripes and colored designs and lettering.
Cusick's forehead creased in thought as she looked out the office windows Wednesday, scanning Traxler Park and the riverfront a few hundred feet west of Sullivan Signs.
She was trying to explain how, in just a month or so, she and Buggs had switched duties.
Once the only remaining sign artist, Buggs is now the production manager.
Cusick is the general manager, which means she works with clients on sign projects and designs. And she runs the business office.
The past few months, Cusick has immersed herself in every aspect of sign design that she didn't already know after years of jumping in on projects as needed.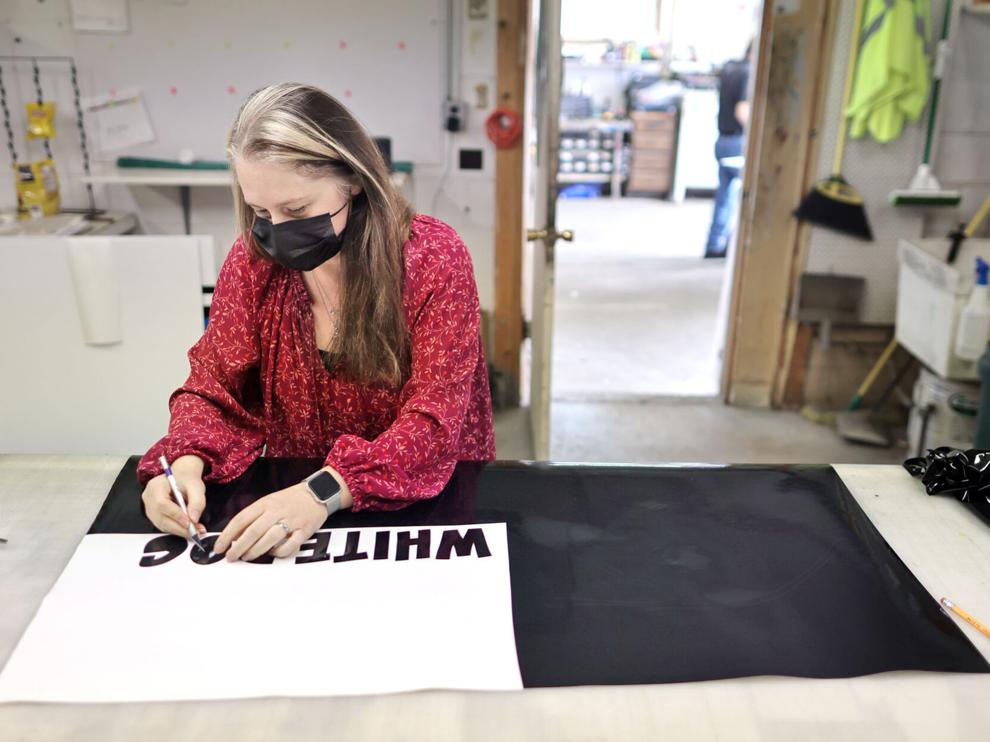 "I was hired to answer the phone and help out in the shop a little. So I'm a designer now? I don't know. There's plenty of opportunities to learn by trial and error. I'm a designer, I guess," Cusick said.
Yes, she is. Cusick showed off a sign design she recently worked on for a Delavan-area sod farm. The farm's owner wanted big smiley faces capping the bollards that support the sign, and they wanted to incorporate huge lawnmower blades into the sign's stand.
The design, which involved as much input from the farm as from Cusick's hand, came together. It worked out.
On the first few designs, Cusick found herself rummaging through all the tidbits that the Sullivan son and father had shared: meticulous theory on negative space and color, even how to handle italics in print so the words remain readable as people pass in their cars.
Cusick keeps telling herself: It's logic. Computers help, but it's not all about digital design. Signs are still art.
"'General manager' is just a title. I'll do whatever I need to do and jump in on whatever needs to be done," Cusick said of the two-person team—Buggs and her—that is now running a sign business that never sees much of a lull during the year.
Dan Sullivan, brother of Sully and son of Gerald, works for a local plastics company, but he has been advising Cusick and Buggs as they transition to running the shop.
The business remains owned by the Sullivan family, he said.
Dan Sullivan has watched his family's company grow since Sullivan Signs was screen-printing huge periodic table of elements charts for classrooms. That was in the early 1970s, and the work was done on contract for a company called Science Related Materials that over the years became Lab Safety and then Grainger.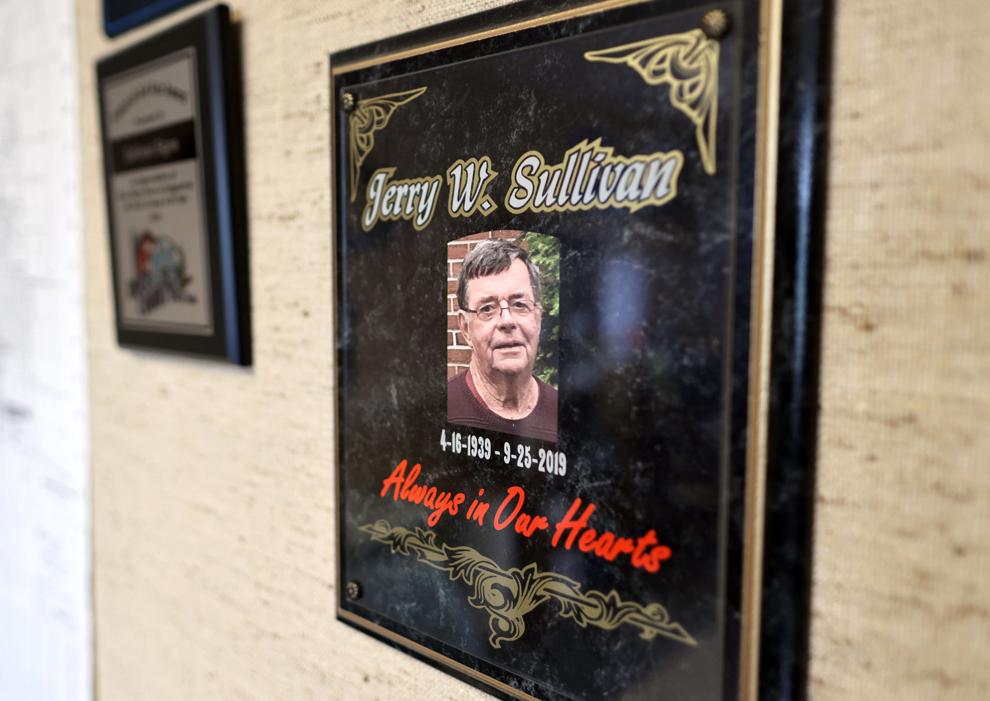 Cusick said some customer calls still require an initial explanation for those people who haven't heard about the deaths of Sully and Gerald Sullivan. But those conversations are slowly becoming fewer.
There are always signs to design, paint and repaint, along with new projects and brand-new businesses launching. Like Sullivan Signs, some of those businesses might last a half-century or longer. Others, for whatever reason, won't.
But new businesses always need signs. And, Cusick said, the phone at Sullivan Signs keeps on ringing.