More than 1 of every 3 Rock County households struggle to pay for basic necessities, according to a study released this month by the United Way.
The numbers come from the ALICE Project, which mines federal data to derive a "survival budget" and income levels in an area.
The project recently released its latest report, based on 2018 data.
The coronavirus pandemic has worsened the economic picture for many, and it's likely that today more people endure the stress of not being able to provide for their families, said Mary Fanning-Penny, CEO of United Way Blackhawk Region.
The 2018 data shows 36% of county residents were poor or earned more than the federal poverty level but still could not afford essential living expenses.

That's an improvement from 2016, when 42% of county residents were found to be unable to pay for necessities.
Fanning-Penny noted Rock County trends slightly worse than the statewide average, which was 34% of people in poverty or meeting the ALICE threshold.
The 36% figure includes the 11% of county residents living below the poverty level and 25% who are considered "ALICE," which means asset limited, income constrained, employed.
This group has been called "working poor," although many poor people also work.
Fanning-Penny said there's no magic solution: "It really takes a collaborative approach. We need policy makers and academics and education partners. We need business and the private sector and the social-service providers all working together to create systemic change.
"We want to be careful to not communicate that this is just a report on wages. It's not. This is a holistic examination of the conditions of our community," she said.
Needs include affordable, flexible child care and opportunities for education to advance on the job—all needs that United Way supports in the funding it provides to a variety of community agencies, Fanning-Penny noted.
Fanning-Penny refers to the ALICE group as a person:
"Alice is vulnerable to just one emergency, whether that's one health care crisis or one car repair or one harsh storm or one global pandemic, and when that crisis happens, Alice may not be able to get to work … and Alice can quickly spiral into poverty. So if our ALICE families can't afford the basics, they also can't help stimulate our economy. And so when Alice falls into poverty, that creates a greater strain on local services, and if Alice can't save for the future, then we all bear that cost. ...
"What we know is, Alice is working. These are families paying taxes. They are working, possibly more than one job," she added.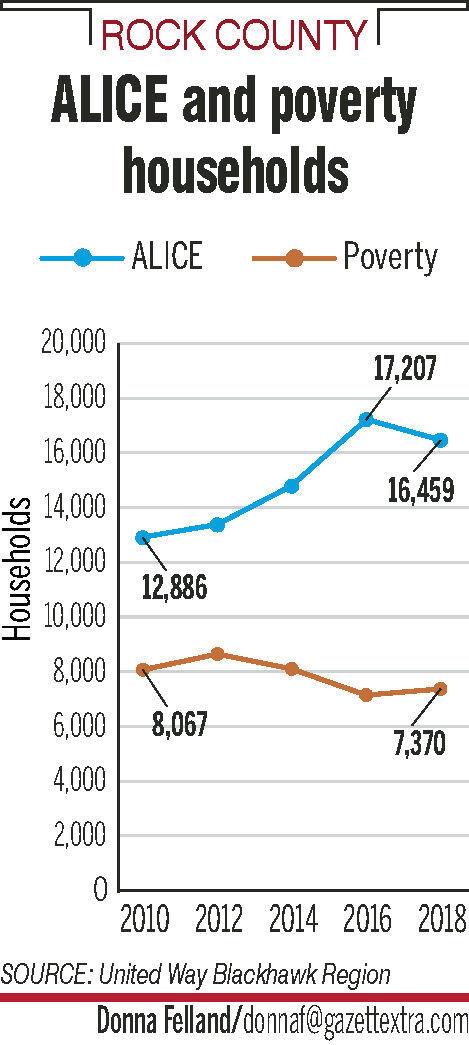 The ALICE report notes that from 2017 to 2018, unemployment fell to historic lows in the state and the rest of the country and gross domestic product grew.
But wages rose only slightly, and the state saw a record increase in the number of low-wage jobs, Fanning-Penny said.
Statewide, 60% of the workforce earned hourly wages in 2018, Fanning-Penny said, and 59% of jobs paid less than $20 an hour.
The ALICE report helps the United Way focus its grants on initiatives that can have the greatest impact, Fanning-Penny said.
Those grants pay for the 211 helpline, child care scholarships, job-skills training, rent and food assistance, among others, she said.
Despite an annual investment of more than $1 million in such programs, needs remain unfilled, Fanning-Penny said.
United Way wants people to care about the ALICE group, believing that will lead to a solution.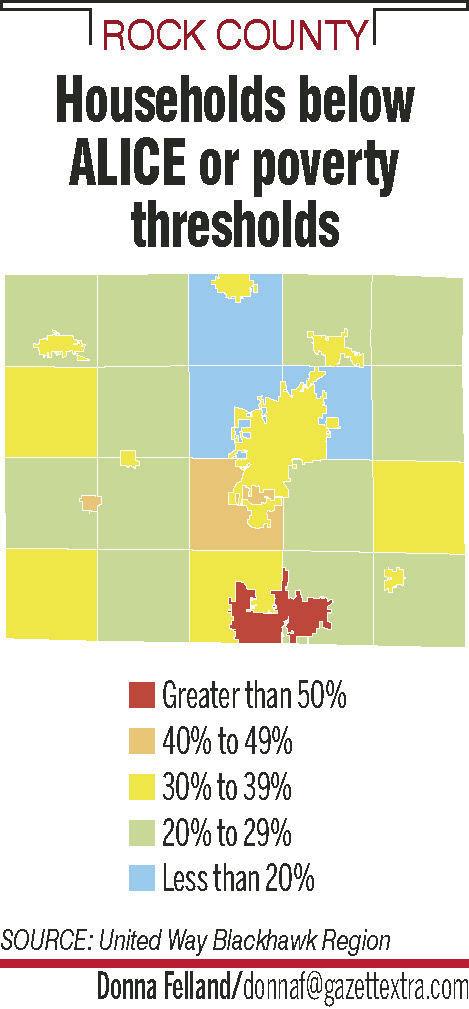 "One of the best ways for people to be a part of that solution is to get involved, whether they give to United Way or donate their time to other nonprofit agencies or talk to their friends and neighbors about this," she said. "Becoming aware and empathetic and involved is what we would hope is the result of making this information available."