COVID-19 cases could continue their upswing in coming weeks, according to a coronavirus forecasting model that relies on tests of local sewer water to predict infection trends.
Since September, Janesville's wastewater treatment plant has sent wastewater samples to the State Hygiene Lab and UW-Madison twice a week. It's part of a testing program that could give local officials an early warning about new outbreaks, the state Department of Health Services says.
Joe Zakovec, the head of Janesville's wastewater treatment utility, said it's the first time he knows of that his facility has collected samples of wastewater for state virus testing. The state is conducting the tests during a yearlong analysis aimed at tracking the pandemic locally and in real time.
In Janesville, test readings show recent spikes in the concentration of DNA shed by the virus in new sewage and wastewater coming into the plant.
Data from the last few months suggests Janesville residents could see a continued rise in COVID-19 cases here in the next few weeks.
Zakovec said the state gives the city's wastewater testing lab collection bottles, cooler containers and shipping materials to collect and mail samples it pulls from inbound sewage. The state analyzes the samples and has begun posting new data in an interactive, online map of statewide wastewater testing.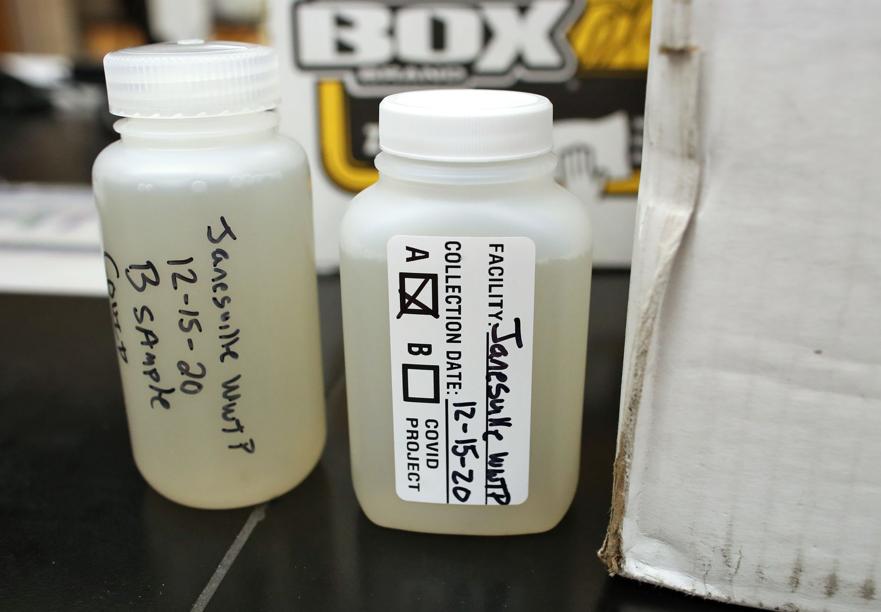 The map is designed to show the relationship between COVID-19 infection rates in people and the concentration of COVID-19 in wastewater in each municipality participating in the federally funded testing program.
Measured against one another, the two data sets have showed a continued trend in Janesville. In most instances, when samples have shown a surge of COVID-19 in wastewater, virus testing data in Janesville has shown a corresponding spike in reported COVID-19 cases later.
For instance, the state's analysis shows that in mid-November, Janesville had one of the largest spikes in COVID-19 concentration in its wastewater since the start of sampling earlier this fall.
A little more than a week later, Janesville data showed a corresponding jump in the daily rate of COVID-19 infections—an increase from about 100 cases to 165 cases per 100,000 people.
That was probably the biggest spike in COVID-19 cases this fall, but it wasn't the first time a spike in positive cases has followed a jump in COVID-19 wastewater readings.
Health officials believe that in Janesville and statewide, the spikes in COVID-19 concentrations in wastewater could predict emerging or impending outbreaks.
"If you do contract COVID, your body right away starts to shed part of the virus in the form of human waste," Zakovec said. "This (analysis) shows the concentration of (COVID-19) RNA left over in the waste that comes into the utility. The point is that can give a faster idea for the community, a quicker response to COVID.
"If you see an increase in COVID in wastewater, you're probably going to see an increase in number of cases in your community in a week or two weeks. It acts as an early warning measurement."
The state health department says the testing method has benefits, including providing early warning of COVID-19 surges and access to information that can help communities know if protective measures—quarantining, face coverings and business restrictions—are working.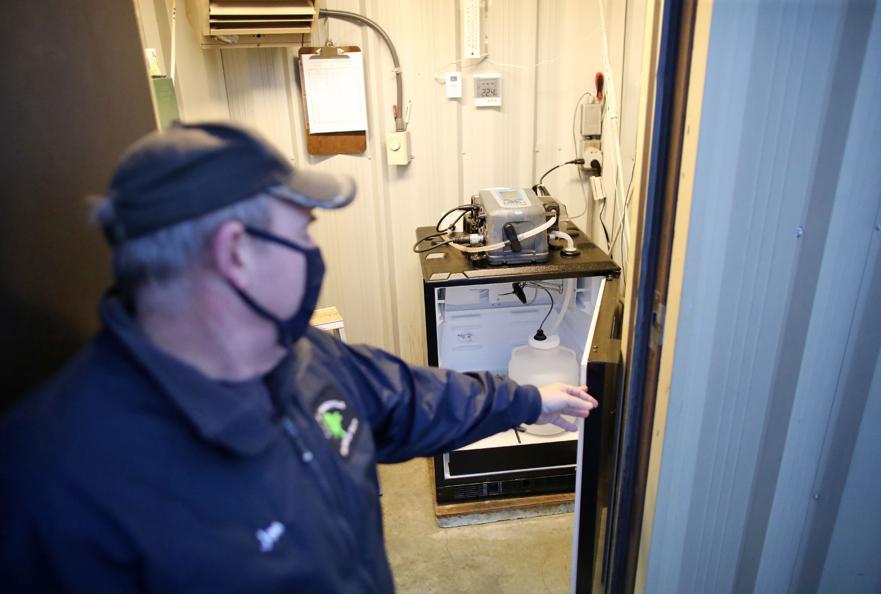 The data also can help municipalities more quickly intervene with mitigation strategies to stem an outbreak, state officials said.
The collection is being handled by wastewater utility crews alongside regular sampling of "influent," or untreated wastewater, that the utility conducts.
Under standard operations at the wastewater plant, residents' toilet sewage and other waste that comes in from the city's network of wastewater pipes is eventually cleaned at the plant through anaerobic and ultraviolet light processes that destroy the coronavirus and any other viruses, Zakovec said.
That means elevated traces of COVID-19 in wastewater isn't a problem in and of itself. It simply serves as a marker and a snapshot in time that might be useful to track virus infection into the future.