The city of Milton grew more than any other Rock County city in 2019, a state document shows.
Each year, the Wisconsin Department of Revenue releases its Net New Construction Report, which shows the amount of net new construction in communities across the state, grouped by county. The numbers reflect commercial and residential growth minus demolition.
Milton's 2.54% increase in net new construction topped all other cities in Rock County. By comparison, Janesville grew by 1.71%, and Beloit saw 1.23% growth.
Milton City Administrator Al Hulick said the numbers are a testament to people wanting to be part of the community.
"In my opinion, what it means is Milton continues to be a location that is desirable to live and/or to locate or relocate your business," he said.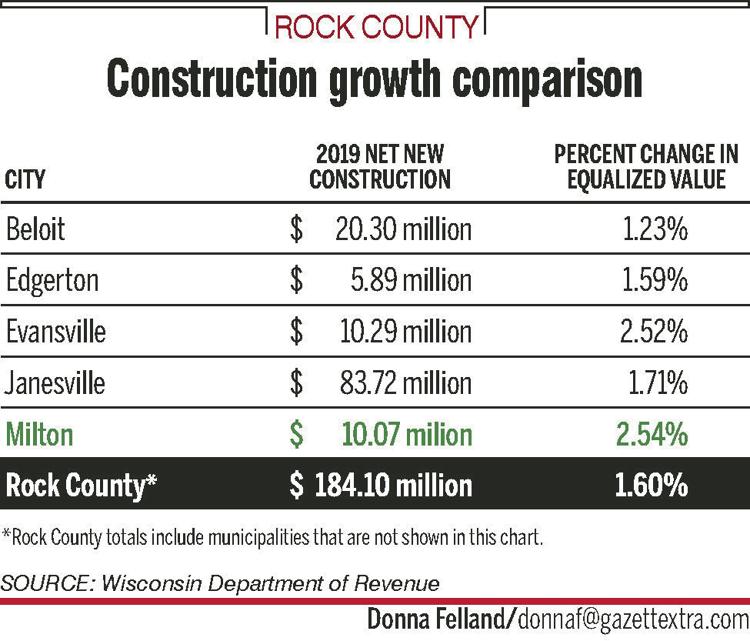 The city saw its equalized value increase by more than $31.3 million in 2019, Hulick told the city council recently.
Hulick said continued growth is important as the city tries to keep taxes low and avoid big hikes. Equalized value growth is part of the tax rate equation. Rising total value applies downward pressure on the tax rate.
That was evident in Milton's recent tax rate increase of just 32 cents, Hulick said. He thinks residents appreciate the city's focus on maintaining growth.
"They understand that growth is important for the vitality of the community," Hulick said. "It strengthens the community when it's done in a responsible fashion, which we do, and I'm proud of that."
The 2019 growth figure wasn't an outlier. The city has seen its overall equalized value rise by $74.6 million, or 21%, over the last three years.
Hulick said a lot of that has to do with continued development in the city, which saw more than $9 million in commercial and industrial development and investment in 2019, up $3 million from 2018.
Businesses such as Diamond Assets, Badger State Maintenance, SSI Technologies and Charter NEX Films have moved into new buildings or expanded over the last few years.
"It's not a fluke," Hulick said. "It's a continuation of what we've seen over the last couple of years, and it seems to be continuing at an increasing rate."
Residential growth is evident, too.
In 2019, more than $8.4 million was spent on residential construction, including 32 single-family homes and eight multifamily units—a $4.5 million increase from 2018. Nearly $1 million was spent on renovations.
"This isn't a phenomenon that Milton is the only one who is seeing it or experiencing it," Hulick said. "There's been a need for housing and a housing shortage in Rock County for a while as we worked out of the Great Recession."
Hulick said it took longer for the county to recover from the recession because of a stockpile of existing houses that needed to sell before demand could ignite for new housing.
He sees more growth in the future. More industrial and housing projects are likely coming this year, and values could continue their upward trend, Hulick said.
"It's a trend that we will see continue through 2020 as long as the regional and national economy continues to stay strong as it is," he said.
Hulick said the city aims to keep diversifying its tax base by having multiple stakeholders and business owners, which can help make it more recession-proof.
"2019 was a great year," he said, "and we don't see any reason why that would slow down in 2020."