Chaplain Randy Booth is not sure "tele-chaplaincy" is a word, but it might be the best way to describe a new way to keep people connected during the pandemic.
With help from a private donation, SSM Health bought iPads for each of its hospitals across Wisconsin, Illinois, Missouri and Oklahoma so chaplains can help patients bond with family and friends, Booth said.
It started as a way to let chaplains talk to patients receiving intensive care for COVID-19. Such patients are treated in isolation rooms, and any doctor or nurse coming in or out has to wear full isolation gear.
Chaplains are not allowed inside such rooms, which contradicted the increased demand for chaplain services, Booth said.
When the iPads were delivered three weeks ago, Booth started letting COVID-19 patients talk to him virtually through apps such as Zoom.
But he soon realized the patients weren't the only people who could benefit.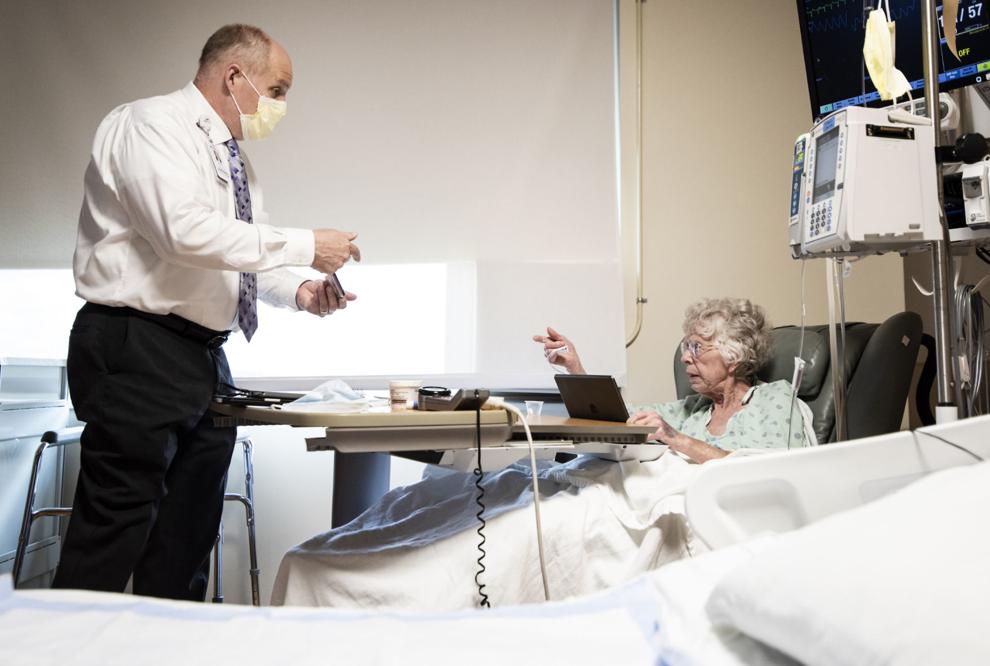 Booth expanded access to the iPads to allow patients to contact friends or family while in the hospital. The pandemic has forced SSM Health to restrict its visitor policy, so most patients can see one visitor at a time—if any.
A 92-year-old woman recently got to see and talk to her three daughters and two granddaughters across four states while at St. Mary's, Booth said.
The idea of a video call can be confusing for older people, but Booth helps patients however he can so they can feel bonded to their loved ones.
"(It) makes the patient feel real human again," Booth said. "... Your family makes you feel that way again."
In one instance, Booth was able to virtually connect a woman in intensive care with her husband so the husband could talk to the doctor about her worsening condition and the care she was receiving.
A younger man recently was admitted to the emergency room with a cellphone with 3% charge on it and no charger. Booth said he was able to give him an iPad to connect with his family.
Booth said his services have been in higher demand since the pandemic started.
Visitor restrictions and mandated isolation make patients feel lonely, and they crave conversation, he said.
A chaplain is well-versed in prayer and religious conversations, but all chaplains know the priority is talking about what is important to that person, which might not be related to religion at all, Booth said.
Booth said he has had deep conversations with many patients, some not involving religion.
Almost every patient he has spoken to recently has brought up the pandemic. People have expressed opinions on safety protocols and politics or have wanted to talk about their fears, anxieties and loneliness, Booth said.
"Not everyone has COVID, but everyone has quarantine," he said.
Booth finished his chaplaincy course March 4. Not once was a pandemic, lockdown or quarantine mentioned, he said.
But sadness and grief are part of his job, regardless of the pandemic, Booth said.
"As far as helping people find hope in midst of a crisis, that is what I have trained for."