Memorial Day looked different this year, but the spirit of honoring those who died while serving the country remained, said Rep. Bryan Steil, R-Wis.
Janesville's Memorial Day traditions, including the parade and the Janesville Tank Company ceremony, were canceled this year because of the coronavirus pandemic.
Other such ceremonies across the state and country were also called off or limited over the weekend, which is viewed as the unofficial kickoff to summer.
But the Janesville Patriotic Society continued its ritual of a rifle salute and playing taps Monday morning in a section of Oak Hill Cemetery where 246 veterans are buried with graves marked by American flags and at least two pennies on each stone.
The coins are a symbol of respect left by visitors, usually those who have no formal relationship with the deceased.
Tom Stehura of the Janesville Patriotic Society said the ceremony was considered a small, private event. The group limited publicity to abide by coronavirus safety recommendations that say to limit the gathering of crowds, he said in an email to The Gazette.
Still, dozens of people visiting the cemetery lingered or watched from a distance as the honor guard fired off a rifle salute, followed by taps.
Two members of the guard wore face masks. Others in the crowd had masks or spoke to one another while staying distanced.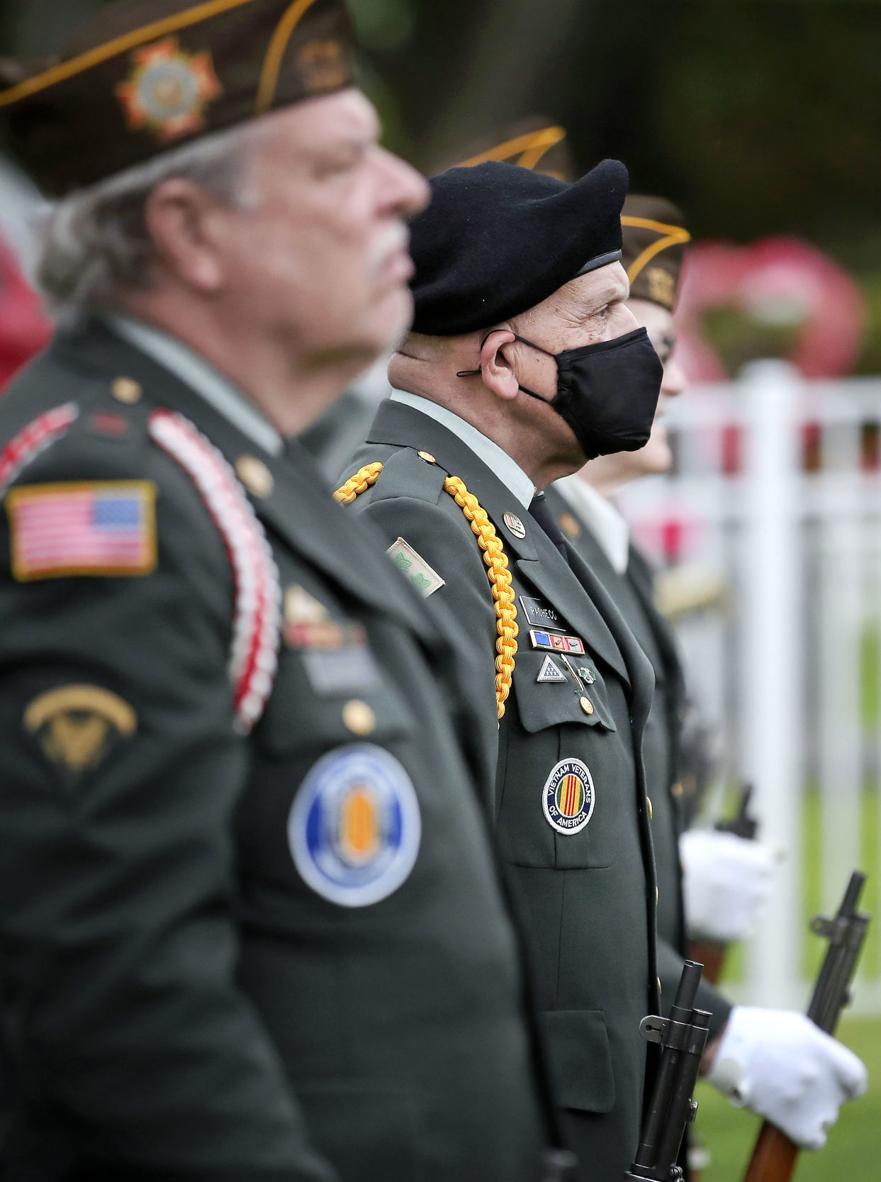 Those changes did not stifle the impact of the ceremony, Steil said.
Steil, with tears in his eyes, said he talked to a man at the event who went to school with Steil's father and served in the military.
Since the country's founding, a great number of people have sacrificed their lives for freedom, and each of those people have a name and a story, Steil said.
Those people's stories are much more personal when they come from your hometown, Steil said.
Janesville native Gary Utterberg, a Marine who served in Vietnam, was instrumental in preserving the section of Oak Hill Cemetery for veterans, hanging flags around town and changing the local perception of Vietnam veterans, he said.
Utterberg has never missed a Memorial Day service at the cemetery, he said.
Utterberg was dismissive of the impact of the novel coronavirus and was disappointed the pandemic prevented the installation of large flags that normally line the veterans' area.
"It's (honoring veterans) not once a year. It is every day," Utterberg said.