Authorities came up empty again Sunday in the fourth day searchers scoured the Rock River for missing 9-year-old Janesville girl Madison Billups.
The search so far has been fruitless for dozens of searchers who have canvassed waters for more than 60 hours off and on since Thursday night, when Billups was believed to have been swept into a strong current in the river just west of Monterey Bridge in Janesville.
Capt. Mark Thompson of the Rock County Sheriff's Office said multiple local fire departments and other police and public safety officials Sunday continued a sonar search from boats in a 9-mile stretch of river between Janesville and the town of Beloit.
Over the weekend, boat crews with divers and cadaver-sniffing dogs at first focused a search in the waters near Angler's Park west of the Monterey Bridge, where Madison was last seen Thursday.
The search Saturday and Sunday expanded to deeper waters farther south. Thompson said the sheriff's office, which has been at the helm of the multiday operation, plans to resume searching Monday.
"We're going to have one of our boats and a fire boat out here. Probably the next day beyond that, too. We will still have boat activity in the area. Sonar, visual searches. But we are having no luck at this point," Thompson said.
At Anglers Park, dozens of Madison's family members have held a vigil since Thursday night.
It appeared the family was beginning to come to grips with a search authorities said since Friday afternoon has been considered a recovery effort rather than a water rescue.
On Sunday, family had set up a memorial on a sapling tree. One message written on a few heart-shaped signs that hung among balloons and stuffed animals tied to the tree read: "I love you Maddie Patty. I will never forget your soft voice and vibrant smile."
Another message read: "Rest with the Angels. Never be forgotten."
Family and police said Madison was thought to be holding onto her 13-year-old brother as the two waded out into the river and onto a sandbar near one of the train trestle bridges west of the Monterey Bridge.
Janesville police initially responded to reports that two bystanders fishing nearby saw Madison and her brother slip off the sandbar and onto large rocks in a drop-off where a strong current and undertow sweeps out of the river's main channel.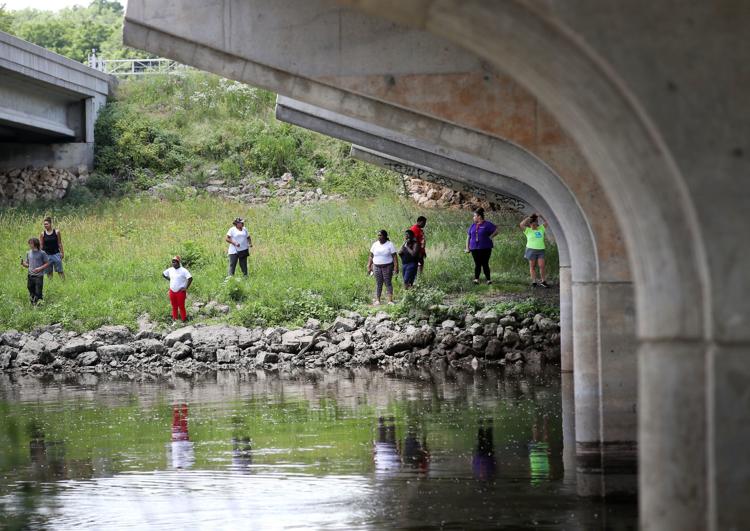 One of the bystanders, an unidentified woman, apparently tried to pull both children from the current, but Madison slipped loose and went under in the current, police indicated.
Over the weekend, the Anglers Park area was a hot spot of activity where searchers initially had set up a command post and focused their search on waters there.
Police and local fire departments had cordoned off the riverfront at Angler's Park for much of the weekend, but by Saturday, about 40 relatives of Madison's had gathered under sun shades and a park shelter to hold a vigil at the park.
Family members described Madison as being small and petite for her age but spirited and "inseparable" from her siblings, including the older brother she apparently went with into the water.
Gail Billups, who said she is Madison's aunt, said family members had been struggling with raw emotions all weekend. Some family traveled from Detroit and Chicago to join a vigil at the park over the weekend.
Residents brought the family food and water during what was a long, harrowing weekend, and the family worked together with residents who volunteered to help the family scour the river banks and overhanging trees as divers searched the open waters.
"That was a blessing. I didn't even know this community cared this much," Gail Billups said.
Janesville Police Deputy Chief Terry Sheridan on Friday said the stretch of river near Anglers Park is shallow but with a current that's "dangerous." Conditions there are treacherous enough that searchers ordered the dam shut at Indianford to draw down the river so divers could more safely scour the bottom for signs of Madison.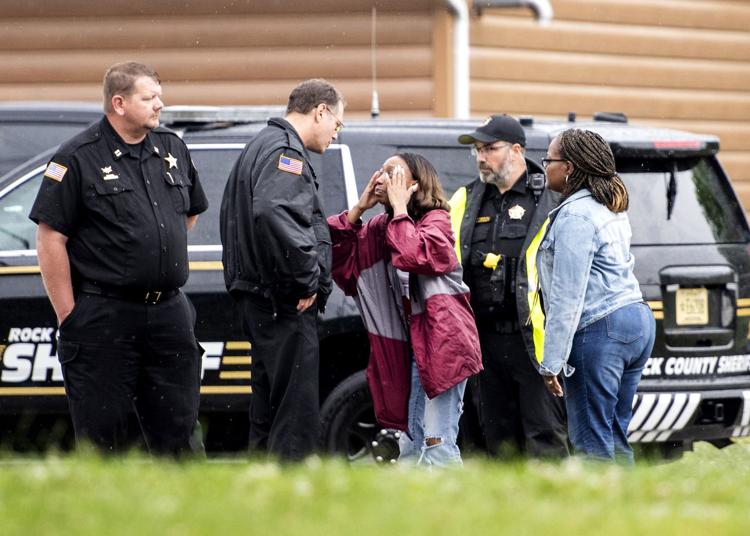 Thompson said searchers measured the undertow near Angler's Park at "more than 7 miles per hour"—a speed he said even trained rescue divers find unsafe.
"It's a rough area," he said.
Andre Billups, who said he is the girl's great uncle, believes the city should put a fence up along the river south of the Monterey Bridge to keep people back from swift waters he said are dangerous and "can get you worse than fire can get you."
The city has earmarked the stretch west of the Monterey Bridge as a family recreational area geared toward fishing.
Billups said the river conditions in that stretch have changed after the city last year tore out the Monterey Dam, a spillway that had dammed up the river upstream for decades.
Downriver on the city's south end and into the towns of Rock and Beloit, where the search continued Sunday, the river is deeper and less turbid. But Thompson said conditions for a water search aren't much easier than near Monterey Bridge.
"This is a different type of river. There is a main channel that runs through it, but it goes from rocky bottom to sandy bottom to trees, big stumps, and back to rocks. It's constantly changing. There's all different types of bottoms and ever-changing depth, and the channel runs different speeds at different locations. So that obviously adds to the complexity for a search here," he said.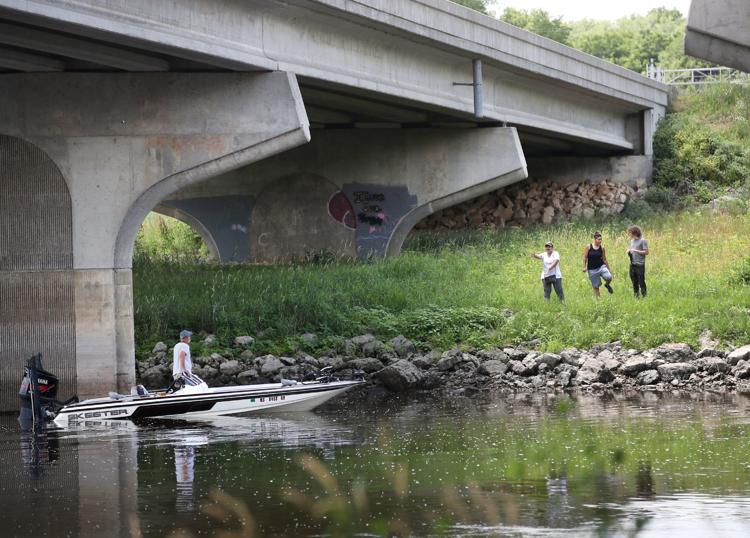 On Sunday afternoon, Gail Billups sat with a half-dozen family members at Anglers Park. She said she hoped the sheriff's office would continue the search for her niece until she's found.
She and other family members have been at Anglers Park nearly around the clock since Thursday night. She pointed to her vehicle parked nearby.
"I'm laid up in that van at night. I sleep there. I stay here," she said. "I'm not leaving. I'll wait here for them to come up and say they found something."