Plans for a new summer fundraising event at the Rock County 4-H Fairgrounds are underway, but organizers say it will not replace the grounds' main attraction.
The Rock County 4-H Fair Board is planning a food truck festival called Rock the Grounds for early July in an effort to recoup financial losses from the cancellation of the 2020 fair.
And fried-food lovers, 4-H supporters and amusement ride enthusiasts have reason to rejoice: The board intends to hold the annual Rock County 4-H Fair this year, said Ryan George, fair board president.
"We will have a fair as close to what we are used to having as we possibly can," George said.
The fair board is working with the county and Rock County Public Health Department to determine the safest way to hold the fair, he said.
The food truck festival is in the early planning stages, and many details still need to be worked out, George said.
The festival would feature beer and wine for sale on the fairgrounds—an option only available since 2018, when the county board approved an ordinance allowing alcohol sales on the grounds.
Janesville's Alcohol Licensing Advisory Committee is set to vote Tuesday on a recommendation to allow a temporary class B alcohol license for the event, which would be held July 9-10.
The city council has the final say on the license.
In the fair board's alcohol license application, event organizer Beth Burdick said Rock the Grounds would feature food truck vendors and sell prepackaged beer and wine in the fenced-in grandstand area.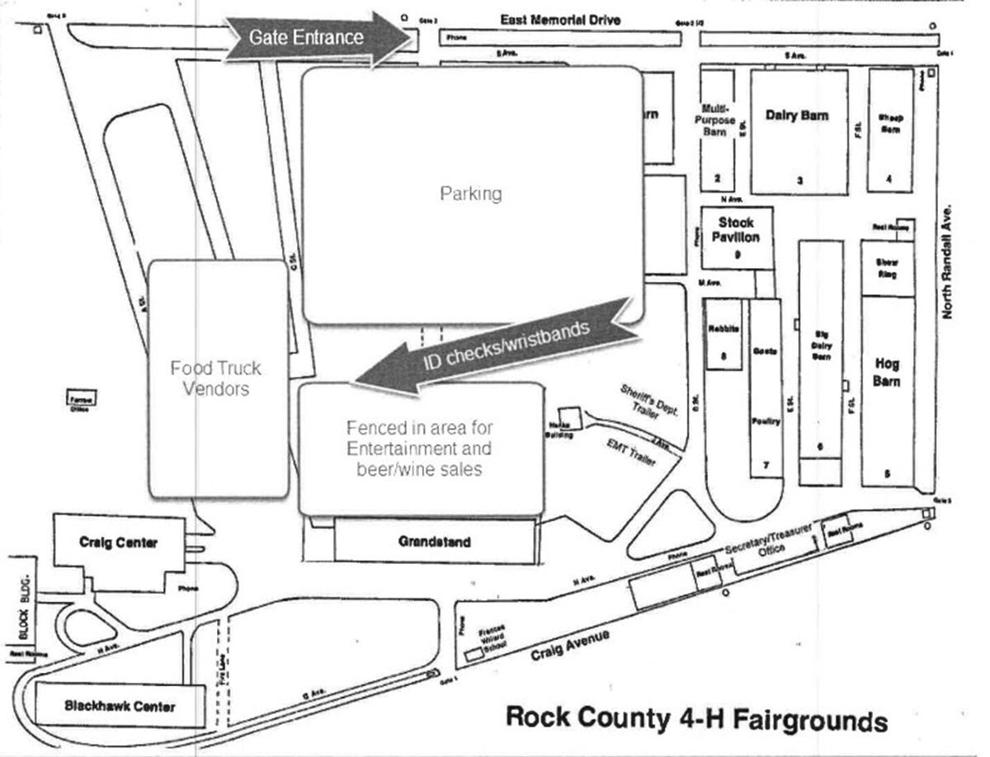 "This event will provide an opportunity to recoup the significant lost revenue from canceling the 2020 Rock County 4-H Fair due to the COVID-19 recovery center location on the fairgrounds," Burdick said in the application.
The board hopes the festival will generate new revenue, George said.
"We need to come up with creative ideas to generate money to have a fair for another 40 or 50 years," he said.
However, the viability of the 2021 4-H fair does not depend on the food truck event, George said.
The 2021 fair is slated to run July 27 through Aug. 1.
The fair board last May canceled the 2020 fair because of the coronavirus pandemic and the county's plans to use the Craig Center on the fairgrounds as an isolation facility for COVID-19 patients.
The fair board is working with Janesville Mobilizing 4 Change on alcohol enforcement for the food truck festival. JM4C will provide an ID scanner and wristbands for alcohol sales, according to the alcohol license application.
George said the festival is not an indication of future alcohol sales at the 4-H fair.
"The fair board is not talking about it (alcohol at the fair)," he said. "All kinds of other people are talking about alcohol at the fair, but it is not something it (the board) is looking to do at all at this time."