On the lazy-flowing Sugar River and on the curvy, two-lane roads in and out of Albany, the brisk business of river tubing shows itself to be a predominant force of late.
All day on weekdays and weekends alike, the river this summer is nearly constantly dotted with clusters of nylon inflatable tubes topped with tank-top and swimming suit-clad tubers in shades.
Roads up and down the river carry a steady stream of crew vans, pickup trucks and a big, blue school bus that curries tubes and tube riders back and forth from a public access drop-off in downtown Albany and a pickup spot along the river a few miles south.
Operators of Sweet Minihaha Campground and S&B Tubing—two competing outfitters of river tubing excursions out of Albany's downtown—said the COVID-19 pandemic has been a major driver in the burgeoning crowds of tubers this summer.
The ranks of people taking to tubes on the river in downtown Albany on some days can sew up street-side parking for several blocks, and the influx of people can easily double the daytime population of the Green County community of 1,000.
Sweet Minihaha's tubing business recorded 1,300 customers on just one Saturday in mid-July, said Trinity Johnson, a worker at the campground's clubhouse.
"Thirteen hundred people in a day is a lot. It's been a record crowd for us almost every Saturday this summer. Weekdays have been busy, too," Johnson said.
"I think it's because we're the only thing open in the area, that's one thing. People have been stuck inside, and they want something to do this summer. Plus, we have a lot of people coming up from Illinois because it's a still a pretty hard (COVID-19) shutdown there. They're coming in waves."
On Sunday afternoon, a nearly continuous stream of people floated south on the river, all of them drifting out of Albany's downtown on big orange, blue and yellow tubes. They were embarking on a three-hour float as the sun baked through high cumulus clouds in the 93-degree heat.
Most parking spots on the side streets downtown were full. Some had Illinois plates, while others had placards from Madison-area auto dealerships.
One group of tubers shouted to a reporter along the bank that they'd traveled from Madison.
The group had seven tubes lashed together with twine. One tube encircled a plastic cooler filled with cold drinks. Another tube had a portable speaker that blasted country music.
They floated downstream on the dark olive-green water, moving at a crawl.
"That's a good-sized group, but sometimes you'll see even bigger groups, like 20 or 30 tubes tied together," Albany resident Marcella Otter said. "You could use a great-big group of 30 tubers like that as a bridge to practically walk across the whole river and not get wet," Albany resident Marcella Otter said.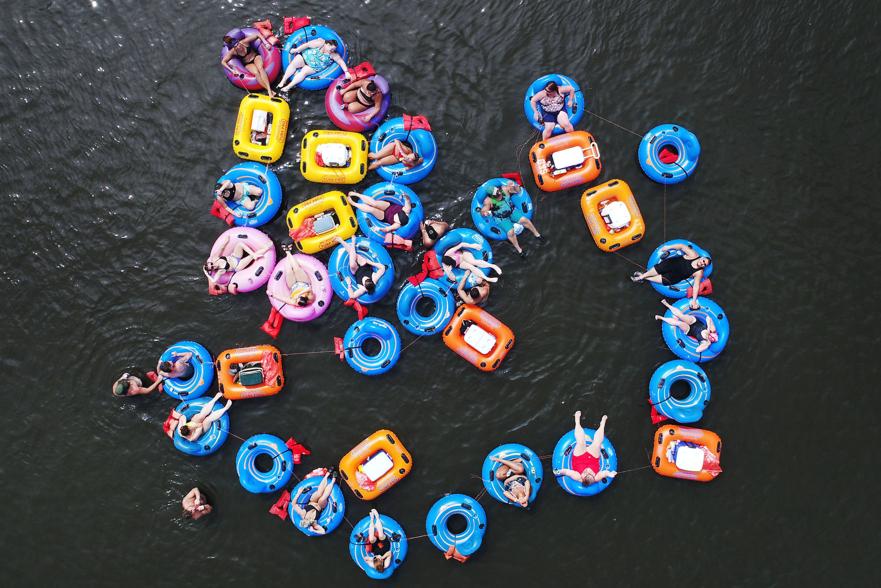 The backyard of Otter's house on Mill Street is just south of downtown, where tubers take to the river from an access ramp next to S&B Tubing. It slopes down to the west bank of the Sugar River.
Otter said this year is the first year she's seen river tubers park their cars up and down her residential street on the weekdays and weekends.
"That's the first time I've ever seen that. It's been busier with the tubing this year, without a doubt. It's noticeable," Otter said.
On Saturday afternoon, at S&B Tubing in Albany's downtown, Jenny Bryant stood in the rental yard along the river, waiting for her drivers to bring back a load of tubes. A long line of customers grew and snaked on sidewalks to the west and south of S&B, around the corner at River and Main streets.
One crowd of tubers from Madison carried a cooler and cases of White Claw hard seltzer hashed out with an S&B staff member how long they'd have to wait in line before drivers brought back more tubes from downriver.
Bryant said the demand for tubing rentals on Saturday ended up being much brisker than was the flow of the river, which has reached its midsummer low stage.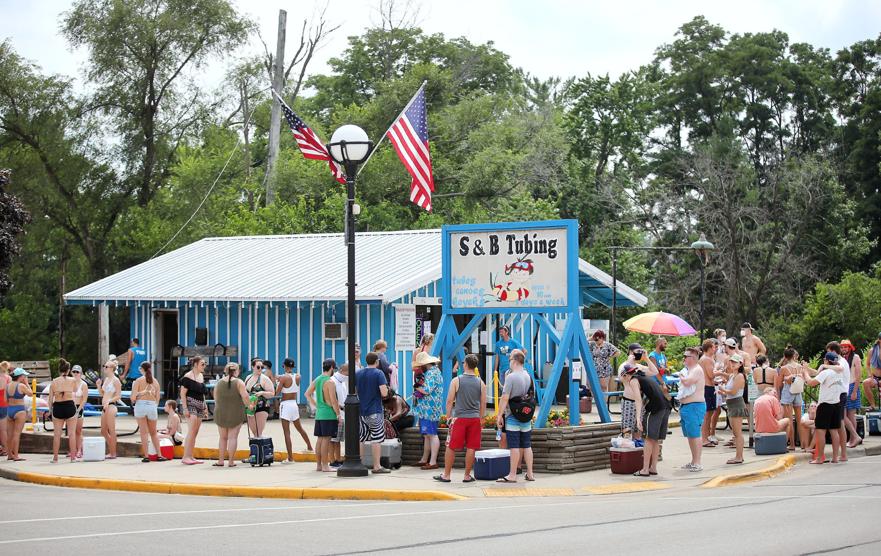 "It depends on the weather. Every once in a while this time of year, we can run out of tubes during the day. The river's at its slowest right now, and it takes longer for people to float downstream," Bryant said.
Bryant believes the crush of weekend tubers is not dramatically different than previous summers. But, like staff at Sweet Minihaha, Bryant said she's seen no real tapering off of crowds during the weekdays. Unlike other years, it's busy no matter the day.
S&B earlier this summer shut down briefly to retool the sidewalk area next to the tube rental with markings so big groups of tubers waiting to get on the river stay 6 feet apart.
That, Bryant said, is to adhere to public health guidelines for social distancing during the ongoing pandemic.
On the river, Bryant said, the tubing business treats people who show up in groups as "family units." The effort, she said, is to keep different groups waiting in line separately.
At Sweet Minihaha, staff tries to limit areas where people register for tubes to one person from each group, a staff member who declined to give her name said.
Bryant said she's not surprised to see steady daily crowds, given that more people during the pandemic seem to be gravitating to outdoor activities.
"I didn't know what to expect this summer. I didn't know if we'd be allowed to reopen at all. But then a week before we'd planned to open we found out that Green County wasn't really going to enforce any (coronavirus) rules," Bryant said. "I guess I kind of liked the idea of easing back in, phasing in gradually. But we're sort of where we're at now based on what the state decided."
Authorities reported July 18 that Ben Belzer, a 25-year-old personal assistant to Wisconsin Gov. Tony Evers, drowned on the Sugar River after he apparently went off a tube while disembarking from a tubing run south of Albany. The incident apparently happened near a pickup spot at the end of S&B's tubing run.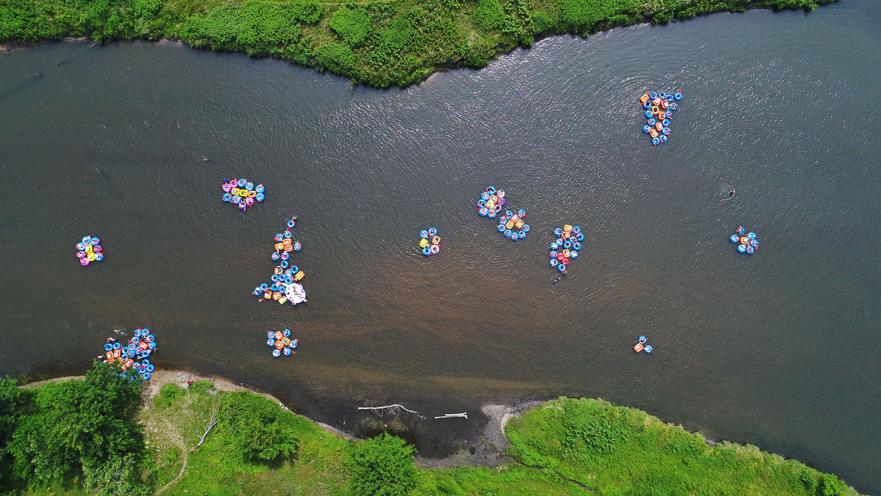 The incident remains under investigation by Green County authorities, but Belzer apparently had rented a tube from S&B.
Bryant declined to comment on the drowning or speculate on how it might have happened, saying she didn't want to hamper an investigation.
"We're waiting (for investigation results) to understand what happened," she said. "If there's something we can do better, then, absolutely, we would."
Waivers require tubers who rent from S&B and Sweet Minihaha to agree to wear life vests the companies provide. S&B also notifies tubers that they're incurring their own risk of injury while tubing and that people incur their own liability for potential COVID-19 transmission when they participate in any group activity.
One group of tubers, a set of five college-aged adults, waited in line Saturday at S&B. They had driven from DeKalb, Illinois, to go tubing on the Sugar River. They all wore face masks, although few others in line in front or behind them did so.
One of the Illinois group, DeKalb resident Nate Green, was surprised to show up to a busy public place and find few people wearing face coverings. He chalked it up to the differences between Illinois' heavier COVID-19 mandates and Wisconsin's more laissez-faire approach to business reopening.
"The whole idea of this was to get outside and get away from crowds. I guess I'll be more comfortable, I'll be fine, when we can get out on the river and stretch out," Green said. "I'll take off the mask then."