Gazette staff members write hundreds of stories in a year.
Many of them are breaking or timely news: car crashes, shootings, city budgets, court decisions, business transactions.
But stories that reporters pick as their favorites often don't involve breaking news.
They're about people.
Some of those people need help. Others face challenges that test them. Still others inspire the reporter simply by the way they live.
Those types of stories make good reading, and they dominated among our reporters' favorites for 2018.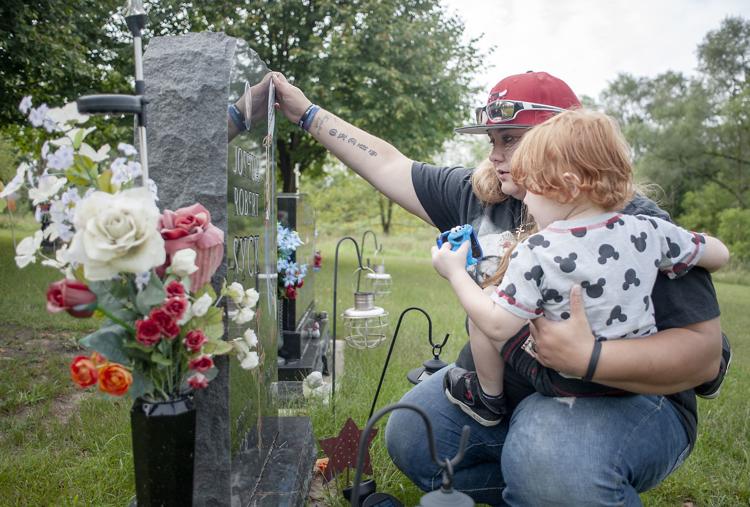 Jonah Beleckis
Headline: "After he died from a heroin overdoes, she struggles to live"
Date published: Sept. 30
Synopsis: Joshua R. Syck was one of 72,000 people nationally to die from a drug overdose in 2017, but his girlfriend—and countless others across the county—are still struggling to live through each agonizing day without their loved ones.
Reporter's thoughts: Jessica was gracious enough to let me into her life to see her in her darkest moments, including her trip to her boyfriend's grave on the anniversary of his death. She again attempted to take her own life just two days later.
This story was important to me because Jessica's story was an example of the agony behind the dozens of overdose deaths we see in our communities. As much as the story was about Jessica, it was about the ripple effects from overdose deaths.
Jessica's story reached all the way to Lt. Gov. Rebecca Kleefisch, who wrote Jessica a letter, sharing her condolences.
Jim Dayton
Headline: "Readers recall vacant building as beloved Swanson's grocery store"
Date published: Nov. 20
Synopsis: Local residents contacted The Gazette to identify an empty, rundown structure as the former Swanson's grocery store. The photo had run the previous week as the cover art for a story about vacant buildings in Janesville.
Reporter's thoughts: This story was my favorite because of the organic collaboration between readers and the newspaper. I was never expecting to do a follow-up story on this dilapidated building. But it had so much life and energy in the memories of former customers that several of them contacted The Gazette to share stories. It was rewarding to see my original story had sparked a conversation among some of our readers. It only made sense to write another article after their reminiscing.
It was fun to learn about Swanson's. I'm 24, so the idea of a corner store that let its customers take food and pay later is foreign to me. I can't imagine something like that happening today. Hearing these people share their memories of Swanson's transported me to a different era.
Catherine W. Idzerda
Headline: "Character actor: BTC honors creator of Edgerton's Craftsmen with Charter Program"
Date published: Dec. 13
Synopsis: David Hataj, the president of Edgerton Gear, was awarded Blackhawk Technical College's distinguished alumnus award.
Reporter's thoughts: David Hataj was one of those "shop kids" who tend to think their knowledge about diesel engines, welding, construction or any of the other hands-on trades is second-best. They tend to see a career in the trades as second-best, too.
That's nonsense, of course. A four-year college degree doesn't guarantee you can change a tire, much less take apart an engine or wield a welding torch.
Hataj is trying to re-establish pride in the trades with the Code of Craftsman. The code is also a good way for workers to learn what it means to do their best work.
Anna Marie Lux
Headline: "A century of stories: Woman marks milestone birthday"
Date published: April 22
Synopsis: Janesville resident Doris Anderson turns 100.
Reporter's thoughts: Doris Anderson of Janesville turned 100 on May 1.
As a baby, Anderson survived the deadly influenza pandemic that raged in Janesville and around the world in 1918.
As a girl, she recalled a morning in 1923 when a "flying machine" scared her speechless.
As an adult, Anderson lived through the Great Depression and seven wars. Because she survived the darkest hours of the 20th century, she appreciated how much the human spirit can endure.
I have interviewed many centenarians. Anderson was special because of the clarity of her memories.
As a witness to history, she spoke eloquently of things we only read about in books.
She also understood the urgency of time.
"If there's something you want to do, do it," Anderson advised. "Don't wait until next year because next year may not come."
Doris died May 10, about three weeks after being interviewed.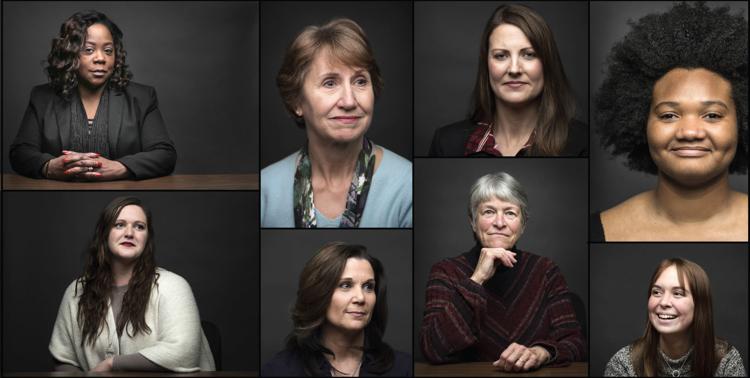 Ashley McCallum
Headline: "A movement in motion"
Date published: Feb. 18
Synopsis: A collection of stories from local women in leadership roles describing what they thought of the #MeToo movement and what experiences they had with gender discrimination and harassment in their lives.
Reporter's thoughts: A community is made of small moments and a collection of experiences. No one event can define a community, no matter how hard people try to make that the case. That's why this story was my favorite among those I reported on this year.
My #MeToo reporting didn't center on a local Weinstein-type incident and didn't bust a ring of perverts wreaking havoc. It brought to the table local women, many of whom are role models for young women in our community, to talk about what they thought and have experienced in terms of harassment and discrimination. The result was a collection of thoughts, stories and opinions that illustrated what this movement is all about. Harassment and gender discrimination have been woven into our culture, and it doesn't take a major assault to affect a woman's life and self-worth.
The short but crude comments, the uncomfortable stares, the hand that slips too low down the back; those are incidents that make women feel alienated in the workplace and social settings. We have to talk about it before we can change it. That's why this story was my favorite this year.
Eric Schmoldt
Headline: "Clawing a path to state"
Date published: June 6
Synopsis: Janesville Craig rallied to beat Janesville Parker 7-5 in a WIAA Division 1 sectional final baseball game, marking the first time the two highly successful city programs faced each other with a trip to the state tournament on the line.
Reporter's thoughts: Janesville has long been a baseball city, but these two great programs had never had a chance to play each other to go to state. Fans who filled Riverside Park were not disappointed—the game lived up to its billing. Parker was the underdog and jumped out to a 5-0 lead before Craig rallied to make it back to state for the first time in four years. As I wrote in my column that day, it was one of those days that will be remembered among the city's sports fans for a long time.
Frank Schultz
Headline: "Fixing anger: Programs see ways to turn criminals to positive lives"
Date published: Nov. 11
Synopsis: A look at anger-management programs that often are required as part of sentences in criminal cases.
Reporter's thoughts: I got to meet Austin Temple, a Rock County Jail inmate who suffers from opioid addiction and has spent much of his adult life behind bars.
Temple has been through prison rehabilitation programs, but he told how the anger-management training he received in the Rock County Education and Criminal Addiction Program had changed his outlook on life like no other program. He seemed so full of joy at the prospect of getting out of jail this month and applying what he had learned to change his life. I wish him the best.
Bryan Wegter
Headline: "By slimmest of margins, Oregon tops Elkhorn to reach state soccer tournament"
Date published: Oct. 28
Synopsis: Oregon defeated Elkhorn 5-4 in a penalty shootout after the two high school boys soccer teams tied 1-1 after regulation and two overtimes. The Panthers advanced to state.
Reporter's thoughts: This game was an instant classic and among the greatest I've covered. It encapsulated everything we love about sports: drama, emotion and the struggle between two talented teams. And it came down to a nail-biting finish as Elkhorn's final kick-taker hit the crossbar with his shot.
I agonized over how to write the game story in the hours after—I wanted to write a story worthy of what I witnessed. I opened the story with a scene-setting delayed lede, describing the final moments as if they had occurred in slow motion.