Richard L. Smallwood- Roberts worked for almost a decade to give Civil War hero James Edward Croft the headstone he deserved.
On Wednesday, Richard and his longtime friend and mentor, Robert A. Braun, wrestled in place a 200-pound granite stone at Croft's burial site in Janesville's Oak Hill Cemetery.
In addition to Croft's name, the new headstone distinguishes Croft as a Congressional Medal of Honor recipient in gold lettering.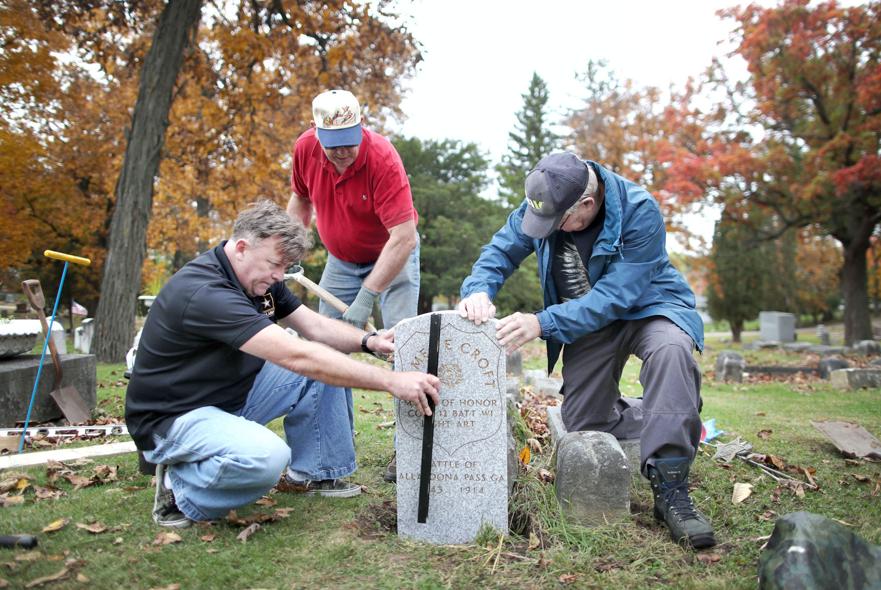 Croft's original stone, which remains in place, contained only his name and years of birth and death.
The new stone faces the road at the site next to the Grand Army of the Republic plot, so people driving in the cemetery can easily see it.
"I always thought it was a travesty there was nothing denoting Croft's Medal of Honor," Richard said. "It is the highest medal you can get in the United States military."
Croft won the medal in battle Oct. 5, 1864, at Allatoona Pass, Georgia, where the young corporal was wounded in action.
'Self-appointed duty'
Richard's headstone work is his passion.
Since 1990, he has replaced more than 120 deteriorating headstones for Civil War veterans in about a dozen cemeteries in southern and central Wisconsin.
Many are buried in Rock County cemeteries.
Richard cannot bear the thought that time eventually erases their names.
He has replaced eight markers with the help of friends such as Braun, Craig Gramke and Marni Janisch in just the last two months.
He also has placed six memorial headstones for soldiers who were unmarked or lost on the battlefields and has procured headstones for two veterans who were in unmarked graves at Oak Hill Cemetery.
"It is my self-appointed duty to make sure all veterans are remembered and their service is honored," Richard said. "If I don't do it, who will?"
Richard works with the Veterans Administration, which oversees the issuance of free government-issued headstones for veterans.
The work has not been easy.
For a long time, federal law relating to the procurement of grave markers for veterans slowed Richard's progress on Croft's headstone. Recently, Richard connected with Croft's great grand-nephew, who agreed to the additional marker.
Richard contacted the Congressional Medal of Honor Society, and the Medal of Honor Foundation donated the marker.
In recent years, the Veterans Administration has made it easier for other people like Richard, who are affiliated with fraternal veterans organizations, to procure and replace markers for veterans.
Battle at Allatoona
Croft was one of three brothers from the town of Fulton who served in the Civil War.
He fought with the 12th Battery, Wisconsin Volunteer Light Artillery, which included men from Janesville.
During heavy fire at Allatoona Pass, Croft took control of a battery cannon when its gunner was shot and killed. In spite of being wounded in the arm, Croft aimed the cannon at Confederate soldiers.
"If not for Croft and the 12th Battery, the Confederates probably would have won the battle," Richard said.
After the war, Croft was a mason contractor in Janesville and "a highly revered citizen," according to his obituary in the Janesville Daily Gazette.
Long history of service
The military is an integral part of Richard's history.
Richard retired from the Army a year ago after 32 years of total service in the Army and U.S. Marine Corps. He served in the Gulf War and Afghanistan.
In his headstone work, "Richard demonstrates the same energy he has put into serving his country," Braun said. "He puts his passion into veterans everyone else has forgotten."
Braun found out about Richard's work a few years ago.
"I wanted to be a part of it," he said. "It's Richard's program. I only do the digging, but I firmly believe in what he does. I'm very supportive."
Richard has ancestors who fought in every war in U.S. history "and before this country was even a nation," he said.
He is working on a memorial headstone for a cousin who died at the Battle of the Little Big Horn.
During the Civil War, Richard had 37 relatives who fought for the Union and about 50 who fought for the Confederacy.
Twice, the Army has recognized Richard's work by awarding him the Military Outstanding Volunteer Service Medal.
Richard is not alone in his volunteer effort.
"A lot of patriotic groups, like the VFW and the Friends of Union Veterans of the Civil War, have taken an active role in such work," he said.
Richard is grateful to Craig Gramke of Gramke Monument Works, Janesville, who receives the headstones.
"If not for him, I wouldn't be able to do half of what I've done," Richard said. "He's been so supportive. In the 1990s, he put in all the early markers while I did the research and paperwork."
Richard had hoped to have a ceremony before Veterans Day dedicating Cpl. Croft's new headstone, but COVID-19 changed his plans.
"It would be irresponsible to do this year," he said.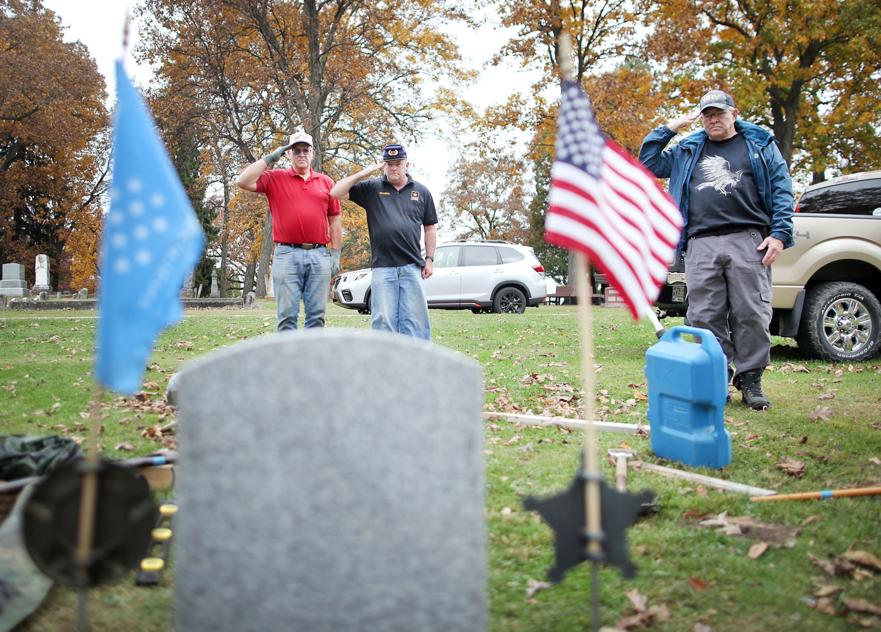 He is planning a ceremony before Memorial Day next year, which will include a number of patriotic groups.
In addition to replacing headstones, Richard researches the lives of veterans and files their information at the Find A Grave website.
He continues his work with the same enthusiasm he had 30 years ago.
"It's hard to believe that I have been doing this for so long," he said. "I will continue to do it until I can't anymore."
Anna Marie Lux is a human interest columnist for The Gazette. Call her with ideas or comments at 608-755-8264 or email amarielux@gazettextra .com.