Nine-year-old Kelby Schneider takes pride in the fact that she is the main mouse handler.
She also is quick to share her knowledge of rodents, including the fact that they cause billions of dollars in damage to buildings annually in the United States.
The child is the youngest of a four-member youth team from Clinton that is on track to make a difference in the world.
Together, they came up with a novel innovation: building insulation to ward off mice and rats.
In addition to Kelby, the other team members are her 11-year-old brother, Garrett Schneider, 15-year-old Samuel Turner and Samuel's sister, 10-year-old Anna.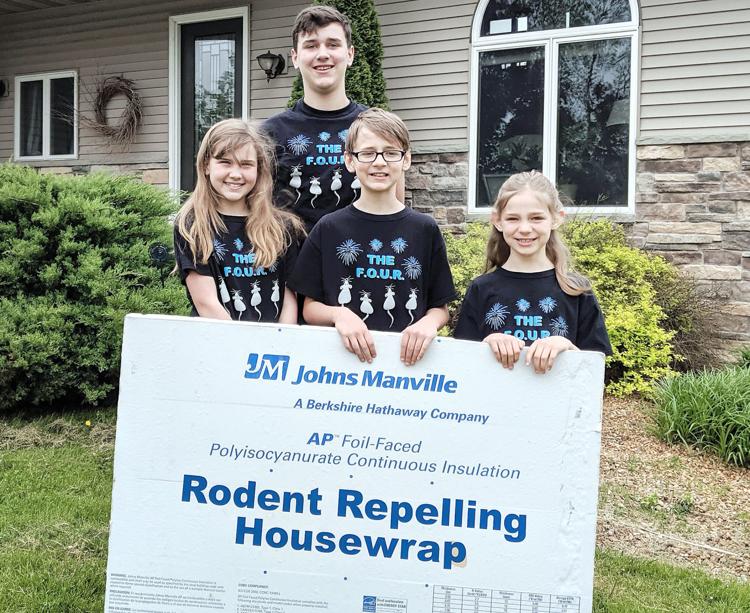 The home-schooled students are semifinalists in a world competition for a global innovation award from FIRST LEGO League, an alliance that introduces science, technology, engineering and math—or STEM—to children.
They competed with young people from more than 100 countries.
Originally, 40,000 teams took part. Local and regional competitions narrowed the field to 150.
Then judges selected the team from Clinton to be among the remaining 20 semifinalists.
"I was very surprised," Garrett said. "I thought it would be the end of the road, but apparently not. I really like the competitions because it is so interesting to see all the other projects."
Originally, semifinalists were going to meet at Disney World in late June. But because of the coronavirus, teams will participate in virtual workshops to showcase their ideas to industry leaders and expert judges.
The top team in the final competition will get $20,000 U.S. dollars to further its invention. Two runners-up will each take home $5,000.
For Garrett and the others, their experience already is worth more than money can buy.
Hands-on learning
Garrett's mom, Heather Schneider, looked for a FIRST LEGO League team for her son but found none in the area. So she and her husband, Mike, decided to start and coach a team two years ago.
Teams gain real-world problem-solving experience through a guided robotic program designed to grow their design skills, coding and critical thinking.
Each year, competition organizers ask young people to tackle a problem with a different theme. This year, competitors looked at issues involving a public space or building.
Young Anna, the main researcher in the group, proposed doing something about destructive rodents after a conversation with a woman in the grocery business.
The team voted on and approved the idea to find a way to curb rodent damage.
Anna began reading about what repels rats and mice.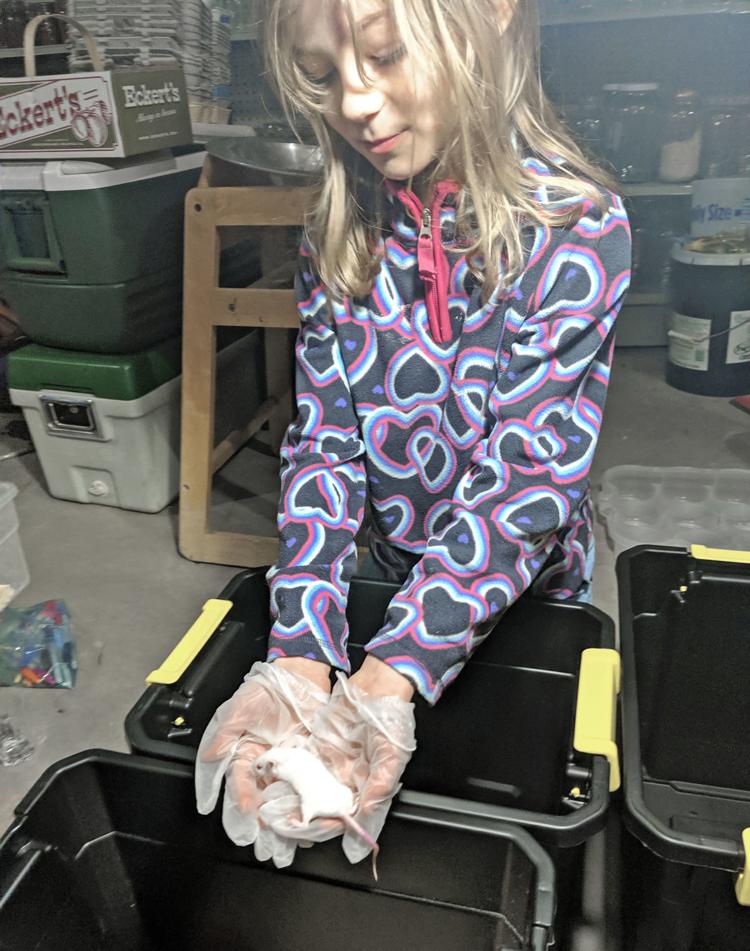 "We found out they stay away from ferret pheromones," Anna said. "They don't even think about it. They have a special organ that directly connects to their brain that tells them ferrets are predators."
The team looked online to buy ferret fur to try and isolate the pheromones, which are chemicals produced by the animals, but could not find any.
Eventually, they connected with Dan Zamzow, an assistant biology professor at UW-Whitewater. He helped them find ferret fur and taught them how to extract the pheromones from it.
Eventually, they injected insulation with the pheromones and have applied for a provisional patent on the idea. The provisional patent gives them a year to apply for a full patent.
Anna's brother Samuel explained how they built a box, about 1 foot by 1.5 feet, to test the product. On one side they put insulation treated with the ferret pheromone, and on the other side they put insulation without the extraction.
"The mice clearly showed a stress response when they were on the side with the ferret pheromone," Samuel said. "Some tried to jump out of the box multiple times. They clearly avoided the ferret side."
The team tested 13 wild and pet store mice and said the animals were not hurt during the process.
Samuel, who is a freshman at Rock County Christian School, learned several things since starting the innovation project.
"You should have fun with everything you do," he said. "Also, if you have a bad day, don't take it out on the others. You have to put faith in your team. Teamwork means a lot."
He is thinking of becoming a mechanical engineer or a veterinarian.
Connecting with others
Marcee and Jason Turner are the parents of Samuel and Anna.
They and the Schneiders are proud beyond words of the children.
"We are so impressed working with them," Heather said. "They had to figure out a problem dealing with a real-world problem, something with the potential to make a significant difference."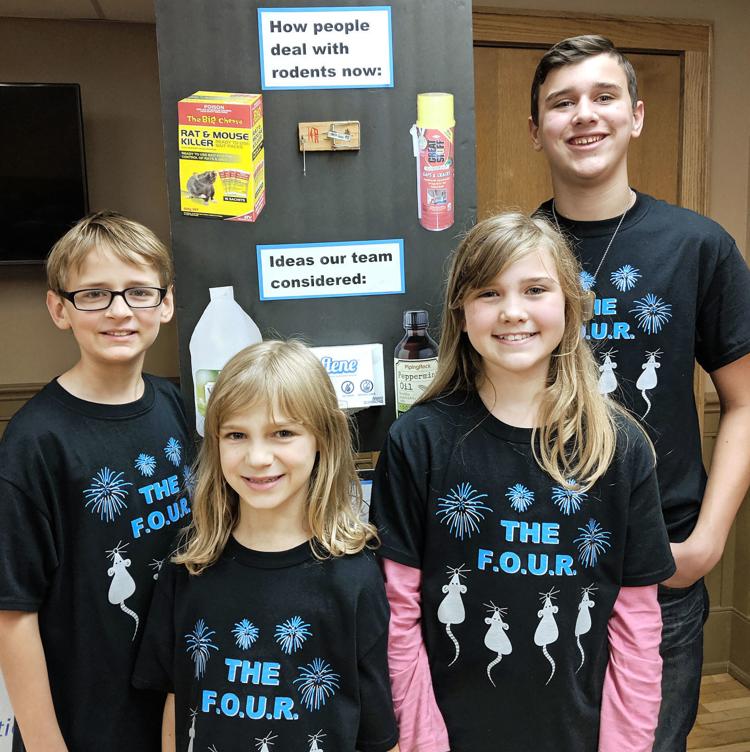 In the process, they met adults tackling real-world problems.
Last year, the students took part in a conference call with a science team from NASA. This year, they have been exposed to builders, scientists and researchers.
Heather referred to herself as "not a tech person."
"But the beauty is the kids do the work," she said. "They are the ones figuring it out and reading research articles by Ph.D.s."
She praised all the professionals, including professors at UW-Madison, who took time to answer questions and a patent attorney who did pro-bono work for them.
"They are exposed to some of the best people out there who are willing to give their time," Heather said.
Her husband, Mike, said connecting with others was one of the most rewarding parts of the project.
So was watching the curious students grow in knowledge.
"It is amazing to see how the kids came up with an idea and ran with it," Mike said. "I never in a million years would have imagined that my kids would be patented inventors."
Anna Marie Lux is a Sunday columnist for The Gazette. Call her with ideas or comments at 608-755-8264 or email amarielux@gazettextra .com.