About 35 people showed up at the Rock County Courthouse on Thursday for a protest of racial injustice.
Yusuf Adama, one of about 12 black people in the group, told those gathered that this is a crucial time in "the biggest revolution in the history of the world," apparently referring to protests of police brutality worldwide, sparked by the death of George Floyd at the hands of Minneapolis police.
The peaceful rally was held near the Civil War monument just below the courthouse parking lot.
Adama, who is black and has helped organize protests in Beloit, called on people to organize, work for healing and to hold elected officials accountable, replacing them if necessary.
Walter Isaacson, a longtime attorney with the state Public Defender's Office, talked about learning of racial oppression throughout his life, starting with the lynching of Emmett Till in 1955 through the savage beating of Rodney King by Los Angeles police in 1991.
People offered thoughts and prayers as they called for change in those times, Isaacson said, but change never came.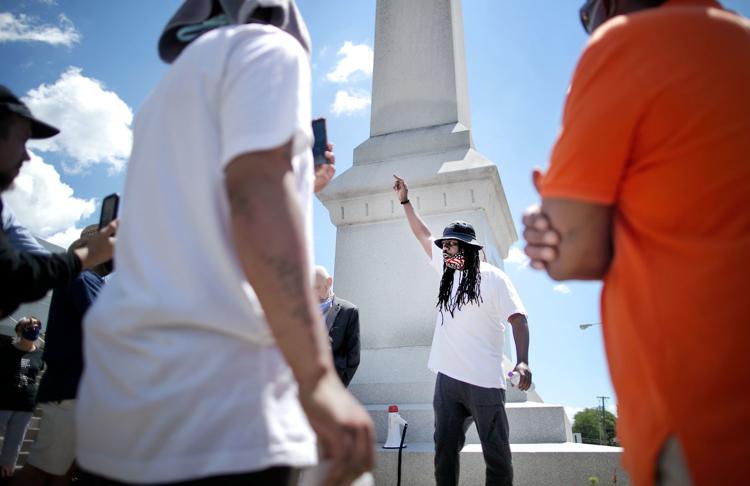 Alfonso Randall of Janesville, who said he was with the Black Panther Party, spoke at length, calling for defunding the police "if they can't give us what we need."
Randall said authorities here engage in fearmongering when they announce a person is arrested on a charge of intentional homicide when he has not been judged guilty in court. He mentioned the case of Kenan Clemons, 17, who is black and faces a charge of attempted first-degree intentional homicide in a June 6 incident in Janesville.
"You've got to realize, in Janesville, you're guilty till you're proven otherwise," Randall said.
Randall got upset when he was asked to let others speak, which led to a heated conversation that sidetracked the event.
Adama said later he hoped people at the rally would be informed, enlightened and energized to make change and empower themselves.
"I think this definitely built awareness. I wish it would have been smoother. I wish we could have had more collaboration, but that is, you know, the nature of our movement," Adama said.
Kelly Jackson of Beloit expressed disappointment, saying said she hoped people would have been educated about racial injustice, "and to be unified to let people know we are willing to work with anybody, to pray with anybody, to make everybody's life better."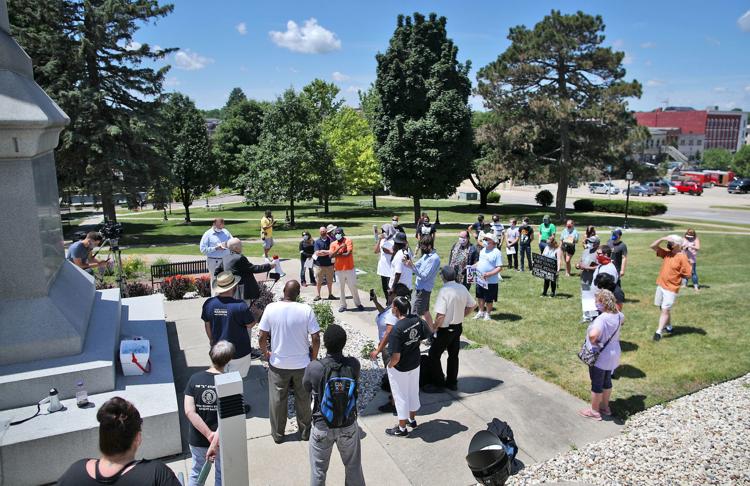 The Rev. Michael Bell of Janesville, one of the rally organizers, said the event could have reached more people without the disruption.
Bell, who is black, said he understands the anger. He said he once was pulled over by a Janesville police officer with gun drawn who said his license plate was expired, and when the officer was shown that wasn't true, he said he didn't know how he missed that.
But Bell said he has worked with Janesville Police Chief Dave Moore and believes Moore stands "for what's right."
Bell said the movement for racial justice needs planning, and people need to do things the right way, which he said includes "being peaceful, spreading awareness and standing together in unity, knowing how important it is to love each other, work together. It's not the color of our skin."
The Rev. Colin Douglas of First Christian Church in Janesville, who is Native American, said he came because it's part of his call as a minister to stand with the oppressed, "and African Americans are oppressed in our country, in our state, and as we heard today, in Rock County."
That oppression includes the lack of black police officers in Janesville, and people have been stopped for no apparent reason other than that they are black, Douglas said.
Several people asked if the Rock County District Attorney's Office keeps records of cases that include the race of the accused.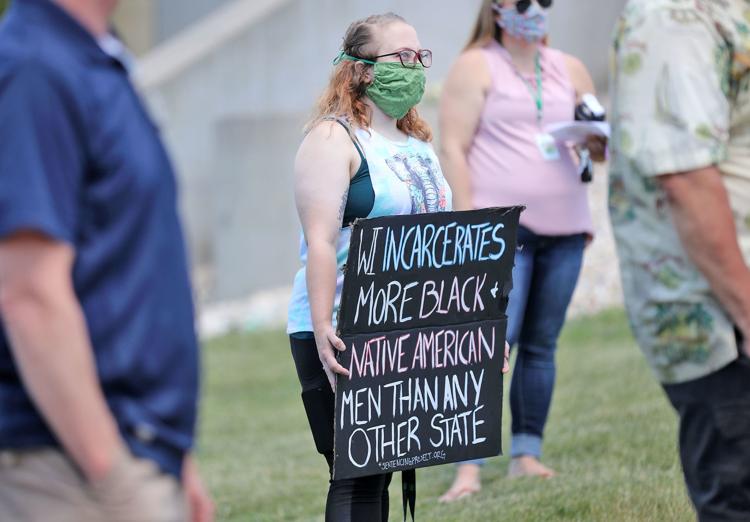 District Attorney David O'Leary said the only such records he knows of are criminal complaints, which are accessible to anyone through the clerk of courts office.
O'Leary spent part of his day in local and state meetings of the Evidence Based Decision Making movement, which is designed to address racial inequities in the criminal justice system.
Asked why people still see racial problems in the criminal justice system, after years of effort to make changes, O'Leary said it's because the law involves human beings, and prosecutors are bound by the facts of each case.
"You're not allowed make decisions based on extraneous factors" such as race or religion, O'Leary said.