Ninety-two-year-old Virginia Kowal remembers a time when neighbors came over for good-natured discussions about politics.
When they went home, everyone still talked to each other, even if they had opposing views.
The Janesville woman and her late husband, George Kowal, thrived on politics their entire lives.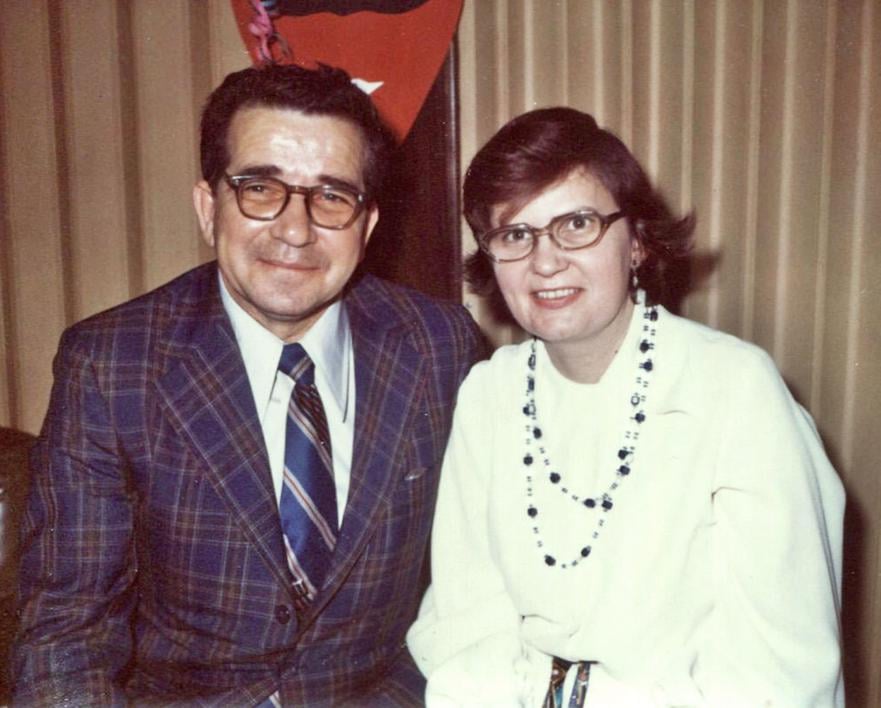 Virginia hosted many political functions, including a 1968 coffee for Muriel Humphrey, wife of presidential candidate Hubert Humphrey.
Today, daughters Diane Kowal and Grace Spoden have fond memories of going with their father door-to-door as he encouraged people to register to vote or campaigned for candidates in the 1960s and 1970s.
"They taught us the importance of understanding the political process," Grace said, "and how important it is."
Through the decades, Virginia and George kept political buttons, posters, fliers and bumper stickers, dating from Franklin Delano Roosevelt to Barack Obama.
The items promote candidates for president, governor, congressional seats, sheriff, judgeships and state treasurer.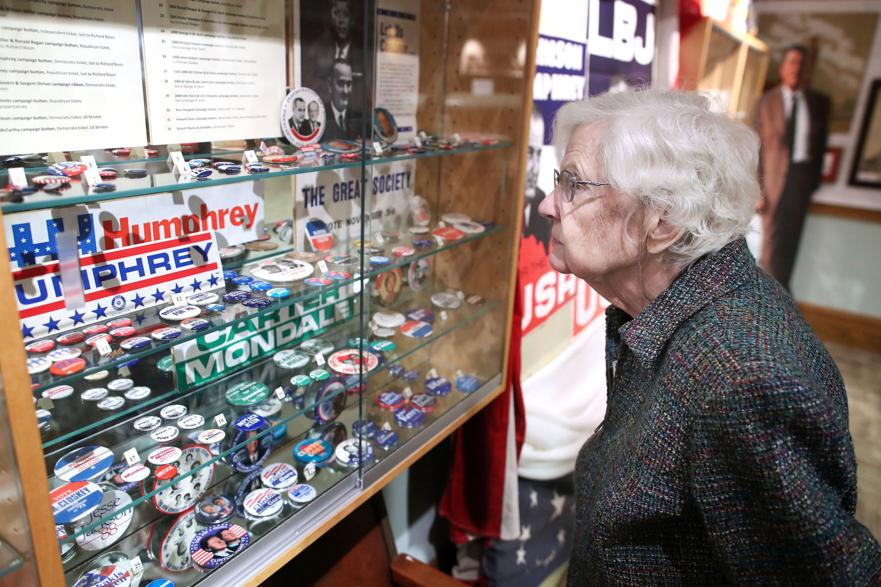 Most reflect elections before today's highly polarized politics.
Now through Jan. 31, visitors can see the Kowal collection in a timely exhibit at the Rock County Historical Society. The display also includes political memorabilia from the historical society dating to 1896.
Organizers said the exhibit represents both major political parties and gives visitors a chance to remember elections past.
As a local historian, the exhibit "is something you dream about happening," said historical society Executive Director Tim Maahs. "It is rare that something like this ties so perfectly into what is going on in current events."
The display includes a poster inviting people to hear Robert Kennedy at the Carthage College Fieldhouse in 1968.
The event features coffee, refreshments and a high school band.
Jennifer Drach referred to the notice as a "sweet little poster" because of its friendly tone.
Drach and her brother, Matthew, are both curators at the historical society and organized the exhibit.
"I like the nostalgia of it," she said.
Among items in the display are campaign buttons of Richard M. Nixon in 1972, Walter Mondale and Geraldine Ferraro in 1984 and Sen. Russ Feingold; a life-size cutout of President Ronald Reagan; and a large poster of John F. Kennedy in 1960.
Initially, the exhibit focused on the memorabilia, but it quickly included the politically active lives of Virginia and George Kowal.
Both were born and raised in Janesville.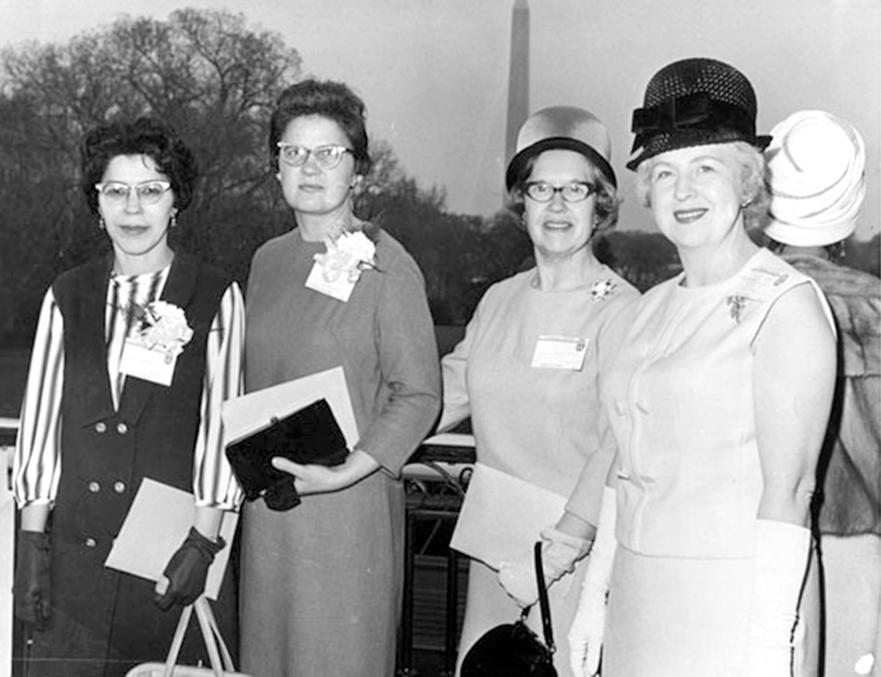 George, a World War II Navy veteran, served at the Rock County Sheriff's Office, eventually becoming undersheriff from 1970 to 1977. He died in 2008.
Virginia worked as a medical secretary, reporter and real estate broker.
She keeps a small collection of political buttons on a wall in her home.
"They are not only for memories but also for conversation starters," Diane said. "She still enjoys talking about politics."
Virginia was a dedicated poll worker for more than 30 years.
On Nov. 3, Diane and Grace will carry on their mother's tradition by working at the polls.
Grace recalls growing up in a home that received three daily newspapers.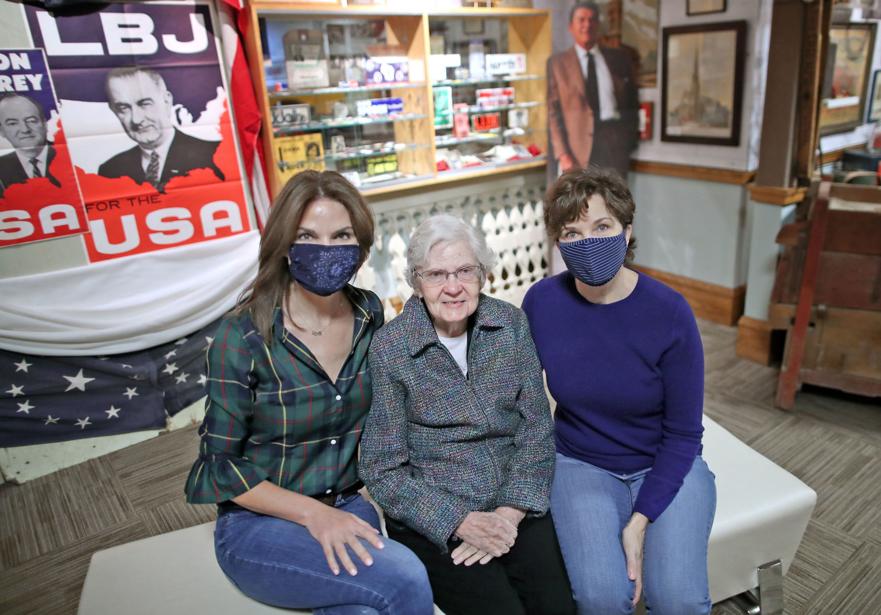 "We were raised to look at information from all sides, not just the source that feeds us what we want to hear," Grace said.
Listening to people of many political beliefs helped Grace during election campaigns with her husband, Bob Spoden, she said.
Bob Spoden served three terms as Rock County sheriff and retired in January 2019.
"You have to learn from people, even though you may not agree with them," Grace said. "You have to do it in a way that is respectful and polite."
Both Grace and Diane are diligent about voting.
"People tend to get busy with their own lives," Diane said. "But there is an awareness about the importance of voting, especially in this election. It feels like people are having a political awakening, and the political awakening is for me, too."
Anna Marie Lux is a human interest columnist for The Gazette. Call her with ideas or comments at 608-755-8264 or email amarielux@gazette xtra.com.