Joshua Upham stuffed twin, ladybug dolls into the headlight wells of his black two-door 1957 Studebaker Silver Hawk.
His daughter Jada Upham, known by family and her Parker High School classmates as "Jada-Bug," sat quietly in the grass at Monterey Park while her dad decorated and readied the shiny, shark-finned coupe for a car parade to honor Parker graduates on Saturday afternoon.
Jada Upham was one of dozens of students from Parker's class of 2020 who motored through downtown Janesville in a student-organized auto parade that culminated in a social-distanced, de facto graduation walk through a park shelter at Traxler Park.
The event came after the high school decided against a regular, in-person graduation ceremony amid the COVID-19 pandemic. Saturday was Parker students' one shot at donning a green cap and gown and taking collective victory lap together to celebrate their high school graduation.
The parade's organizer, Parker senior Hanna Grove, was whipping the parade procession into shape a few minutes before noon. She stopped to take stock of the dozens of her classmates, some with their parents, who were waiting to go.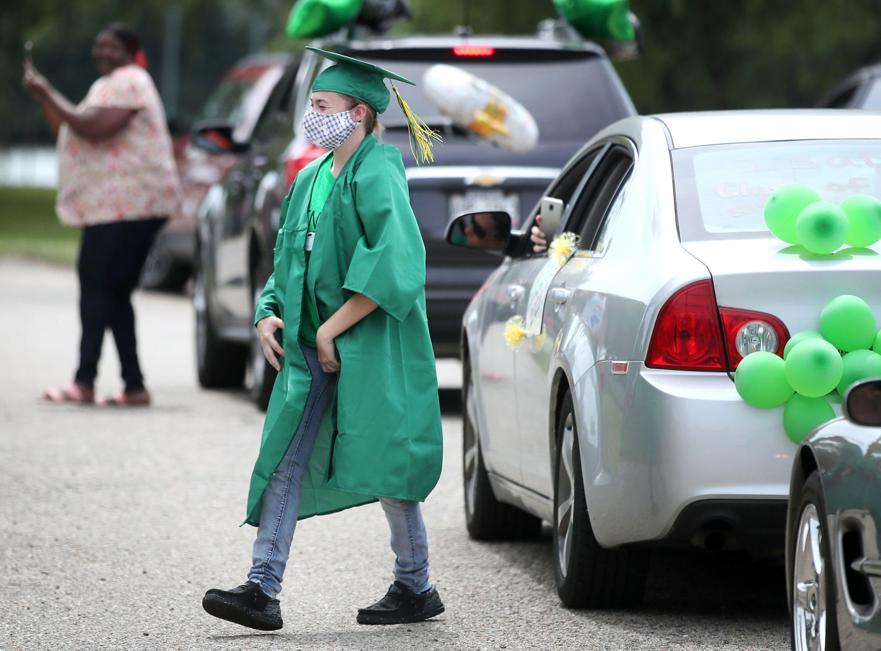 Grove hadn't seen many of the students since March, when schools shut down during the COVID-19 lockdown.
"Yes, it's been a strange year," Grove said.
She turned away and looked out over the Rock River that lies beyond the circle drive at Monterey Park, where about 25 or 30 cars idled, waiting for the parade to begin.
"I think I'm going to cry," she said.
On Saturday afternoon, Parker grads' families hot footed it to a spot along a parade route Grove had set up.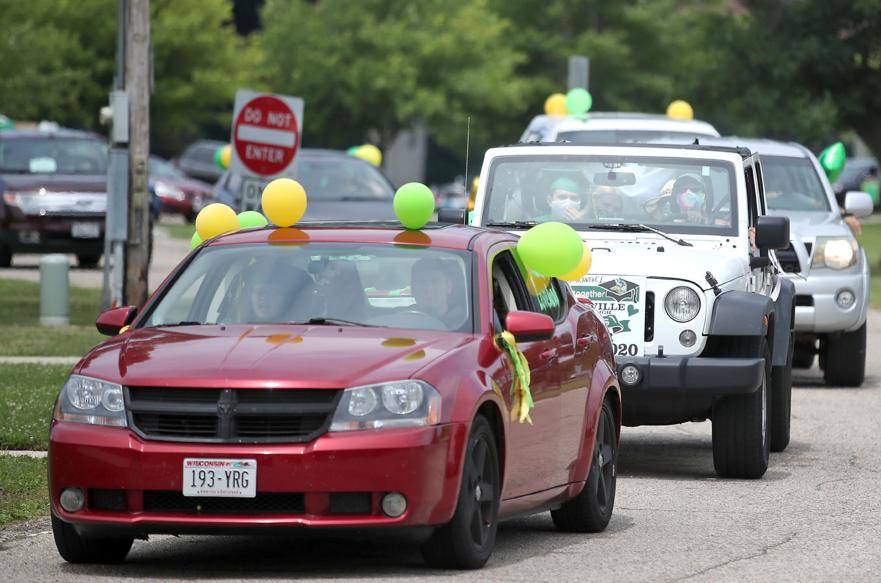 On South Jackson Street, Cheryl and Mark Cleasby waited along the sidewalk near the apartment where their granddaughter Amelia Lewis lives. It was the place they'd figured Lewis would be most likely notice them.
Amelia couldn't have missed her grandparents because Mark Cleasby was wearing a red, Hawaiian shirt, and he had a 3-foot-by-4-foot white sign with green lettering that read: "WE ARE SO PROUD OF YOU, AMELIA LEWIS."
Cheryl Cleasby said she was disappointed their granddaughter's graduating class didn't get all the pomp of a regular commencement, but Cleasby said she was surprised and "very impressed" that a Parker student had set up a graduation parade.
Cleasby said she's even more proud of what the granddaughter had accomplished in the midst of a school year cleaved in two by a COVID-19 shutdown. She said Lewis during her senior year had boosted her grade-point average up above 3.5. Their granddaughter is moving on to jobs at Woodman's Markets Janesville corporate offices and at local retirement village Cedar Crest.
"She's finding her way, and that's a big thing to be thankful for right now," Cleasby said.
At Traxler Park, where the parade route ended, graduates one-by-one walked through a park shelter that had a bag of gifts for each of the 80 or so Parker grads who'd registered for the parade.
An emcee announced each student's name, and cars still waiting in the parade procession blared their horns to cheer each student that passed under the pavilion in a green cap and gown.
Parker students were like anyone graduating high school in 2020 under the shadow of a global pandemic that has cast uncertainty over the recent months and their future.
The lyrics of an R&B song playing on a loudspeaker during the modified graduation walk that fleshed out the uncertain path young people face now: "I have these dreams … but I can't move or speak…"
Jean Brown, one of the Parker grads who participated in the parade on Saturday, plans to attend UW-Green Bay this fall and study creative writing. She wants to be an English teacher and a writer.
She'd topped her graduation cap with a book she'd crafted. The pages lay open, and they read: "I am going to write the world that I want to live in."
Brown called Saturday's ceremony a "unique and heartwarming" experience that she and her classmates can take away from a year in which COVID-19 seemed to steal away many moments of a senior year.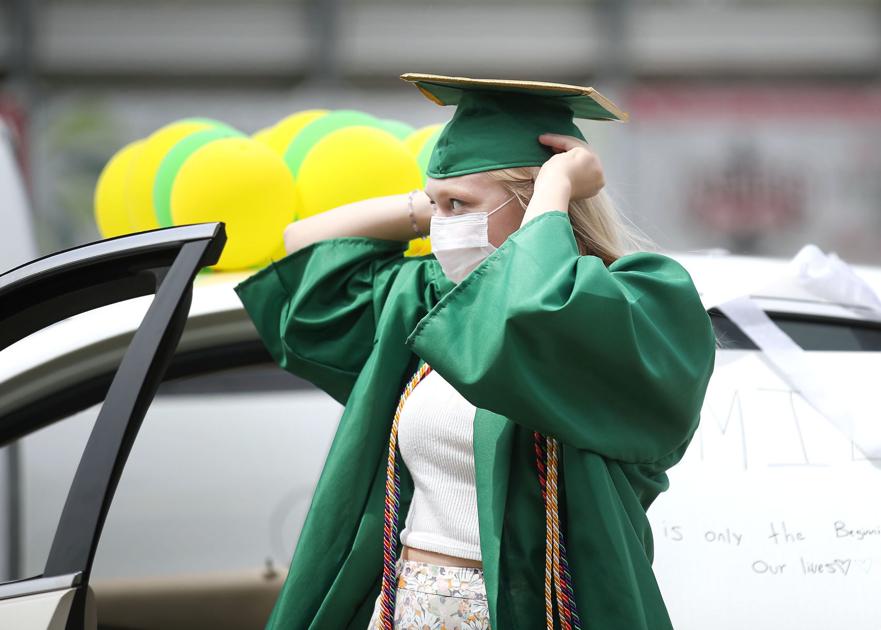 "After all the fear and everything everyone has gone through and disappointments, this really means something," Brown said. "It's more fun, it's more special and, I think, more memorable than a regular graduation (ceremony)."
Although Brown said she can't know how her freshman year as a college student will go, she keeps reminding herself of one thing she believes would be good advice for Parker's Class of 2021:
"You've got to roll with changes," she said. "That's the lesson we're learning."