Memorial Day will be different this year because of COVID-19.
In the interest of public health and safety, many area communities have canceled their observances or are holding scaled-back ceremonies to honor their fallen soldiers.
Those that have canceled observances entirely include Albany, Brodhead, Beloit, Clinton, East Troy and Walworth. Communities that have scaled back their events are listed below.
Locally, the Janesville Patriotic Society will conduct a short private ceremony, including a rifle salute and taps, at 8 a.m. Monday in the veterans' section of Oak Hill Cemetery, 1725 N. Washington St.
A similar private ceremony will be held shortly afterward at Veterans Plaza at Traxler Park, 600 N. Main St.
Milton Lawns Memorial Park, 2200 Milton Ave., will hold its own private ceremony Monday morning.
Janesville's Memorial Day parade and the Janesville Tank Company ceremony are canceled. However, Tom Stehura of the Patriotic Society said he would like to see someone organize a car parade—with police permission—at 11 a.m. from the Rock County Job Center to Blain's Farm & Fleet.
Meanwhile, the Wisconsin Department of Veterans Affairs will livestream a Memorial Day commemoration with speakers, music and a historical perspective starting at 9 a.m. Monday. Taps will be played at 3 p.m. To watch the event, visit facebook.com/WisVets.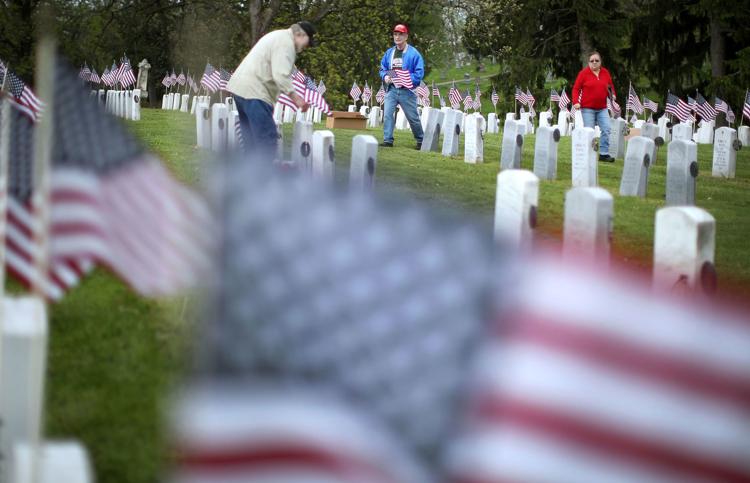 Here is a list of other known events:
Rock County
Edgerton: The Veterans of Foreign Wars Honor Guard will perform taps at 6 a.m. Monday at various cemeteries throughout the city. All other Memorial Day ceremonies are canceled.
Evansville: After the city canceled its Memorial Day parade and ceremony, residents Ronald Gay and Tony Ryerson decided to plan their own events.
A Memorial Day parade will begin at 10 a.m. Monday at the corner of West Main and First streets and end on Cemetery Street with a flag display at Maple Hill Cemetery. A ceremony afterward will include a recitation of the Pledge of Allegiance, reading of the Gettysburg Address, a speech addressing the theme "Why Did They Die?" along with a public prayer and the singing of "God Bless America."
Residents who participate must obey traffic laws and practice social distancing.
Milton: A drive-by "reveal" of the new Veterans Park pavilion will be held from 10 a.m. to 2 p.m. Monday at 440 Hilltop Drive. Fundraising and construction committee members will greet motorists as they drive past.
Orfordville: American Legion Post 209 will erect flags in Memorial Park at the Legion on Monday.
The annual chicken barbecue will be available for carry-out. Each meal includes a half-chicken, potato salad, beans and a roll for $10.
The Legion also will sponsor a virtual service at 10 a.m. Monday, which will include a reading of the names of deceased veterans memorialized in Memorial Park and a wreath laying in memory of those killed when the USS F.C. Davis sank. Paul Beseler, Wisconsin American Legion department vice commander, is scheduled to speak by video.
Walworth County
Delavan: American Legion Post 95 will hold a private ceremony at 9 a.m. Monday at Spring Grove Cemetery by the Civil War monument. The ceremony is closed to the public but will be livestreamed on the city's Facebook page.
Elkhorn: VFW Post 6375 will fire a 21-gun salute and play taps starting at 8:30 a.m. Monday at various cemeteries, including North Geneva Cemetery, Hardwell Cemetery, Mount Pleasant Cemetery in Tibbets, Hazel Ridge Cemetery, Mount Olivet Cemetery, Lake Como Memorial and outside the courthouse.
The annual Memorial Day parade is canceled.
Lake Geneva: American Legion Post 24 will hold a short ceremony at 10 a.m. Monday with a three-volley rifle salute at Oak Hill Cemetery, 1101 Cemetery Road. All other Memorial Day events are canceled.
Whitewater: American Legion Post 173 will decorate soldiers' graves at Hillside Cemetery starting at 4:30 p.m. today. A short ceremony with a rifle salute, a playing of taps and flag distribution is planned afterward. Residents are welcome but must practice social distancing.
On Friday, members of the American Legion will place flags along Main Street.