Five-year-old Mason Ahrens fled The General Store like a rocket with three green, rubbery fish flopping under one arm.
Mason ran up Main Street and didn't stop until his sister, 3-year-old Emma Ahrens, slewed up sideways in a bubble-shaped car and blocked the street.
Emma jumped out of the car and onto the street next to the Tiny Cuts hair salon and the old jail. She spread her arms and began to hop in circles as a cascade of bubbles floated down from above.
This was not a kid riot. It was a typical morning in My Tiny Town, a new indoor children's playground on Janesville's south side that opened in late May as businesses began to restart amid the COVID-19 pandemic.
The nonprofit indoor play land is split up into costume dress-up rooms, ball pits, a bouncy house room, and a party and games area. The centerpiece: an atrium constructed to look like a miniature downtown replete with open storefronts, an Old West-style jail and rubber streets that wind through an artificial grass park.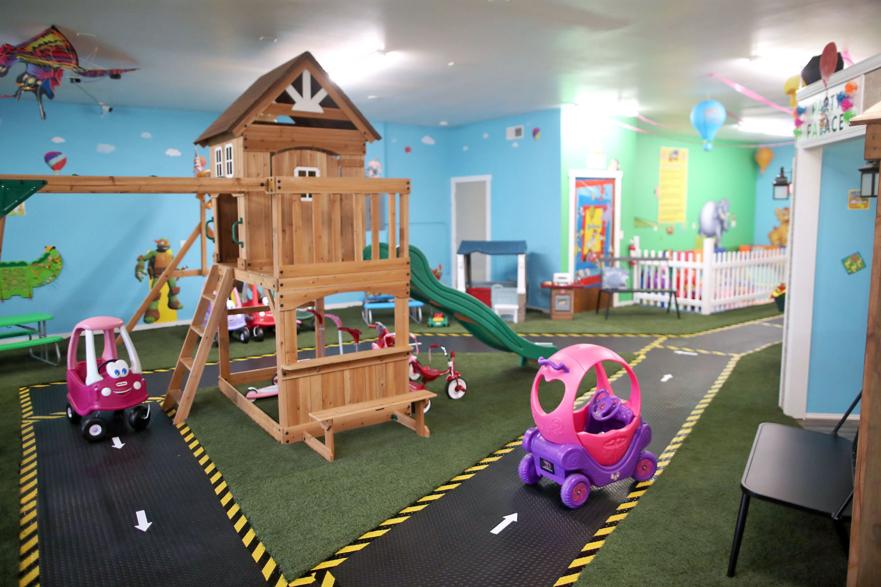 Beloit resident Sarah Ahrens watched her children, Mason and Emma, explore My Tiny Town.
It was the family's first time visiting the indoor playground. Moreover, it was one of the first times since the shutdown in mid-March that Ahrens' children have been out for a run-and-play in public.
"For weeks, it's been everybody cooped up," she said. "The kids haven't seen their friends or had their little play dates. It's been a hard couple months. So it's nice to have this option for them to be able to run around and have fun. Yeah, we're excited."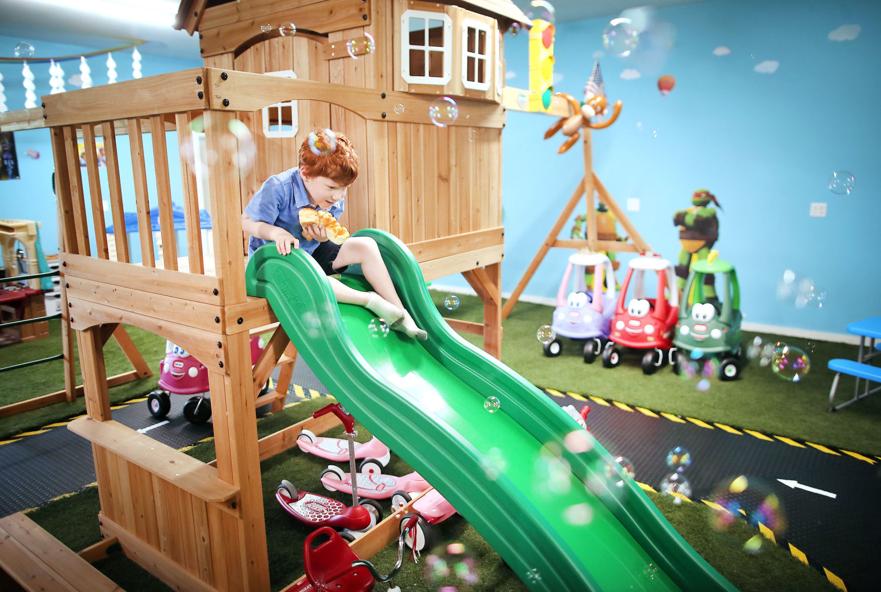 Likely the Janesville area's only dedicated indoor playground, My Tiny Town emerged out of human experience.
Co-owners Tim Everson and Larry Lightning have 10 children apiece. Picture a snowed-in winter afternoon with 10 kids in one place, at one time.
"You've got the kids inside the house from November to March. That can get rough," Lightning said. "We figured if we have the need to get out, other families probably have the same need."
Everson said the idea to start My Tiny Town came in a flash late last year. The two Janesville couples almost as quickly found the space: a vacant former furniture outlet at 1824 Lafayette St.
Everson initially pictured a straightforward plan to take some features of an outdoor playground and transplant them indoors. But a few days after signing a lease, the families were locked inside under the state's safer-at-home order.
Cooped up in the pandemic, Everson's imagination started to churn.
"It just became an entire town, a tiny town," he said. "We just kept building it, one thing after another. It started with just a play grocery store. Then we said why don't we add a salon, a little wooden sheriff's office and jail, the streets, the grass. It took on a life of its own."
On a recent morning, a bubble machine mounted overhead spewed bubbles while the "Mr. Rogers' Neighborhood" theme song played on speakers. Lori Everson gave the main selling point on My Tiny Town.
"It's always sunny in My Tiny Town. It's always 70 degrees, and when it rains, it only rains bubbles. The weather's perfect," she said.
Lightning walked around with a bottle of disinfectant and a cloth and cleaned surfaces along My Tiny Town's Main Street. He also addressed the elephant in the room: opening an indoor children's playground in the midst of a pandemic.
"Things just happen. We started this back in the winter, December and January. At that time, coronavirus was just being talked about," Lightning said. "At that time, it was talked about like a myth that was happening someplace else. But then, it happened here."
Lightning said the staff of four cleans and disinfects the entire playground before, after and during visits from kids. Some of the work is painstaking, such as the daily process of tub-cleaning and disinfecting 7,500 plastic balls that fill the playground's ball pit.
"It's work we'd need to do anyway, regardless of a pandemic," Lightning said. "We just recognize it's really important now."
My Tiny Town offers unlimited playtime for children from 10 a.m. to 7 p.m. daily for $8 per child, but it's not a drop-off center or daycare.
"The idea is family time, families playing together and getting a break from the weather in Wisconsin, which is either cold, rainy or hot, no in-between," Tim Everson said.
There are no video games and just one screen in the whole place: a TV in a game lounge that plays educational kids programs on an endless loop. If kids ever hit doldrums in action, that's when a giant red Elmo mascot appears on My Tiny Town's promenade to turn the joint into "Sesame Street" for a few minutes.
Most visits so far have been local or regional families from Janesville and Beloit, but Lightning said a few families have come from Madison or Rockford, Illinois. Some families have become repeat customers.
The biggest tribulation so far at My Tiny Town: Some kids are unhappy when their playtime ends.
"You can understand a temper tantrum or two when the kids are going out the door," Lightning said, "because when you see that, you know they'll be coming back."