MILTON
They say if you build it, they will come. 
That seems to be becoming the case in Milton. 
The city has seen $44 million worth of growth, for a 10 percent increase in value, in the last two years, said City Administrator Al Hulick.
The growth could send ripples through the Milton School District and strain city services.
Most growth has started with industrial projects, spawning new residential development popping up to satiate the city's housing needs, Hulick said.
If all potential projects in the city come to fruition, more than 200 new residential homes might be built in Milton in coming years, Hulick said. Construction of dozens of new homes already has begun.
A majority of new residential development is thanks to Mike Pierce, who has started selling chunks of his family's farm to residential developers. Pierce serves on the boards for the Milton School District, Milton Area Chamber of Commerce and Milton Historical Society.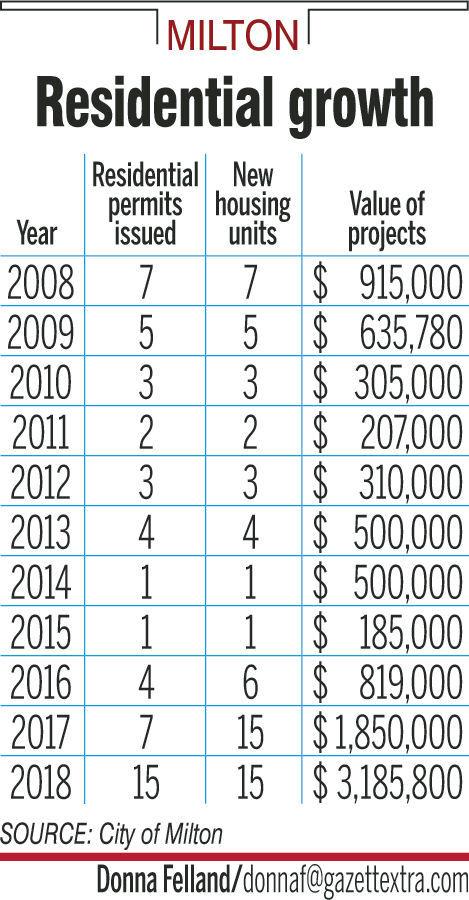 As employees settle in at new businesses such as SSI Technologies, Diamond Assets and Handy Art, many struggle to find places to live, Hulick said. 
Like neighboring Janesville, Milton has a housing shortage because residential development was stagnant for many years, Hulick said. 
But that is starting to change.
In 2018, 15 building permits were issued in the city to build 15 single-family units. That was the most permits issued in the city in 10 years. 
The city saw a incline in permits issued starting in 2016 with four permits, then seven in 2017. There was only one permit issued each in 2014 and 2015. 
The influx in building permits in 2018 was largely caused by the creation of Red Hawk Farms, the first new subdivision in the city in more than a decade, Hulick said.
Pierce Farms
For more than 50 years, Pierce Farms sat on 175 acres nestled along the northeast corner of East Milton-Harmony Townline Road and Parkview Drive in the southern-most section of Milton.
Pierce's father, Gailen Pierce, bought the farmland in 1966. Gailen and Mike farmed the land for decades before Pierce purchased it from his father in 1995. Mike farmed the land until he retired from farming over the course of the last couple years, he said.
Mike and his wife started to consider selling the land about 10 years ago and have since chosen to sell it all to developers piece by piece, he said. 
The city has included Pierce Farms as a spot for future residential development in its comprehensive planning for years, Hulick said. 
The city to annexed the land in 2012 in preparation, Hulick said. 
Pierce owns 135 acres of the remaining land, according to Rock County land records. 
Forster Construction purchased one chunk of the farmland to develop Red Hawk Farms subdivision. The Janesville-based company has drawn plans for 44 lots and has the option to purchase more land from Pierce in the future, Mike said. 
Mike McKenna, via his company Capital Asset Investments, has purchased another chunk along Parkview Drive and is in early talks with the city to develop it into two multi-family housing complexes, Hulick said.
McKenna and his wife, Diamond, own Diamond Assets, a Milton-based electronics and technology trade-up firm. Diamond is on the school board.
Mike Pierce is a farmer at heart, which makes him sad to see his land go, but he also is excited for the next chapter in his life, he said. 
Mike Pierce and his wife, Mary, will move into one of the new homes in the Red Hawk Farms subdivision. Construction of their home is slated to finish in about six weeks, Pierce said. 
Many of the new homes in the subdivision will sit on Gailen Drive, the same name as Pierce's father. 
Red Hawk Farms
Forster Construction approached Hulick in 2017 about building a subdivision because it felt the community was a good fit for its homes, Tom Forster, owner of Forster Construction, said.
In its first phase, the company planned 13 lots, seven of which have been sold. One family already has moved into their house, Forster said. 
The company then planned 31 additional lots for a total of 44 lots for 44 future homes, Forster said.
The company is building custom homes and homes on speculation. So far, buyers have been a mix of young families and older couples looking to downsize, Forster said. 
Residential development has happened largely on the city's far north and south sides.
Three eight-unit apartment complexes have been planned for the city's north side on Sunset Drive. One set already has been completed, Hulick said. 
City documents also show a flurry of new single-family building permits issued on Sunset Drive, east of Northside Drive between 2008 and 2014. 
Land availability and accessibility is why Hulick believes most of development has sparked on the far ends of the city. 
On the horizon
The city is in early discussion with developers for three new residential projects. The projects likely would go to the city council for approval in the next month or so, Hulick said. 
The first project is a potential subdivision on the north side with 25 new homes, Hulick said. 
The others are for two multi-family units on the McKennas' portion of Pierce Farms land, Hulick said. 
The first apartment complex is anticipated to hold 100 units on 12 acres and would be developed with a partnership between the McKennas and Yost Development, an Illinois-based company, Hulick said. 
The other complex would house 84 units on 11 acres. Hulick is unsure of any development partners for that project, which is still very conceptual, Hulick said.
Preparing for change
The city has infrastructure ready for new development and has made recent improvements to its sewer and water systems specifically to accommodate growth, Hulick said. 
But every city service has a tipping point, Hulick said. 
As more people move into the city, adjustments will likely need to be made to police, fire, EMS and street maintenance services. 
The state of the city's fire station has been the topic of hot discussion in recent years. An idea to put a station shared between the Janesville and Milton fire departments on Milton's south side, where growth is anticipated, has been pitched. Some residents in rural areas of the township have disagreed with that idea.
The current station on Madison Avenue has become inadequate.
"As growth continues, you have to manage that to its best ability," Hulick said. "The most difficult part is that is subjective. Everybody (every municipality) struggles with it."
Growth and education
Space and enrollment in the Milton School District has been among the most contentious topics discussed in the last few years as the district has tried twice to pass capital referendums. 
District officials have been adamant that the schools do not have enough space. 
A study administered by the UW-Madison Applied Population Lab in 2015 predicted enrollment in the district would fall after a peak in 2017-18.
Superintendent Tim Schigur said the study did not account for new migration to the area. 
The district is seeing many families who say they recently moved to the area, said Jerry Schuetz, director of district operations. 
The district has repurposed space, such as closets, to make classrooms for its overcrowded schools. Officials believe a spring referendum, which would include renovation to almost every school in the district, will alleviate crowding, Schigur said.
The district already has moved a majority of its 4K sections into Small Wonders education center to accommodate growing enrollment, Schuetz said. 
But some attendees at school board meetings have been skeptical of the district's growth, many citing the 2015 study that predicts enrollment will drop. 
Food services and student transportation are two other areas heavily impacted by enrollment growth, but the changes needed to accommodate growth would not be as drastic as the changes needed to bring facilities up to par, Schigur said. 
Overall, the district has benefited from growth in Milton and on the north side of Janesville, much of which sits in the Milton School District. 
Both the north side of Janesville and Milton are booming, Schigur said. Residents in Janesville who live in the Milton School District make up the largest share of the district's property tax payers, and more students means more state aid. 
Ultimately, the greatest concern for the district involving growth is in its facilities, Schigur and Schuetz indicated. 
District officials recognized that some people might be skeptical of two board members, Diamond McKenna and Mike Pierce, working on a development project together. 
But those business deals are separate from the district and introduce no conflicts of interest, Schuetz said. 
The first question many people ask Realtors is about the quality of the school district, Schigur said. 
On Forster Construction's website, they list "City of Milton location, Milton Schools!" as a selling point next to its listed Milton homes. 
"We have been proud of for years to be a district of choice for many," Schuetz said.