#MeToo: Local women discuss harassment, gender bias and what still needs to be done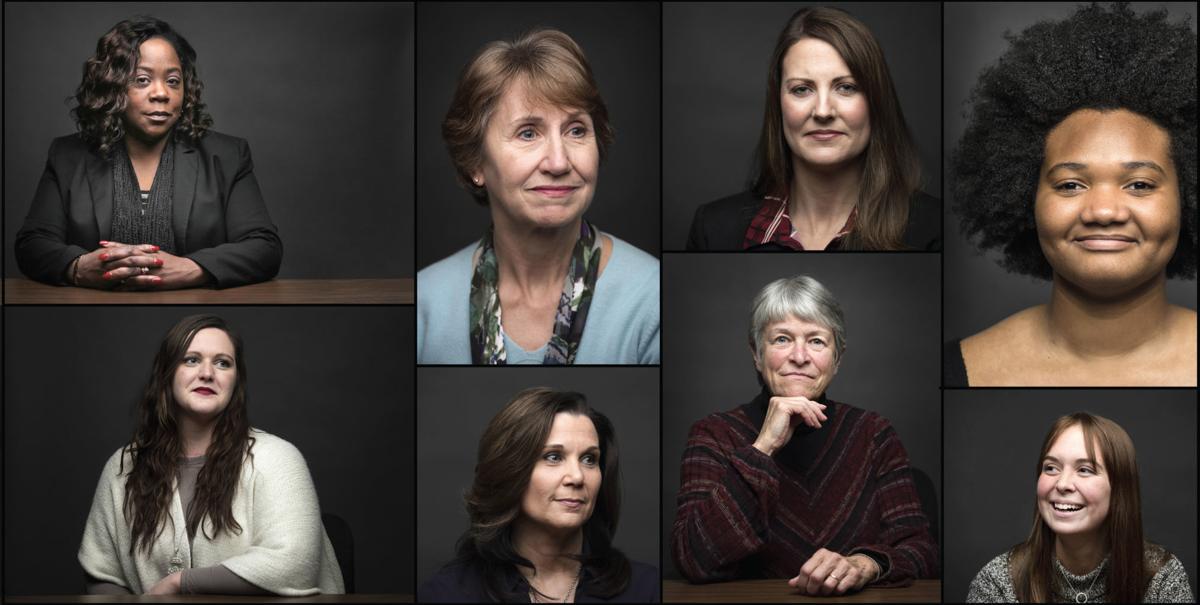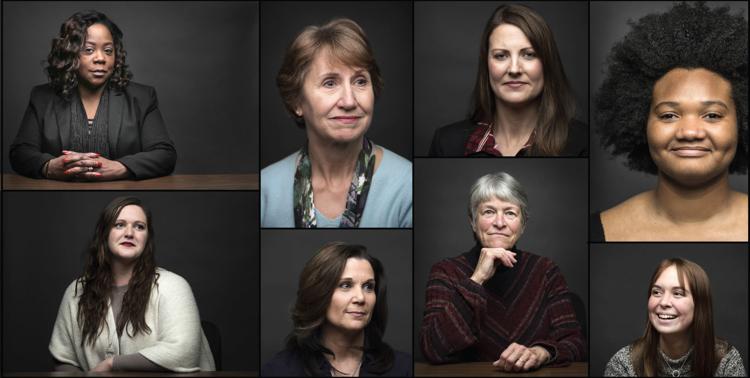 JANESVILLE
Sue Conley was denied a promotion at work because she was told she probably would get married soon.
Lori Luther was placed in a different internship because an older co-worker asked her on a date.
Cece Bittner was told the only reason she was useful was because she had a nice butt.
Those are some of the experiences local women say they have endured in the workplace or at school.
The Gazette reached out to nine women who hold leadership roles or are students to see how national movements such as #MeToo and Time's Up have affected them.
The #MeToo movement moved centerstage in October, when multiple women accused film producer Harvey Weinstein of forced sexual encounters. Since then, stories of harassment and sexual misconduct have flooded the news and social media.
The movement led to the creation of Time's Up, an organization that provides legal funds and resources to women who have witnessed or experienced workplace harassment.
Many recent harassment accusations have involved A-list celebrities or politicians, but many more involve ordinary people.
Conversations with local women revealed they agree on one thing: It happens here, too.
Women share stories
When #MeToo started spreading on social media, Kathy Sukus reflected on her past.
Sukus is the director of the Rock County Communications Center. Since she started her job, she has not had any problems, she said. But thinking back, she realized she experienced things she now knows are not OK.
A customer once grabbed her butt when she was working a retail job in high school.
And while answering calls at the Beloit Communications Center, Sukus encountered some men who wanted to talk to a man because they apparently didn't think a woman was competent enough to help them, Sukus said.
Sukus recalled that she put those callers on hold, deepened her voice and then answered their questions. The callers apparently thought she was a man and accepted her answers.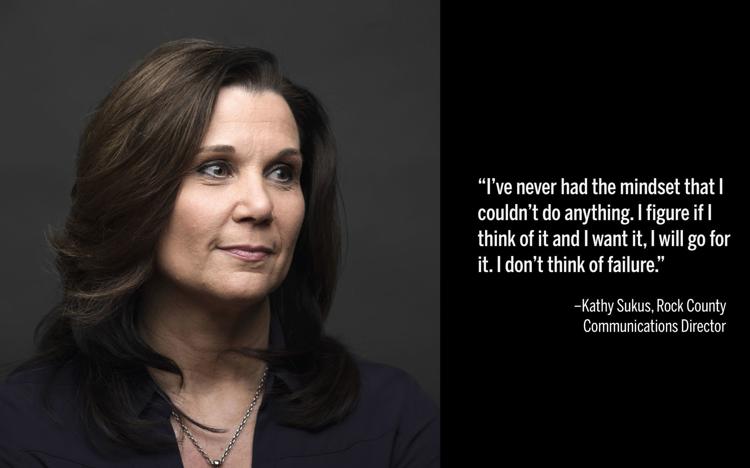 For Sue Conley, a Janesville city councilwoman, it was the leaked Access Hollywood tape of President Donald Trump describing intimate interactions with women that made her reflect.
"I think part of the reason this has come to be a conversation nationally is because that tape smacked a lot of us in the face and gave women the courage to say it's not OK," Conley said.
She recalled applying for a promotion while working at a bank when she was 19. Conley said her boss told her she was young, pretty and probably would get married soon, so he would not let her change departments.
But Conley didn't get married right away. She continued to work at the bank and started getting promotions.
While negotiating her salary for a new job, Conley said she was told she couldn't make as much as a man in a similar job because he was married and had children.
"You know, you get dinged because you're young and you might get married, and then you get dinged because you are not married," she said.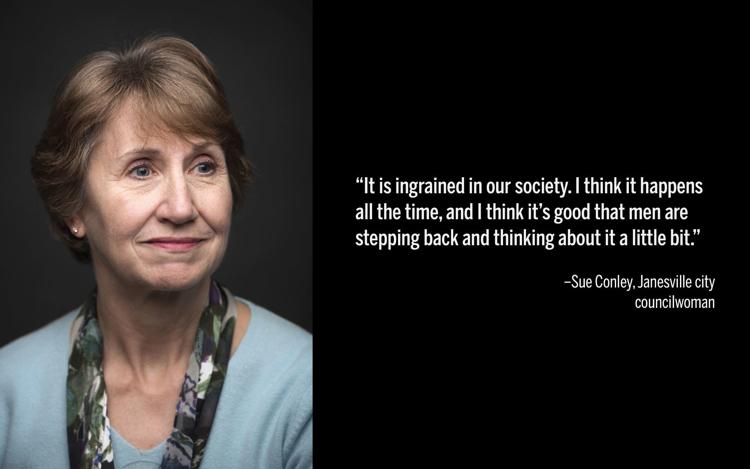 Conley and Sukus agreed that as they progressed in their careers, they experienced less gender discrimination.
As a public safety official, Sukus often is the only woman in the room. She said she feels fortunate to work with men who treat her as an equal.
Sukus remembers pushing herself harder in her career so nobody could say she got her job based on anything but merit.
Kelsey Hood-Christenson, program director at the Beloit Domestic Violence Survivor Center, said she worked in a toxic environment in the food industry when she was younger.
Male co-workers spoke about her in a sexual way in front of supervisors, she said, and the supervisors did nothing to stop it.
That made Hood-Christenson believe nothing she said or did would change her situation.
Women often don't know what to do when they experience harassment, she said. Many are intimidated and fear losing their jobs or being punished.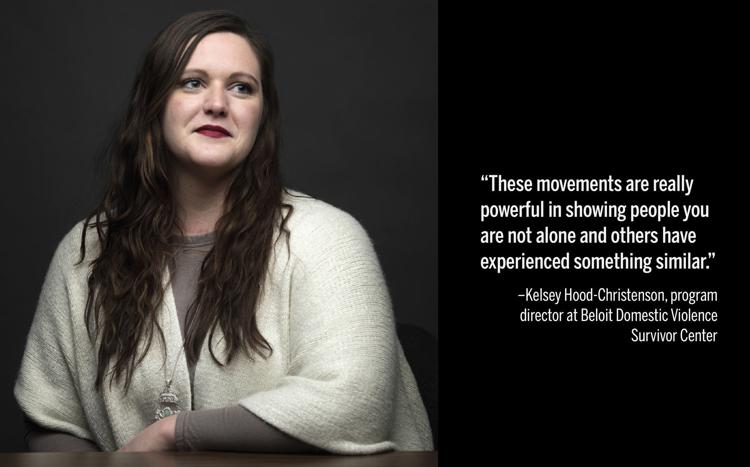 Addressing workplace harassment
Lori Luther, Beloit city manager, feared she would be seen as a trouble maker if she reported an uncomfortable situation at work as an intern.
When she worked as a city government intern, an elected official at least 25 years her senior called her at home and asked her on a date. Luther remembered feeling uncomfortable and thinking the gesture was inappropriate.
Luther told her boss, who revealed he was the one who had given the official her phone number—despite him having a brief thought that it was not a good idea.
Luther's adviser placed her in a new internship. While moving her might have been the best solution, Luther believes more action should have been taken to correct the inappropriate behavior.
In her Beloit job, Luther said she tries to cultivate a work environment that is inclusive and makes it easy for people to come forward with harassment concerns if they arise.
The city's definition of harassment is broad. The city will not tolerate mistreatment of employees and will act swiftly to address it, she said.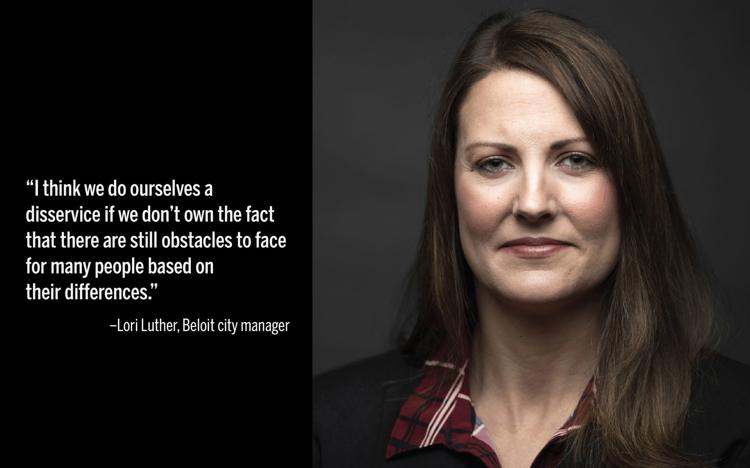 Sukus said Rock County supervisors review harassment policies annually and make them available to employees.
Christine Moss, director of human resources at Mercyhealth, said it makes a difference when businesses enforce their harassment policies, rather than just writing policies for the sake of having them on the books.
Businesses that don't have strong policies or want to review their policies can contact Stateline Family Services, which offers workplace harassment training workshops, Hood-Christenson said.
State Sen. Janis Ringhand, a Democrat from Evansville, said she has never faced harassment in her political career, but she said there is a clear understanding of how to address it in the Senate.
"I stand firmly on my convictions and grounds, and I never felt threatened at all, (but) I can see where some people are," she said.
Ringhand said women can find safety in numbers and then can feel more confident about speaking out against sexual harassment and misconduct.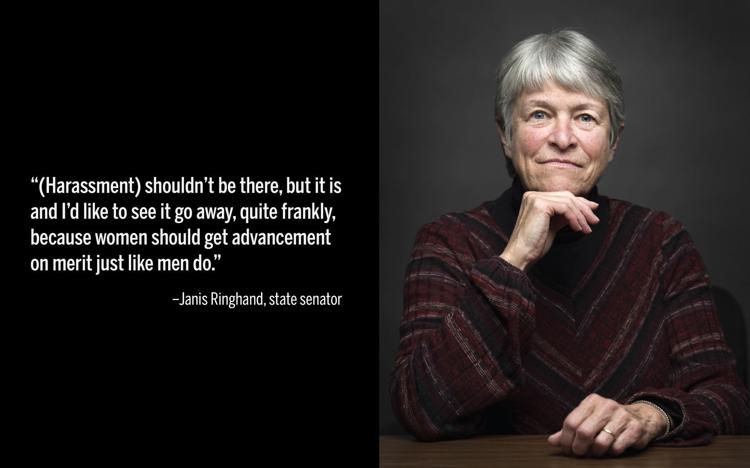 All voices heard
There is little proof any group of women experiences harassment more than others, but Tammie King-Johnson, manager of the House of Mercy Homeless Shelter in Janesville, said she frequently sees harassment, sexual abuse and violence affect lower-income women.
King-Johnson said issues often don't come to light until women of higher statuses are affected.
Ellie Schemenauer, associate professor and chairwoman of the UW-Whitewater Department of Women's and Gender Studies, said she talks about the cross-sections of race, class and gender in her classes.
Minority women and women of varying sexual orientations often are excluded from conversations about women's rights and sexual harassment, Schemenauer said.
Harassment and sexual violence issues are complex, she said. Race, class, gender and ability levels affect how people react or think about them.
Hood-Christenson is a member of a state committee that addresses LGBTQ intimate partner violence. She identifies herself as a cisgender lesbian.
She said stories about sexual violence traditionally involve female victims and male perpetrators. People who are abused by someone of the same gender, or who do not identify with either gender, might not feel empowered to speak out because they do not feel as connected as those who fit the traditional narrative, Hood-Christenson said.
It is everyone's responsibility to cultivate an environment where people feel safe, Schemenauer said.
"I think we have to really pay attention to diversity of experience and context and recognize that a unified set of approaches is not going to get it done," Schemenauer said.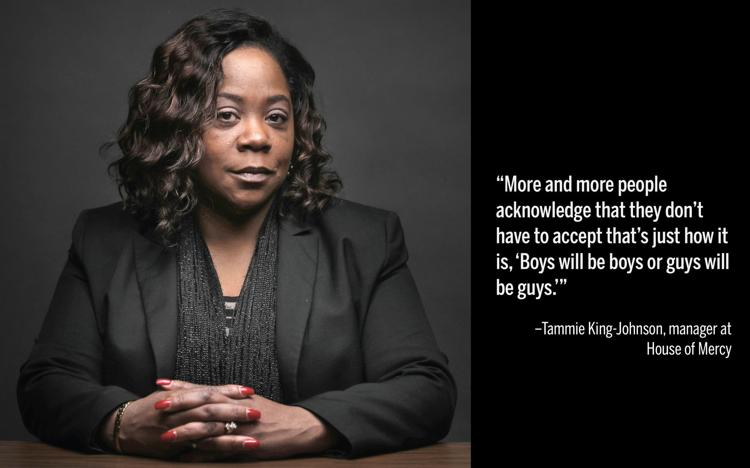 'Each one, teach one'
King-Johnson feels privileged to have been mentored by a diverse group of women. She pays it forward by mentoring young women herself—nearly 30 so far in her career.
She said she is inspired by the African proverb "Each one, teach one," which was practiced by slaves who taught each other how to read and write.
People across the country are working to end abuse and harassment, King-Johnson said. Many workplace issues still need to be resolved, but King-Johnson believes the work has to start at home, teaching young men and women to treat others with respect and to speak out against injustice.
As the ninth of 10 children, King-Johnson said she learned how to lead at a young age. She hopes she can inspire that in others.
Luther said she has talked to her four children about the importance of this moment in history.
When her three sons joke or say certain things, Luther asks them how they would feel if someone said that to their sister.
"In raising a daughter, I think to some of the obstacles I have faced," she said. "I don't want her to face those same obstacles if they can be avoided."
Looking forward
Cece Bittner, a senior at Craig High School, said she got sick of being known as "Cece, the girl with the big butt" instead of just Cece.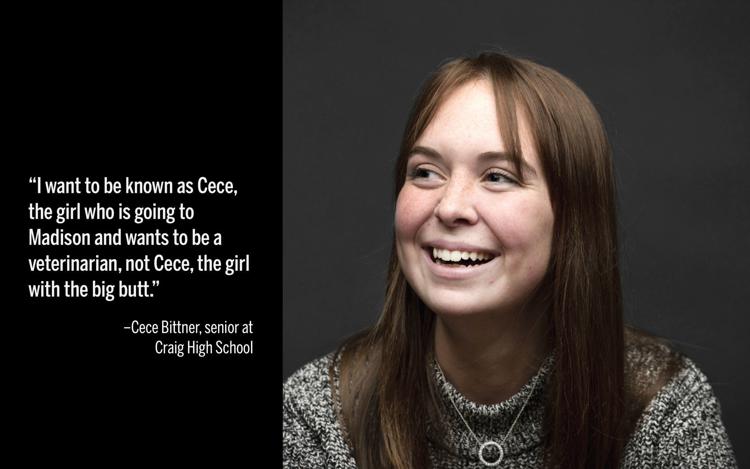 The unwanted attention started in middle school, and she constantly felt uncomfortable, she said. One kid told her she would be useless if she didn't have such a nice butt.
The bullying led to mental health issues, and Bittner said she sought help from a doctor.
Bittner plans to attend UW-Madison next year and hopes to be a veterinarian. She wants success based on merit instead of her looks.
The 18-year-old said she cried while watching Oprah Winfrey's speech at the Jan. 7 Golden Globe Awards. She felt empowered to see women speaking out publicly about issues she has struggled with herself.
Parker High School senior Alexis Schumacher said she has heard inappropriate comments at work but has shrugged them off because she felt uncomfortable talking about them.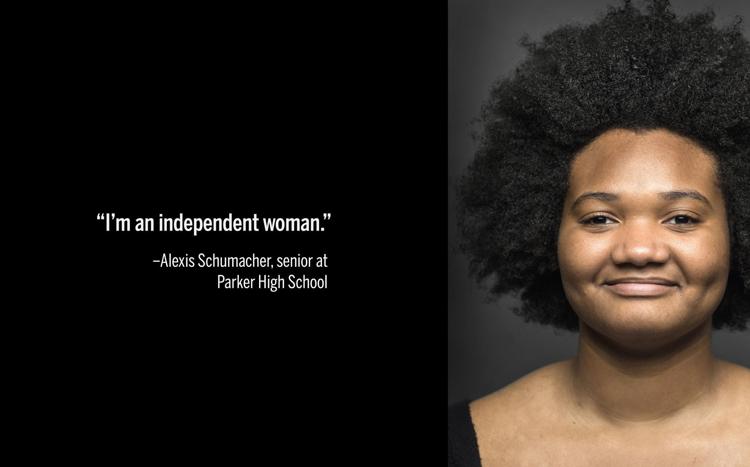 She believes people need to talk openly about issues of race and gender. Conversations can empower people to make change, she said.
Schumacher, a devout Christian, feels empowered by her faith. She believes churches need to have more conversations about sexuality to make young people more aware of the problems.
Bittner and Schumacher carry themselves with confidence. Both hope to see women lift each other up and help girls build their self-esteem.
In Beloit, Luther discusses with her intern, a teenage girl, the importance of taking career risks. Luther said she wants to empower her intern to do whatever she sets out to do.
"We may be inadvertently creating an obstacle for ourselves," Luther said. "Sometimes we need to get out of our own way."