Aaron Ellis could have died last March after a brain hemorrhage, his doctor said.
But something remarkable happened instead. His aunt, Mary Murray, calls it a miracle and an answer to prayer.
Ellis just says he's a lucky man.
The story started one day in December 2018. Ellis, a sergeant at the Janesville Police Department, was at his regular morning meeting when he lost his peripheral vision. He could see only straight ahead.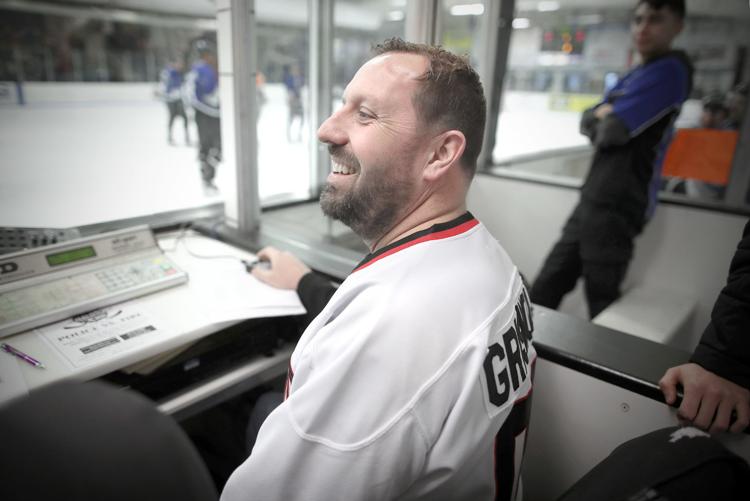 He didn't tell anyone. He decided to get it looked at. He drove to SSM St. Mary's Hospital-Janesville.
He shouldn't have done that, he says sheepishly.
Hospital staff put him in a wheelchair and rushed him to the ER. Doctors said he was having a stroke. His vision cleared up, and he was released after a few days with an appointment to see neurosurgeon Christopher Baggott at the SSM hospital in Madison.
Baggott soon figured out Ellis had a rare condition called moyamoya.
Moyamoya is most commonly seen in Japanese children, much less so in other populations, Baggott said.
"It's really a mystery as to why something like this occurs," Baggott said.
The Mayo Clinic website says moyamoya appears most frequently in far-eastern countries, among young girls, and among people who have conditions that include neurofibromatosis type 1 and sickle cell anemia. Ellis, 44, is in none of those categories.
Baggott said the chances of getting moyamoya are about one in several hundred thousand.
Moyamoya is a narrowing of the main arteries to the brain, which puts a person at risk for stroke.
Baggott recommended surgery to increase blood flow.
The surgery was set for March. Ellis was on the table for about five hours.
Baggott cut into Ellis' skull and rerouted blood vessels, attaching them to his brain. He was released from the hospital three days later.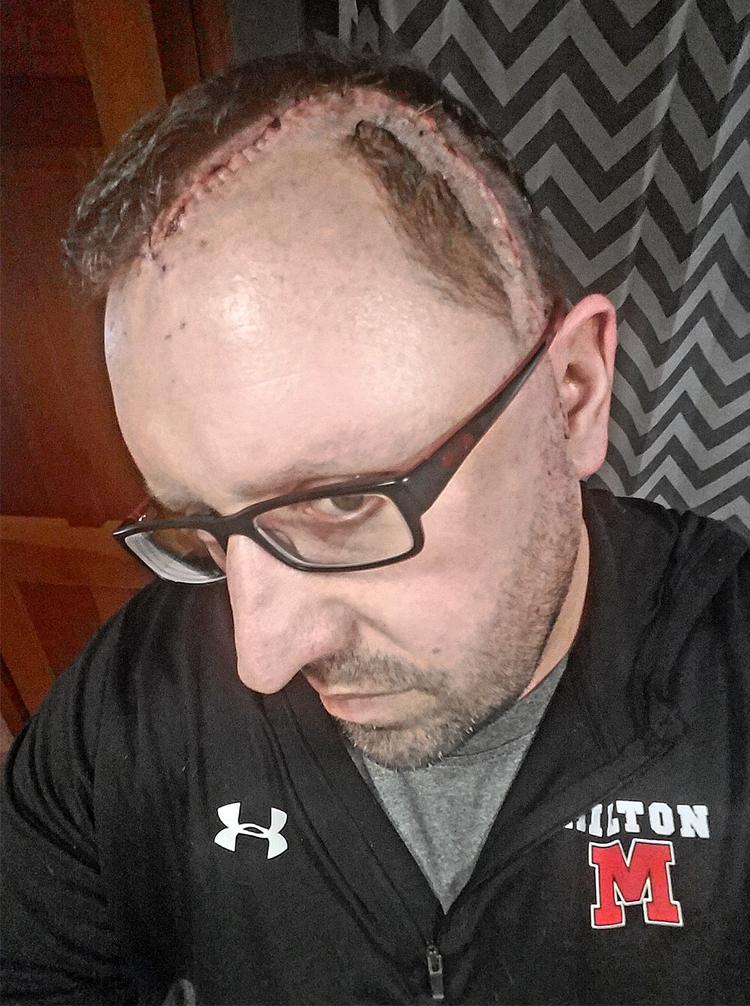 "I felt so good," Ellis recalled.
As his wife, Catherine, was driving him home, he asked her to stop at St. John Vianney School, where officers were doing active-shooter training. Ellis' job includes scheduled training sessions.
"I said, can we stop at St. John's and say 'hi' to my buddies?"
He kept his hat on, he said, so no one would see the fresh scars.
His wife was running some errands that night. Aaron was home with his daughter and mother, and then they left.
"And that's when I had a terrible stroke."
He fell to the floor. "It was just me and the dogs."
He couldn't get up, couldn't speak.
Catherine figures she came home about 30 minutes after her mother-in-law and daughter left. She heard a noise like nothing she had ever heard. It was Aaron, trying to communicate. She found him on the floor.
Janesville paramedics took him to Mercyhealth Hospital and Trauma Center. He was soon transferred to St. Mary's in Madison.
There's always a danger that blood vessels rerouted to supply the brain will not be able to handle their new task right away, and that's what happened to Ellis, Baggott said. The condition is called reperfusion injury.
Catherine said she was told it was a brain bleed that was much like a stroke.
"Dr. Baggott was there in tears right along with me. It was very scary," Catherine said.
"He was in a dangerous situation," Baggott said. "I thought if we could get him through that reperfusion injury alive, then he would be able to bounce back."
Five days later, Ellis was still unable to speak. He couldn't move much. But he knew what was going on around him. He was watching a Brewers-Cubs baseball game with his father at the hospital.
Ellis is a big Brewers fan and despises the Cubs. He was upset, even though it was just a spring-training game. He raised his arm, shaking it in anger at the TV.
"Dad started screaming, 'Your arm! Your arm!' because they told me they didn't think this right hand would ever work again. So my dad started yelling to the nurses: 'Something's going on!'
"And my dad helped me, and I hurt, but I was able to stand on both my legs."
It was an emotional moment.
He was transferred to the Rehabilitation Hospital of Wisconsin in Waukesha for 20 days of therapy.
"Every day I was getting better and better," he said.
On the 17th day in Waukesha, he started running during what was supposed to be walking therapy.
"They sent me home before 20 days, and I was so happy," he said, chuckling.
Ellis, always an amiable person, seems overjoyed these days as he thinks about what has happened. He said he is more excited about life.
"I am totally different. … Sometimes I think, 'Am I really alive? Am I really here?'"
"I think the change is just hope and a new love for and outlook on life, learning to appreciate what we have," Catherine said.
Ellis went back to work in part time in June, full time in July.
He told Chief Dave Moore he wasn't ready to drive a patrol car yet, but "I just wanted to be back," he said.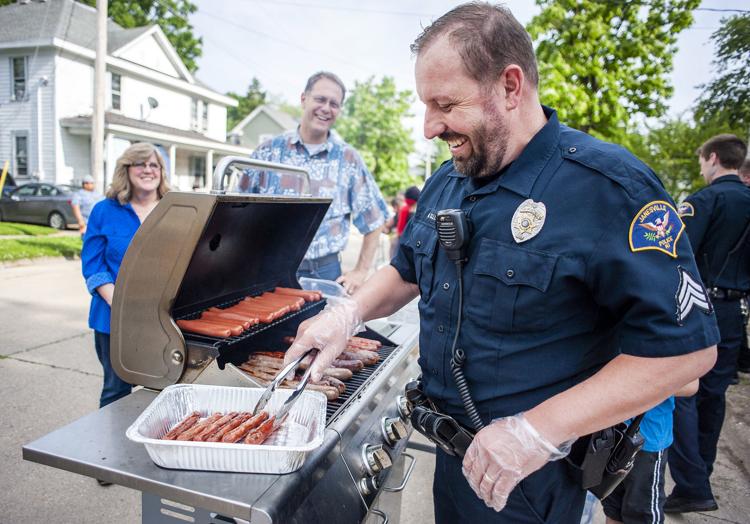 His first day back, police were holding a block party, something he has worked on for years. He asked to help out, and he was soon grilling and dishing out hot dogs to kids.
Meanwhile, Baggott scheduled a second surgery for November, a similar but less complicated procedure to increase blood flow on the other side of Ellis' head. He recovered quickly the second time.
"He did progress rapidly, and I think that shows his resilience and willingness to participate in rehabilitation," Baggott said. "It shows the strength of his character."
Ellis has recovered faster than the professionals said he would, Catherine said.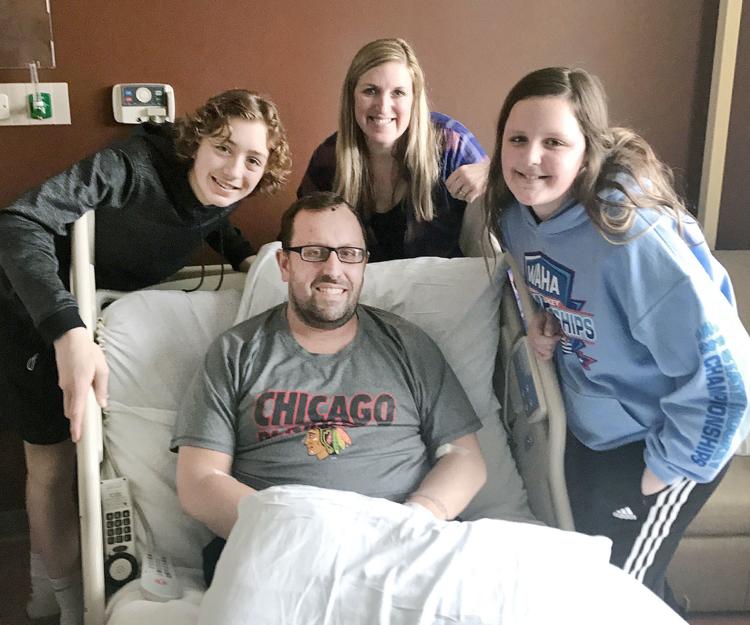 "He's a stubborn and determined guy, and for sure this was to his benefit," she said.
"There's still a couple words, once in a while, that I get stuck on," he said.
He's working with a speech therapist.
"I'm not perfect, but I want to beat this thing."
Looking back, he has much to be thankful for. His fellow officers were like a family, he said.
Officers had a work day, doing yard work at the Ellis house. Even retired officers showed up.
Murray arranged for Masses to be said for Ellis at various churches during the crisis. There were prayer chains.
"We are a Catholic family. When prayers are needed, we know how to find them," Murray said.
"If it wasn't for all our friends and family and community, I don't know if he would be here," Catherine said.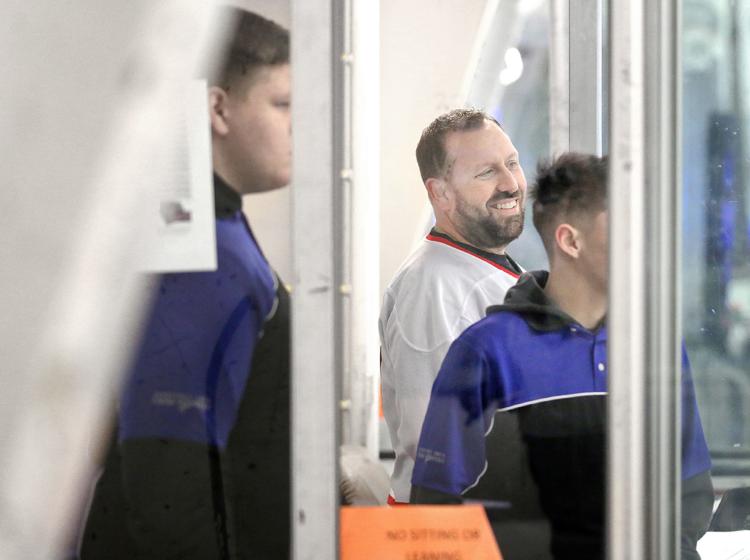 In addition to therapy sessions, Ellis worked on his own to improve. His children, 10th-grader Tyler and seventh-grader Caylee, worked with him, showing him flash cards, Murray said.
Without the surgeries, Ellis had about a 70% chance of having a stroke, Baggott said. With the surgeries, chances are closer to 10%.
"If we had done nothing, certainly the diagnosis is very grim," Baggott said.
"So, yeah, I got lucky," Ellis says, again and again.