Airman 2nd Class Edward J. Miller was finally laid to rest Saturday, July 17, at Maple Hill Cemetery in his hometown.
Miller's sisters Dorothy Wheaton and Nancy Cox were in attendance as were other family members and hundreds of Evansville residents.
Miller died in 1952 after the plane he was in crashed into a glacier in an Alaskan blizzard, killing Miller and the other airmen aboard the craft.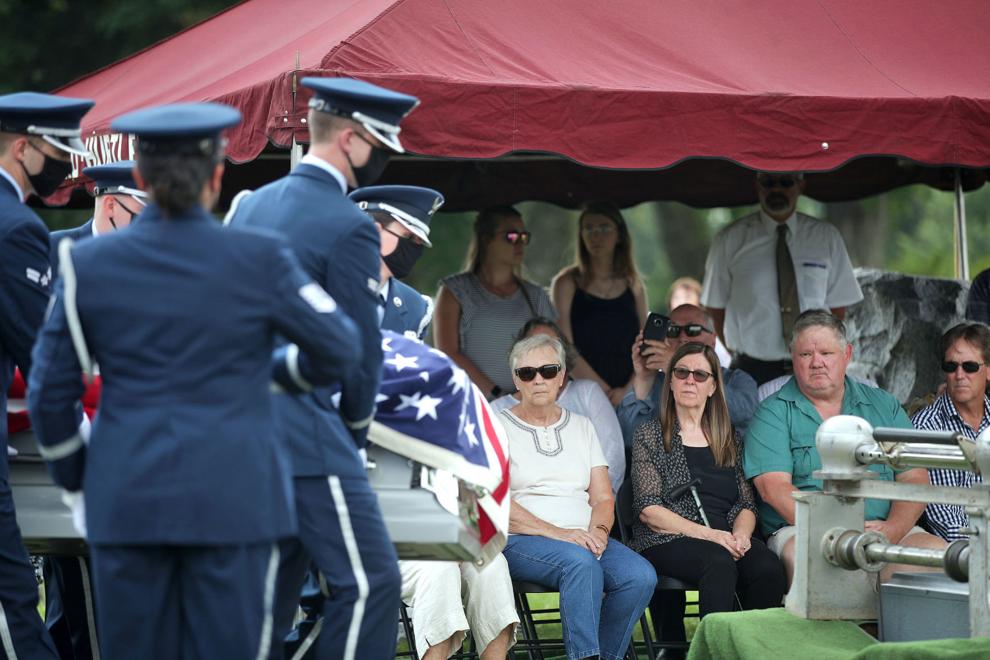 Numerous military service members and Evansville police saluted as Miller's casket was placed in front of his family during the burial.
The service was supposed to occur in 2020 but was rescheduled because of the COVID-19 pandemic. Last year, Miller's sister Doloris McCutcheon died.
Capt. Christopher Schilling, a chaplain in the Air Force, spoke at the service.
"Today is a day that Dorothy and Nancy and all of you in their family have been waiting for for a long time," Schilling said. "The loss of their brother almost 70 years ago and the grief that the Miller family has carried in their hearts for all of these years. Today's service will not release that grief that they carry. As we all know, when we lose someone we love, we feel that absence in our hearts and our lives forever."
Schilling said now that Miller has finally been returned home to Evansville, the Miller family can take another step toward healing. He then read the Leo Marks poem "The Life That I Have."
Schilling said he spoke with Wheaton and Cox prior to the Saturday service and asked them more about their brother and the memories they have of him. The sisters told Schilling about their brother's warm personality, his ability to always have fun and how he would help their father on the family farm. One of the sisters' most cherished memories with their brother was playing competitive games of Monopoly and musical chairs.
"These memories for Dorothy and Nancy are almost at a standstill in their minds as if it was yesterday, unfading to the passage of time," Schilling said. "They are a precious connection to a brother, whom they love and lost young."
Toward the end of the service, Schilling led the crowd in "The Lord's Prayer," read the poem "Do Not Stand at My Grave and Weep" by Mary Elizabeth Frye and ended with a prayer for Miller's family and loved ones.
The U.S. flag that was draped over Miller's casket during the burial service was folded and given to Wheaton by an Air Force technical sergeant.
Bill Hurtley, the director of Ward-Hurtley Funeral Home that led the service, was pleased with how the day went.
"Everything's gone perfect. Better than we thought it would," Hurtley said. "Yesterday was really impressive. Today went well and the weather cooperated. The family is really happy. It took a lot of coordination from a lot of different places."
There was a procession through Evansville on Friday to the funeral home.
Gov. Tony Evers ordered flags to half-staff in honor of Miller on Saturday, July 17.
According to the Rock County Sheriff's Office, Miller wasn't the first local servicemember whose remains were returned to the county from the wreckage of that 1952 plane crash.
Airman 1st Class George M. Ingram was returned to Beloit in a similar ceremony in July 2016.