By November, a long-running construction project that has left the main entryway to the plaza at Janesville City Hall torn up and cordoned off from the public for more than two years finally will wrap up.
It's been an almost 30-month-long process that's been fraught with weather delays and legal action by the city of Janesville against the contractor who the city said placed a faulty water barrier that allowed water to leak under the plaza.
But a city engineering official said the contractor, Klobucar Construction, finally will finish renovation of the underground parking area and the large entryway plaza above it.
Payne said the work being done now is less than a month away from completion. He said that according to an updated timeline provided by Klobucar, the project "remains on schedule to be completed in early November."
For the time being, the plaza entry remains cordoned off by construction fencing. Passersby can see large, white foam blocks cut to be laid out over a black underlayer. Payne said the foam blocks will give shape to the plaza's raised, pedestrian-accessible ramp and sidewalk areas.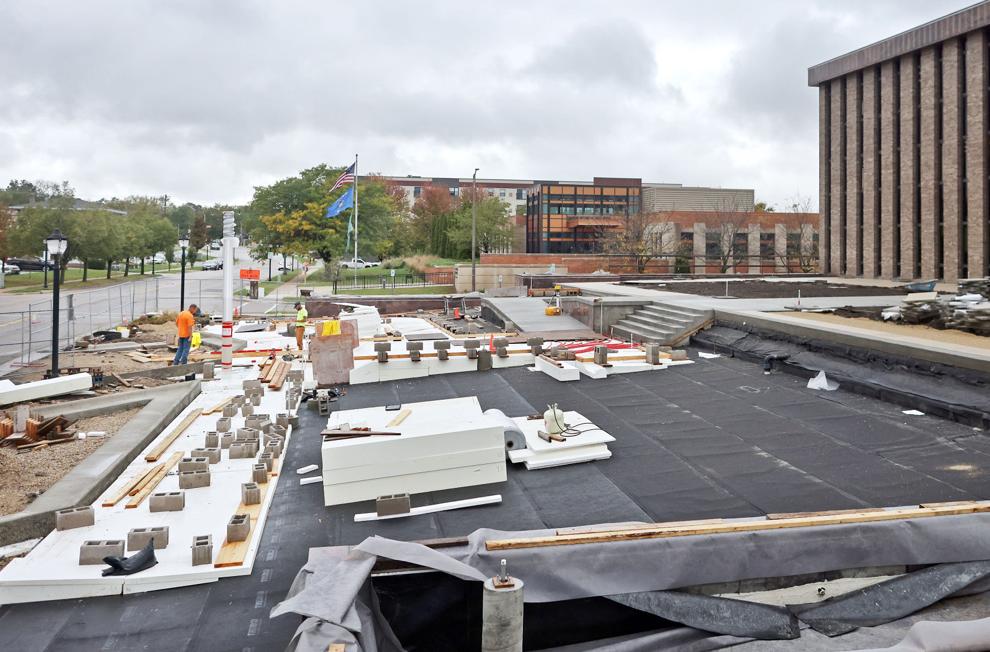 That'll finally bring to a conclusion a big portion of $2.9 million in work to fix leaks and erosion to City Hall's underground parking structures, the plaza surface above and replacement of a waterproof membrane.
The work was initially aimed at fixing holes in the underground parking area, bucking sidewalks and moisture in some offices in City Hall.
That major work came in addition to some new lighting and rehab of the main entry and ground floor lobby, according to a 2020 capital improvement plan.
Payne has said the project earlier this year was projected to run about $240,000 over its earlier $2.6 million price tag, mostly because of leaks to a moisture barrier the city said Klobucar used that the city considered an inappropriate material for the project.
Work on the project froze for most of 2020 due to a dispute between the city and contractor. Wet, harsh weather in 2019 also slowed progress on the project.
Payne told The Gazette earlier this year that Klobucar agreed in 2020 to replace the faulty membrane at City Hall.
Payne said at that time that the project wouldn't likely become any more costly because of the agreement.