The local United Way didn't reach its goal last year, and officials are nervous that the year of the pandemic could be another tough year for raising money.
United Way Blackhawk Region announced its $2.4 million goal in an online meeting Thursday. That's the same goal as in 2019, when fundraising fell short by $200,000.
Last year's shortfall probably had a lot to do with local corporations being bought out or getting new leaders who were not as invested in the community in recent years, said local United Way President and CEO Mary Fanning-Penny.
Add to that all the businesses that have felt the pandemic's pinch this year, setting up what could be a greater challenge for the annual fall campaign.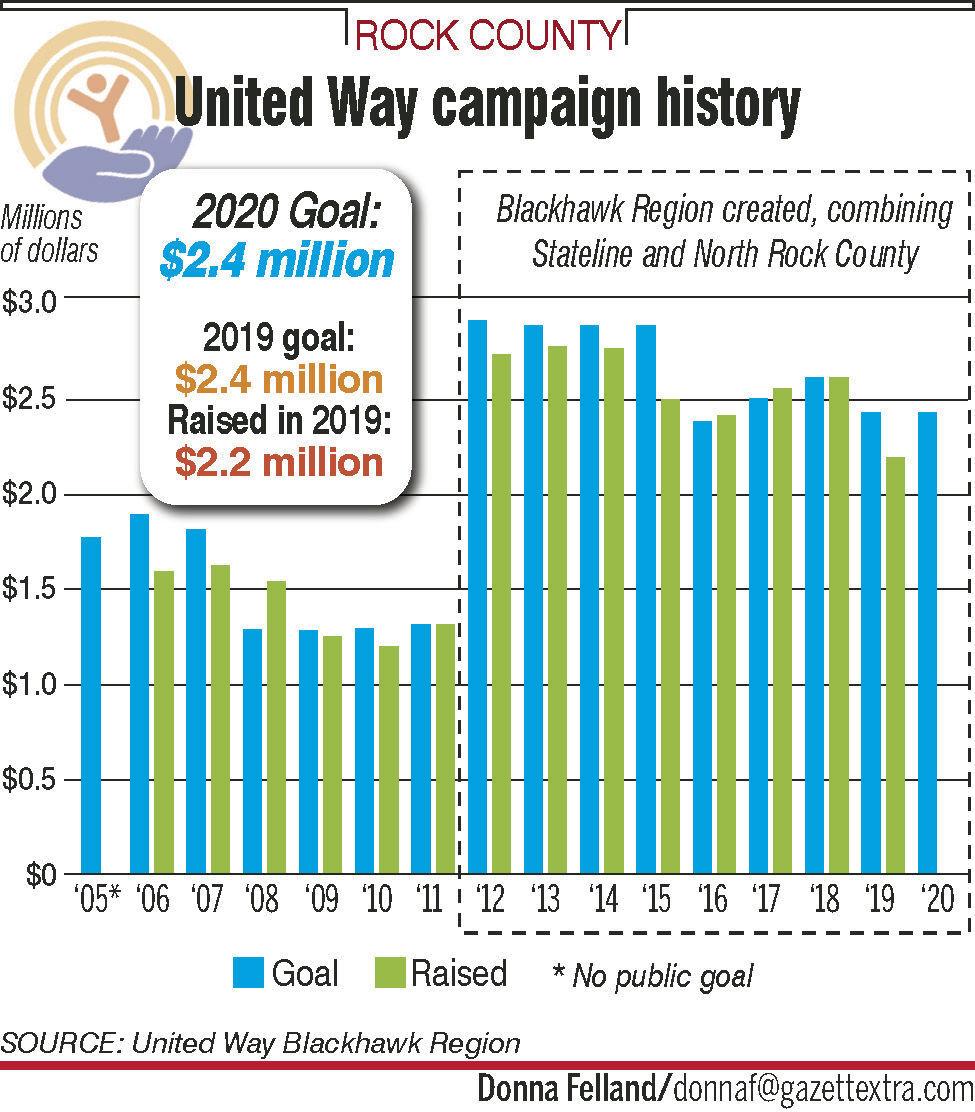 "We are nervous about the tough decisions our corporate partners are making in a COVID-19 world," Fanning-Penny said. "We know some had to lay off employees or furlough employees or make other reductions that could negatively affect our campaign.
"If we do not make our goal, we will be forced to reduce the amount of money available to award through community grants at a time when our community is relying on those services more than ever."
The local United Way is ending the second year of two-year grants to 53 human services programs at 29 nonprofits in Rock County and northern Winnebago County, Illinois, that fight poverty, family violence, hunger, homelessness and other social ills.
"Individuals as well as businesses have uncertainty with what will happen with COVID-19, and I think uncertainty does not always lend itself to philanthropy," Fanning-Penny said.
"Hopefully, the flip side of that coin is, we do have a generous community. We have people who want to support those who are hurting. So we remain optimistic that every company and person will step forward to be part of the solution."
Fanning-Penny's pitch to the community is this: Giving a coat or toy to a needy child might be satisfying, and those things are important, but that's like giving a boy a fish in the old parable about teaching the boy to fish so he can eat for a lifetime.
United Way pays for programs that connect needy people with supports and advice that can lead to self-sufficiency. Think of a single mother working full time who wants to go back to school. A case manager could help her find the support she needs to make that happen.
In other United Way business:
People will hear about their opportunities to donate in the weeks ahead. Volunteers are working with local companies and organizations to schedule their campaigns.
Pledges also may be sent to United Way, 205 N. Main St., Suite 101, Janesville, WI 53545, online at
, or text BLACKHAWK to 41444.
No "campaign champion" was chosen this year because personal appearances will be kept to a minimum.
No Day of Caring—a day of volunteer projects that has kicked off the campaign in the past—will be held this year. Instead, the organization's board of directors planned to distribute "CareKits" to nearly 50 nonprofits across the Blackhawk Region.
The kits contain masks, dry wipes, hand sanitizer, contactless thermometers, sanitizing solutions, gloves, no-touch door openers, and posters in English and Spanish on how to prevent the spread of COVID-19.
For the first time, United Way will provide online pledge forms.
Fanning-Penny said many people might not know that even those who can't itemize their federal tax returns can claim up to $300 in charitable tax deductions per person for 2020. That's one of the many provisions of the CARES Act, which is designed to fight the economic effects of the coronavirus.
To qualify for the deduction, donations must be made by Dec. 31, which is around the time the United Way campaign ends.