Parked in the corner of his manufacturing space in the Janesville Innovation Center, Isaac Smith has a longbow geared for large game bow hunting, a mounted deer skull with a shattered arrow cradled in the antlers, a camouflage hunting pack and a flannel shirt.
It's all part of the shop's decor.
It all hints at the custom hunting arrows the Beloit native designs and builds in the incubator space on the city's south side.
You can watch his projectiles—Smith's Vector Custom Shop arrows—put to use on social media influencers' hunting shows on YouTube. Their videos are viewed by hundreds of thousands of hunters worldwide.
Smith, 27, a corporate videographer by trade, recently went full time with what was an arrow-making side hustle. He and three others at his startup shop in Janesville are gearing up their new manufacturing space to meet what could be a coming deluge of demand for his custom-made, carbon fiber shaft arrows.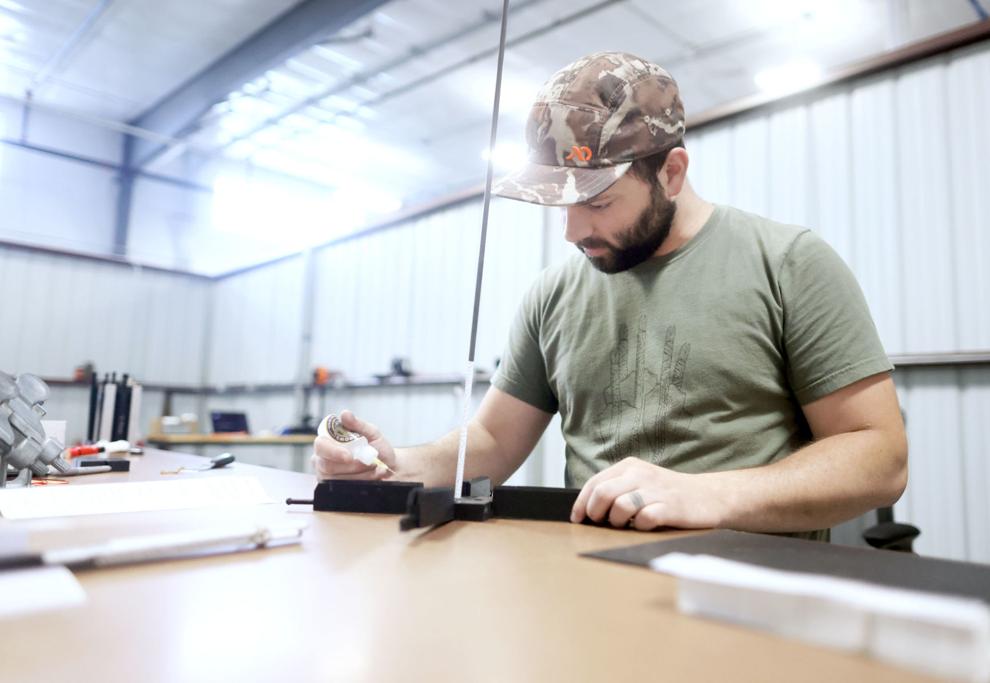 The deluge could come next week as The Hunting Public, a group of YouTubers who air internet videos of big-game hunts, promotes a new line of Vector's slim-profile custom HMR arrows. The bow-hunting YouTubers tried the arrows out after Smith sent them a bundle for free last year.
He was brand new and unknown then. Not anymore
The new licensing deal with The Hunting Public could put Smith's Vector on the map nationally just one year after he launched the custom arrow company out of his Beloit home during the COVID-19 pandemic.
Now, Smith is furiously 3D printing special jigs that might help him and his three co-workers more quickly assemble the handmade arrows at the Innovation Center.
Smith said he isn't sure what to expect when The Hunting Public drops Vector's new special edition arrows in a video. He knows that he sees an uptick in orders whenever The Hunting Public has made mention of Vector arrows.
The partnership could vault the direct-to-consumer startup into a flurry of arrow-making. Smith said he is now devising ways increase his production efficiency. He is even eyeing a possible app that customers could use to order arrows hand cut to the specifications that fit their own bows.
That is work the company already can do through its proprietary algorithms Smith said were designed by an employee with a background in engineering for the U.S. Defense Department.
Already, Smith has come a long way from cutting, gluing and screwing on broad-head hunting tips on arrows at his dining room table at home.
"The whole thing is a little freaky," Smith said. "We haven't ever done a coordinated mass-marketing effort, but it's coming fast."
Smith said this as he was testing out a new, four-piece jig of 3D printed plastic that is designed to instantly glue on the vanes that steer the back of the arrow in flight. It was the first time he had tried out the shop-made jig.
Smith shrugged as he pulled a rubber band off a bundle of arrows he was custom cutting for a customer, a whitetail deer hunter in Minnesota. He squeezed glue on vanes that were clamped in the four-sided jig and pressed the sides of the jig into the arrow's thin, carbon shaft.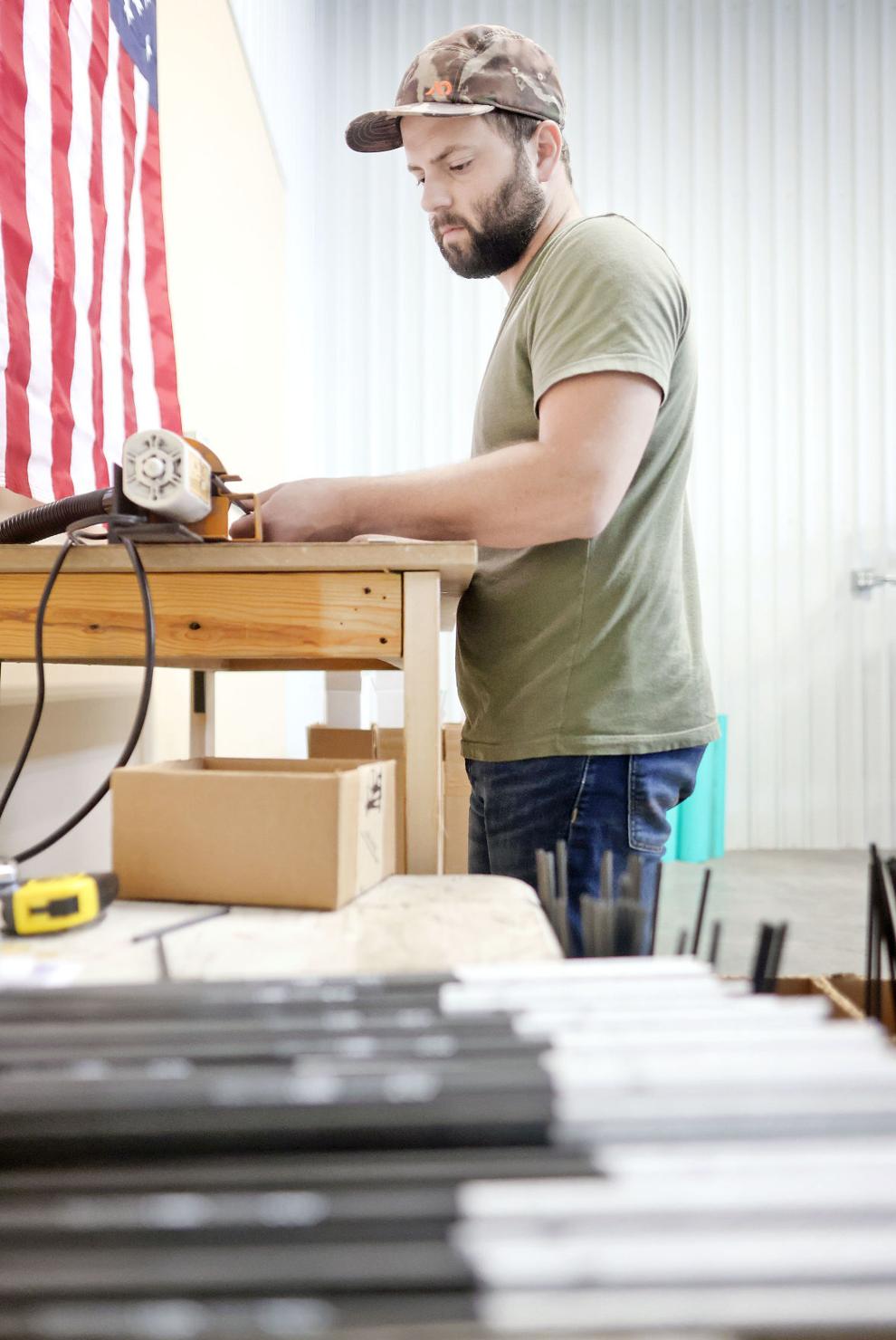 "I don't know. We'll see if this thing works. I don't pretend to be smart. What you do is you just try things. That's how you do it," he said.
As a videographer, Smith thinks the value of using influencers on social media—especially YouTubers—is that he can reach a huge audience of hunters.
That is important at a time when Smith said he has a growing captive audience. He said there has been a surge in interest in bowhunting and target archery that came during the pandemic.
Overall, he said, bowhunting industry officials say there has been an 80% to 90% increase in consumer activity in new bowhunters who have emerged during the pandemic. Smith believes the uptick will stick with some new hunters—a growing number of whom are interested in more ethical hunting practices, he said.
Smith knows his line of arrows work in the field. A lifelong bowhunter, Smith said he had tinkered around with building his own arrows because he became dissatisfied with mass-market arrows.
If an arrow splits, snaps or doesn't fly quite straight during a hunt, it can fail when it hits its target. Failure can leave an animal thrashing through the bush with an arrow lodged in it that never quite hit home.
Smith and his partners worked to devise a customized arrow that is slimmer in profile, stronger in construction and straighter in flight than standard aluminum shaft hunting arrows. He said one focus of Vector's design is to make arrows less likely to snap or split on impact. That, he said, makes the arrows more efficient at killing animals.
Smith described a hunt this spring when he used his longbow—a fairly light-gauge hunting bow—to hunt overpopulated boars in Texas. Smith said his light bow fired one of his Vector arrows straight through a boar and out of sight.
"It went in one side and out the other side, clean, which is what you want. A clean kill, which is the ethical way to bowhunt."