On the south side of town, Friendly Tap was serving customers, and the bartender was already calculating whether she would be meeting Gov. Tony Evers' new COVID-19 crowd limit rules set to take effect Thursday.
On one hand, bartender Nicole White said, it would be unusual at noon for the neighborhood bar on Rockport Road to reach the upper limit of Evers' 25% crowd capacity for most indoor public places.
But in the evenings or at special events like a recent raffle drawing, the bar might draw enough people to rub up against the state's new limit.
The Friendly Tap since May has viewed a 50% capacity recommendation from the Rock County Public Health Department as a rule of thumb for its own COVID-era occupancy limit. The bar would cap itself at 50 people based on its regular occupancy limit of 100 people—a cap the bar hasn't reached recently, White said.
Under the governor's order, which takes effect at 8 a.m. Thursday morning, White said she could see having to occasionally deny customers if more than a few dozen showed up at any given time.
Many of the Friendly Tap's regulars are residents from the neighborhood. White worries about that—and the prospect of having to turn away or place new, stricter limits on customers she knows well.
"What am I going to say to people? 'OK, let's sit you down in front of a beer and a time clock. And you have an hour to drink, but after that, you've got to leave to make room for the next person.' Because what we're going to do is piss off customers. And you think they're going to want to come back? Maybe not. We really don't want to see that happen," White said.
Evers' new order appears not to apply to schools, business offices or indoor manufacturing spaces or other places typically only accessed by employees.
But as written, it would broadly apply to most consumer-based businesses such as retailers, bars and restaurants—places state health officials say where people might be at greater risk for transmission of COVID-19, particularly given the epidemic's recent spike in new infections. The state has reported 1,415 COVID-19 deaths as of Wednesday.
Meanwhile, a statewide hospital trade group reported a record level of COVID hospitalizations recently, the latest troubling trend tied to a recent spike in cases. State testing labs and county health departments also are struggling to keep up with COVID testing and contact tracing.
Like Evers' earlier COVID-19 orders—including his safer-at-home mandate that was overturned by the state Supreme Court earlier this year—enforcement of the new crowd size limits would be left up to local authorities.
Dan Cunningham, vice president and a lobbyist for local chamber of commerce Forward Janesville, was frustrated Wednesday, and he didn't hide it.
Cunningham said while he and Forward Janesville understand that coronavirus cases have spiked statewide, the governor's new mandate hits local businesses, including "some of our most vulnerable" mom-and-pop restaurants, as owners and staff continue to navigate the ongoing pandemic, shifting dining habits and the turning of the seasons from summer to fall.
Forward Janesville hasn't issued an official stance on Evers' new rule, but a state restaurant trade group has warned it thinks ongoing limits to crowd size or other restrictions might lead to as many as half of all restaurants closing.
Cunningham's personal read—and the read of dozens of chamber members he said he talked to on Wednesday—is that the crimped crowd limits showed up as an unannounced hand grenade.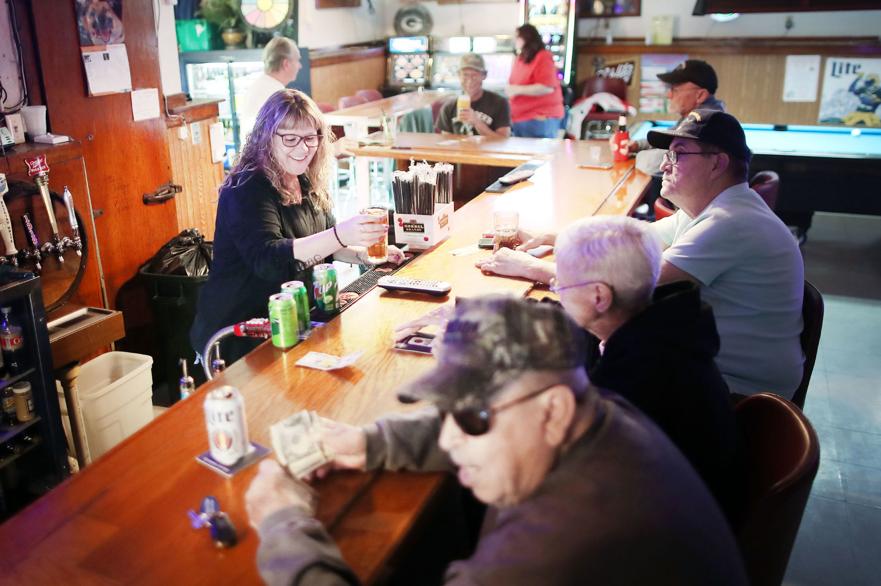 "You can't really say this came out of nowhere because we've seen the (COVID-19) cases spike," Cunningham said. "But I call these (COVID rule) announcements 'gov-bombs.' Because nobody knows they're coming. When I get a note, an email, from the governor's office and it says 'Update,' I say: 'Oh, God, here's another gov-bomb," Cunningham said.
Cunningham doesn't think Evers or the state's Department of Health Services has consulted chambers of commerce prior to issuing new public health orders, and he said the state hasn't forewarned or explained the orders in advance.
"We had 36 hours to figure this out. They're not talking to anybody. They're doing this in a vacuum. And then business owners are forced to interpret these orders. And most of the time, the orders are very vaguely worded. I mean, people are sitting there trying to figure out, 'Am I exempt from this or not?'" Cunningham said.
Cunningham pointed out that wedding and other private event venues seem to be exempt from the latest order. Cunningham finds that curious given that Evers has expressed concern about large, private events having potential to spread the virus.
Short of the state's main business lobby having a seat at the table, Cunningham thinks state and local business groups and the public at least deserve advanced notice along with clearer explanation of new public health rules.
The latest mandate has brought nearly the same volume of phone calls to Cunningham's office as he saw in March and April, when Evers' safer-at-home mandate shuttered many "non-essential" businesses temporarily.
Cunningham believes the state will eventually provide clarity, but that likely won't come before the rule has already gone into effect.
He expects there to be confusion from business operators who will soon face decisions on crowd control. The stakes for making the wrong decisions on crowds could cost businesses a $500 civil fine, according to the order.
"Nobody wants to be that bad actor, the person who made assumptions, was wrong, and then gets in trouble. I know of nobody who wants that," Cunningham said.
Maggie Darr, a city spokeswoman, said the Janesville Police Department will respond to complaints over crowd sizes, but she said the department's first priority has been and will continue to be helping to "educate" businesses on state COVID-19 policy.
Darr said the city considers the Rock County District Attorney's Office the criminal justice agency with ultimate authority to decide and approve citations for complaints against businesses.
White, the Friendly Tap bartender who said she wears masks in every business she goes into, believes most businesses won't fight or flout the crowd size order, even if they don't like it.
"People have got to cooperate. At the same time, I mean, people have got to work. I've got a child and bills. I have to work. I don't want to see any businesses fail because of this." White said. "But what other choice is there except to cooperate?"